Just out of her teen years, Jelena Ostapenko has made her breakthrough at the majors.
Jelena Ostapenko sat facing the world's tennis media after reaching the final of the French Open, giggling like a schoolgirl, but come to think of it she's not long out of school.
On her 20th birthday she reached her first final at the majors and in doing so became the youngest woman to achieve that at Roland Garros since 2007 (Ana Ivanovic) and the youngest woman to do it at any major since 2009 (Caroline Wozniacki, US Open).
Interestingly the day she was born, 8 June, 1997, was the day Gustavo Kuerten won his first French Open having never won a Tour level title before, something she has not done yet.
She has handled herself with tremendous maturity. One would not necessarily have believed she was a day out of her teens but even looking at her you wonder if she is still just a teenager who is right at home listening to Harry Styles, playing with her dog or watching some trending TV show.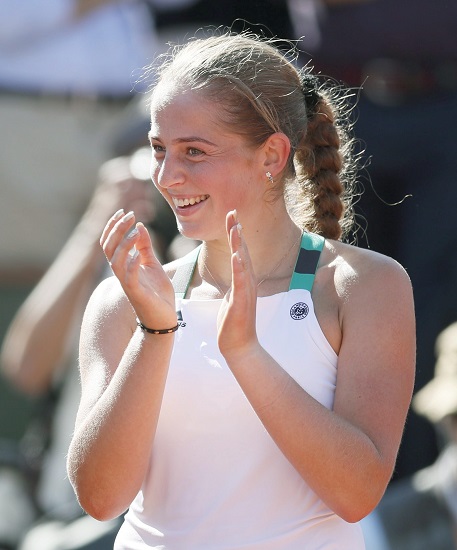 On court that maturity was very evident as she managed to overcome tough moments in her semi-final. She said she felt a bit tight because she realised she was in a semi-final of a major. That tightness came after she won the first set because she thought she was "very close to make the final and some thoughts were in my mind". She swept those away and remained calm.
"When I came here, of course I didn't expect I would be in the final," she said. "But then, like, first match was a tough match, as well, and I won it. I think it kind of gave me confidence. Then every match I was playing better and better and I got my confidence, and I think it works pretty well."
Physically she is a wisp of a thing. She is so petite you would never think she could hit a tennis ball the way she does. Her groundstrokes can be lethal. She was striking her forehand with such ferocity that it was compared to Andy Murray's yet she says it is her backhand that is her favourite shot.
She is quick around the court and she is feisty; she shows emotion and that is not always a bad thing but it needs to be kept in check, not that she necessarily allows it to take over.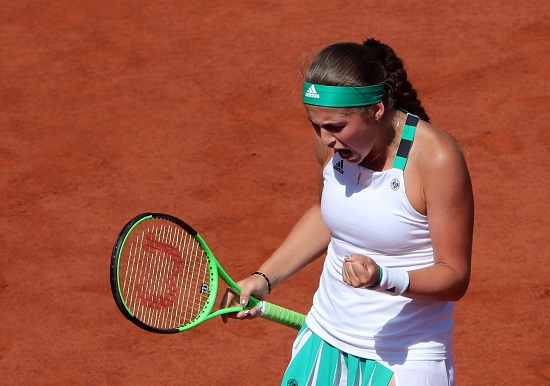 "I think sometimes you feel, like, better when you let your emotions out sometimes, but you have to know the border because sometimes you have to be a bit calmer. But, yeah, for example, to say 'Come on' or something, I feel better when I do this. I motivate myself," Ostapenko said.
Maybe some of that movement about the court could be partly hereditary as her father was a professional footballer in Ukraine but when she was asked about him she thought it was funny that she had no idea who he played for and in what city. Then, maybe, some of that movement has to do with learning ballroom dancing up to the age of twelve while she was learning her tennis.
She certainly showed plenty of promise very early because the ITF Grand Slam Development Fund stepped in with a grant to assist with her costs as a junior. Tennis in Latvia has small recognition, she is the first from there to reach the final of a major, and funding was difficult so this support was vital, just as it was for the Tunisian player Ons Jabeur who was featured in We Are Tennis earlier during the French Open.
Her focus will be on Simona Halep in a first time meeting when they play the final. The excitement and the nerves are there.
"I'm already in the final. I'm just going to go there and enjoy the match," Ostapenko said.