Novak Djokovic seems to be at a crossroads and he can't find the right direction.
Twelve months ago Novak Djokovic was in proud possession of every major at the same time.
Djokovic had done something not even the great Roger Federer or Rafa Nadal could achieve; or John McEnroe, Bjorn Borg, Ivan Lendl, Andre Agassi or Pete Sampras could do. He was the first since Rod Laver in 1969 to hold all four majors, the Australian and French Opens, Wimbledon and the US Open, at the same time.
Things have taken a dramatic turn for the once almost impenetrable Serb. He is not No.1 in fact there's a risk he will drop out of the top four, nor is he holding a single one of the big four and in the two majors played so far this year, he has failed to progress past the quarterfinals.
It is a shocking set of circumstances. His capitulation in the third set of the Roland Garros quarterfinal against Dominic Thiem defied words. He won eight points in the 20 minute set as the Austrian who had only ever won one set from five previous matches against Djokovic, played glorious tennis saving set points in the first to go on and win 7-6, 6-3, 6-0.
"It was not there for me, especially in the second part of the match," he said. "I was just unable to hit the ball well and many unforced errors. And he was just getting better and better and more confident as the match progressed. That was the case.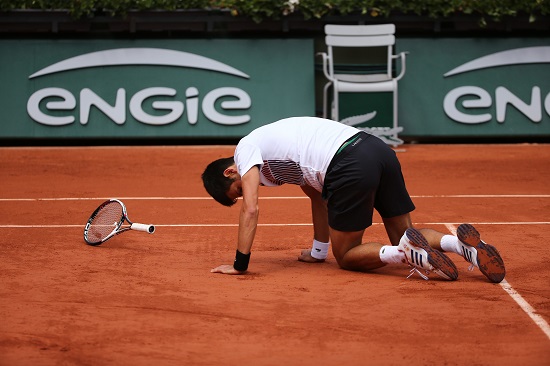 "I'm trying, as everyone else, to work on the game, work on things. Sometimes it works; sometimes it doesn't. For me, it's a whole new situation that I'm facing, especially in the last seven, eight months, not winning any tournament, which hasn't happened in many years.
"So I guess you've got to go through it, try to, learn your lessons and figure out the way, how to get out of it stronger. It's a big challenge, but I'm up for it."
Sure all players go through their ups and down; the greatest ones are no exceptions to the rule but the situation with Djokovic seems different. He seems lost. His tennis has no fire. There is no spirit with what he is doing on court and so often he looks as if he is in la la land.
From the eight tournaments he has played in 2017, he has won one title, Doha (which is probably devalued with the recent sanctions and economic situation) and been a finalist in Rome. That's it! In 2016 coming into the French Open he had won five titles and reached the final of one other. Certainly every year cannot be gold but since July last year he has been on a downward spiral.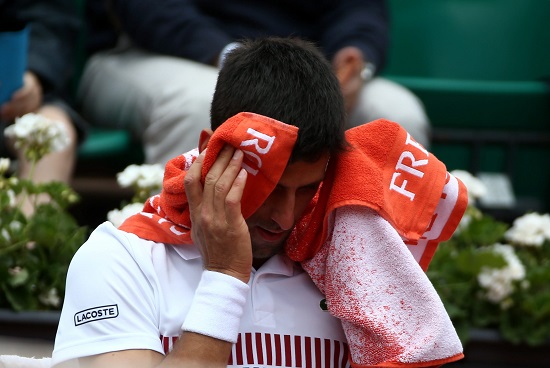 He maybe up for the challenge but is he able to get through the challenge? Right now it doesn't seem as if he knows what to do. The changes he made to his team comes across as a desperate grasp to try something. Marian Vajda had been with him forever it seems and was more than coach and Boris Becker had helped to get him to the top but now it's as if he is in a deep hole. A dark passage with the exit sign dimmed.
Novak appears to no longer have attitude and swagger on court. There was an aura that won free points, now he is passive and that passiveness appears to have surfaced in the last year, really. In his box during matches there is a person observers have wondered who he is and what is his role. That person is Pepe Imaz. So who is he? He seems to have an influence on Djokovic.
"I can answer it through what I do or I like to tell: I am a person, a human being who wants to grow every day. I am a guy who tried to play tennis, who has been playing for 23 years before starting to coach. In this process there were some very difficult moments, I didn't care about my life and I didn't want to live it, and so I realized that I didn't love and accept my person.," he told Tennis World magz
He told Tennis magz: "You have to understand that for a professional athlete, love is not... letting the other player win. Love is going on court and to try to do everything... but that can be done with non-love and respect towards yourself, or love and respect towards yourself."
What? Serious? For goodness sake. Yeah man, like amazing, that's deep. Peace bro.
"I'm not close to my best, I know that. Look, it is what it is, and it's an opportunity for me, in a way, some kind of lesson to be learned and to kind of progress in whatever way life wants me to," Djokovic said.
"So I'm just figuring it all out and trying to be in the moment. You know, obviously I love this sport. I'm motivated as any other player on the tour. I respect this sport and it's given me so much. The least I can do is give my all whenever I'm holding a racquet in my hand. That's what I have done. But sometimes circumstances are such that you are not able to perform as well as you want."
Novak needs to take a long hard look at things. He suggested a break might be necessary but maybe he needs to go back to basics and get a proper full-time coach, someone he trusts, clear all the peripheral stuff and start afresh. He needs to find his mojo. This love and peace stuff is not cutting it.