Karen Khachanov is a player on the move and one to keep an eye on.
We Are Tennis was one of the first outlets to give attention to Karen Khachanov. We spoke to him last October when he won his maiden title at the Chengdu Open and then at the very start of 2017 we pinpointed him as one of the players to watch this season.
The big, and he is certainly big physically, Russian Armenian reached his first quarterfinal at the majors and upsetting two seeds along the way before being stopped by the vastly superior experience of world No.1 Andy Murray, who like most others watching the French Open sat up and took extra notice of the recently turned 21 year old's talent.
After defeating Khachanov, Murray had plenty of praise for him from what he has seen, he said: "The work ethic and the dedication and everything appears to be there. I think, you know, he's really into his tennis, which is very important. He, in my opinion, has a very good coach. Galo Blanco, pretty much everyone he's worked with, he's helped them a lot.
"He's a very strong guy. Powerful. Big serve, big shots, he has good timing. You never know how players are going to develop. It's very difficult. But he's obviously one of the best young players in the world just now. He'll keep getting better. But, yeah, I think by the end of this year, you know, top 20, top 25, and then from there, who knows."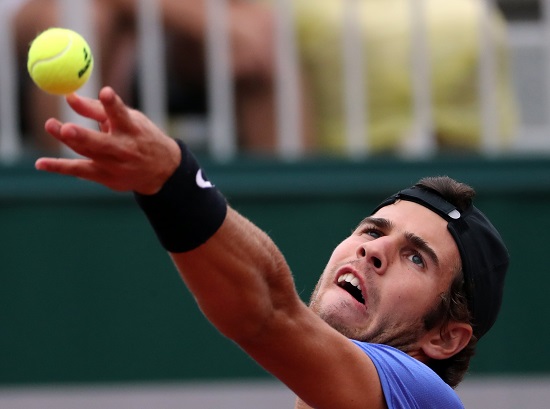 Certainly there is going to be a bit of fun with his name, Karen, which is actually pronounced "Kar run". When we spoke to him in Chengdu, one of the questions asked was why he had a girl's name. "It is not girl's name. It is Armenian," he said in a deep voice, barely breaking a smile. Before going out to play him, John Isner amusingly said he was a bit confused because his mother's name was "Karen".
Khachanov was introduced to tennis by his parents. His father was a volleyball play and his mother was into athletics but when he was three and still in kindergarten his parents joined a tennis club and that's when Karen started to play. When he was growing up he admired Marat Safin and Juan Martin Del Potro but when asked if he is as crazy as Marat, Karen smiles: "I don't think he was crazy. He was charismatic player, and it was his style."
Off court Safin was known for the bevvy of young ladies affectionately referred to as the "Safinettes" that he attracted where ever he went; Khachanov is probably a bit more grounded having recently been married.
There is no question he is a player to be followed. His explosive game will not only win him many fans but also many matches. The faster courts will benefit him but there should not be expectations on him for Wimbledon. This is all still very new to Khachanov and quite possible after the attention he has gained with the French Open he could certainly have a bit of a "let down" at Wimbledon.
"I took a great experience from this match to play on the centre court," he said. "So it was huge, you know, and I was enjoying. I had to stay focused all the time, like, in some tight moments to try to do what I had to do and maybe not to miss some easy balls sometimes. So yeah, I think it's a kind of concentration to keep this during entire match."
One thing he will realise is that tennis is like a game of chess (which he picked up when he was about twelve) and the development of mental moves. Check mate!