Here is a sample of what some of the big name players are saying on the eve of the 2017 French Open.
NOVAK DJOKOVIC
It feels like a new chapter. It feels like the change that I have experienced in the last, you know, three, four weeks, separating with the team that I was with for ten years, and now kind of creating a new team, creating a new vibe, it feels exciting.
You know, it feels right at this moment because I was, in the last, you know, five, six months, you know, struggling a little bit on the court and trying to redefine myself, you know, and rediscover, you know, what kind of approach is the right one.
I just felt, and my former team, we all felt we needed, you know, a change, we need to go our separate ways. So right now I feel much better on the court.
I have played a great week in Rome. I was, you know, talking with Andre (Agassi) for couple weeks during Madrid and Rome on the phone, kind of preparing for the matches, analyzing matches. That allowed both of us to get to know each other and kind of, for him especially, to get closer to my thinking and my mindset about tennis, about life in general, and so forth. I was very glad that he accepted to come in person in Paris and spend some time.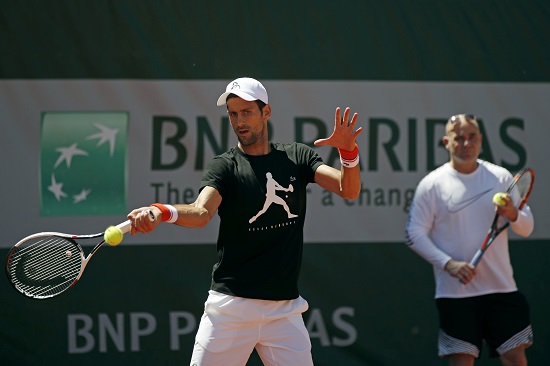 Yesterday was obviously the first day, and we had two practice sessions, and then we had a very, very long conversations in the evening. Even though it was the first day, it felt like we know each other for a very long time. We clicked and connected very fast.
He's someone that inspires me a lot. That's one of the things I felt like I needed is new inspiration, someone that knows exactly what I'm going through, you know, on the court, off the court. He has been through all these transitions, he has been in my shoes before playing Grand Slams, being the best in the world, and facing all the challenges that are present in the tennis, in the professional sport.
So we can relate to each other in many different ways from many different sides. That's why, you know, I'm very excited for him being here, because it's a great opportunity for me to learn. It's a great opportunity for me to grow together with him and to experience, you know, whatever is ahead of us.
Of course we're both hoping that this can bring success on the court, but finally, it's, you know, an opportunity for us to, as I said, to really grow and evolve, first of all as human beings and as tennis players, and that's all I'm focused on at the moment, right?
Also, having him on a Grand Slam is different, because these are the biggest tournaments we have in sport. So it brings a new dimension of motivation and also excitement to me and to my team. So we all are looking forward to the next couple of weeks.
RAFA NADAL
When I have been here last year, I arrived with very positive feelings, no? Then what happened with my wrist. So I hope that the story don't repeat (smiling). But it's true that since the beginning of the season I am happy the way that I played. I think I play well in almost every event that I was there.
And, yeah, played well on hard. Then played great on clay, no? Happy about the events that I won. Three events I have won have been very important for me. And here we are another year just to try to have the right days of practice before the competition start. I know I need to be ready for, since the beginning, because I have a tough opponent in the first round. So I am focused on try to work the right way.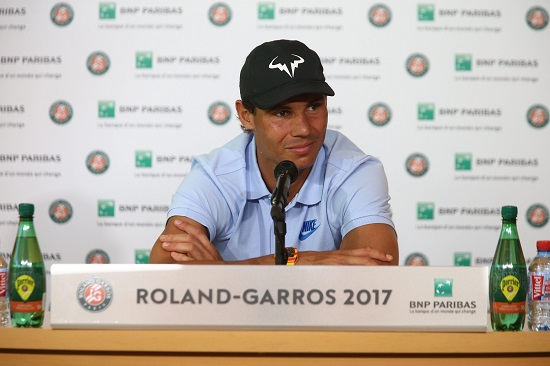 ON BEING FAVOURITE: Doesn't matter what you say, what you don't say, no? At the end of the day for me the only important thing is arrive here, play well. If I am playing well, doesn't matter if you believe or you don't believe that I am one of the candidates or not. That's only things that you have to write. I have to play. The only way to have chances, real chances to play good event is play very well, be healthy, and then be with the right attitude in every practice and in every match, no?
That's the only way to try to have success here, and I am focused on try to do that. And you are focused on try to write the things that you have to write, no? But I really don't care much about.
ANDY MURRAY
The last few months have not been good, obviously. You know, I haven't played well. I had a few issues, as well. Yeah, I need to, you know, accept that I'm struggling and then find a way to get through it. I will get through it. I'm sure of that. When that happens, I don't know. Hopefully it happens in a few days. Hopefully happens at this event. If it doesn't, maybe it happens during the grass.
But the only way to get through it is to work your way through it, keep working on your game, try and understand what's not been going right.
You know, although it's very frustrating, you have to try to enjoy this part of what we do, as well, because, you know, the struggles are, you know, part of what make the good times so enjoyable. You know, I need to enjoy my struggle a little bit just now and that will help me get through it quicker, I believe. The more frustrated you get, you know, it doesn't help, either. So, you know, I'll try and get through it as quickly as I can.
EYES ARE ON NADAL AS FAVORUITE: Ultimately doesn't really matter when you get on the court what anyone says in here, you know, whether it's positive or negative. It's like once you get out on the court is what matters and how you deal with situations out there. Generally, when you're playing well, you deal with situations better, because you have won matches and you're confident and you're feeling really good.
Just because everyone is sort of putting pressure on you maybe in here or appears that way, that people are expecting a lot of you, when you get out on the court, you find your way. When you're struggling a little bit, you know, it's a little bit harder to find your way through tough moments in matches. But, you know, that will come.
Like I say, I hope it starts here, but the expectations don't -- I don't think it changes my chances in this event. It's more the way that I'm playing that does that.
GARBINE MUGURUZA
Honestly I was expecting a little bit more of, I don't know, like emotional feeling, coming here, but I'm actually, I don't know, normal. I consider myself as another player in the draw. I'm starting fresh.
And, yeah, of course I had fun in the draw ceremony. I was with Novak. We make few jokes and stuff. No, we didn't want to see the draw at all, so, we're like we're doing this and we're leaving. We're not staying to see. But good, I think it's just a new perspective. Last year was last year. I got the trophy already. So I won't obviously feel that again. But that's it. I'm not really thinking a lot deep.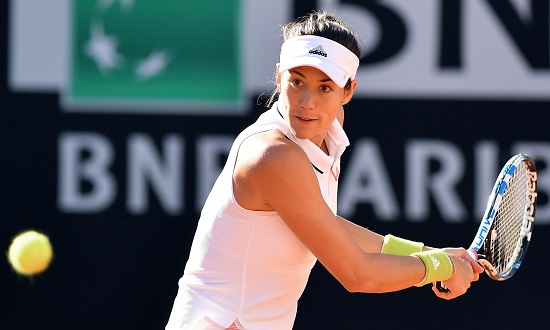 FAVOURITE MEMORY OF LAST YEAR: Well, you know what? I don't really remember. I always, when I come here, I'm excited. It's just a Grand Slam. And, you know, I remember last year, I did quarterfinals the year before, so I was, like, happy to be back. I played good here. I had good matches. Let's see if I can break that quarterfinals, you know, wall there.
But I was not really thinking, because the weather was like so upset the first days, and this was all the time in my mind.
ANGIE KERBER
I think it's for sure not easy first round playing Makarova. But, I mean, which round is easy here? I mean, you have to be ready from the first round, from the first point here.
And this is my goal. I mean, I'm really looking from round to round. Like I did it last year. And trying to being ready again to playing my best tennis from the first round. This is my goal, and of course, I mean, it will not be easy as the last year, as well.
But, yeah, I'm ready for the challenge just from the beginning.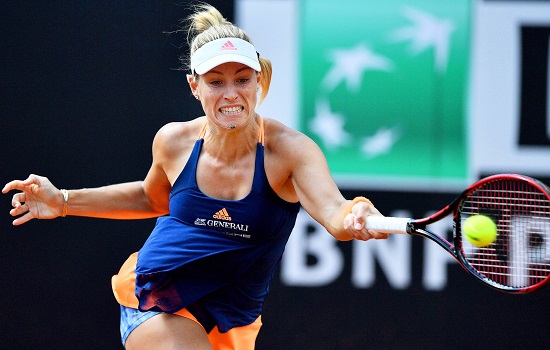 HER RELATIONSHIP TO CLAY: I think this is difficult (smiling). I mean, of course everybody knows it's not my favourite surface, but, yeah, we have to play on clay. I tried my best. I mean, also last year this was not the best weeks for me. I mean, it was my best year, but also last year when I played tournaments on clay, I was not playing so well.
This year it's actually the same. It can be just better. I mean, I try my best to getting ready. I try my best to really being ready for the first round and making the preparation the best I can, and then we will see how far I can come here.
But first of all, I will just try to, you know, being step by step and trying to, yeah, get in love a little bit with the clay (smiling).
SIMONA HALEP
Few days ago when I arrived here the ankle was like 50/50. Now it's more to play, because it's getting better, and the last ultrasound said it's just two, three millimeters broken. At the beginning it was much more. No, I feel that I will play, but I still wait for tomorrow, ultrasound, and then I will decide. But most I will play.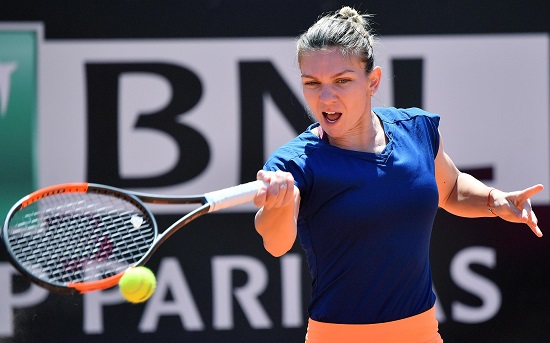 It's affecting you. It doesn't matter which one is, because you always have to be on the both legs. Now you hit also open when you go to forehand, so it affects. But I feel good now. The problem is when I go on the sides. When I go in the front is not that big problem, because the ligament is broken here. So on the side. I don't know what to say exactly now, but it looks much, much better. I hope is gonna be okay.
I don't want to hide that. It happened just before Roland Garros, which is my favourite Grand Slam, but I cannot change that. I'm just trying to get better soon, to get stronger, because I need that. And to be able to move.