After her strong opinions about Maria Sharapova, Eugenie Bouchard walks the talk.
Eugenie Bouchard was under pressure to walk the walk after talking the talk.
Here on We Are Tennis recently we pointed out the first match between Bouchard and Maria Sharapova would be interesting. The Canadian had said, in her view, Sharapova, who had served a 15 month ban for using a prohibited substance, should in fact have been banned for life. Sharapova flicked off that opinion and said she was not getting involved.
That first meeting was not expected to be as soon as the second round of the Madrid Masters. Bouchard defeated Sharapova in close to three hours 7-5, 2-6, 6-4.
While disappointed at the loss, Sharapova publically passed it off as just a loss and made the point that the background leading into the match was not something that played on her mind.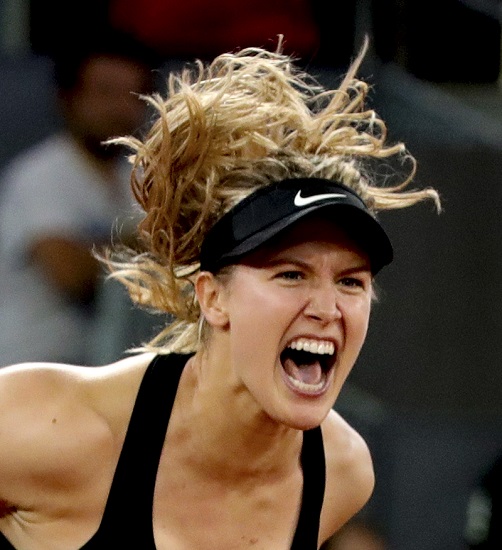 To her it was just another match, a match between two highly competitive people but at the same time it was an important match for her so early in her return, especially with getting ranking points on the table so that she doesn't need to rely on wild cards which in turn would eradicate controversies of any of the majors granting her one.
Sharapova says she doesn't pay attention to the ballyhoo. She has been part of this environment for a long time. She said: "I know what the drill is. I know the excitement. I know there's always a lot of talk and buzz, matchups, rivalries, news. It's all part of the game. That's how I treat this game."
That, as suggested, would be the public image but one would think beneath the surface she was angry at not crunching opportunities and eventually losing to Bouchard, probably one of the two high-profile players (the other being Serena Williams) she would hate to lose to more than anyone else.
Bouchard's excitement at the win was very evident as she jumped around and stared at her coach Thomas Hogstedt who used to coach Sharapova and one of the nicest guys around.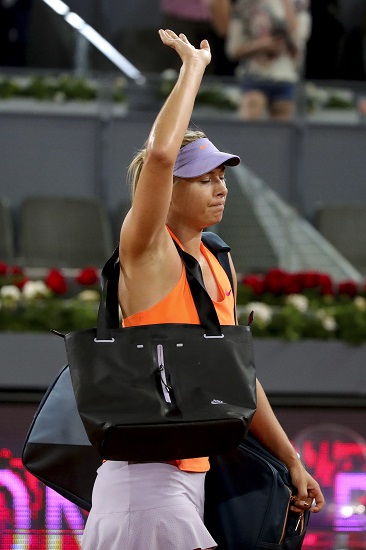 Bouchard made it clear that her opinion has not changed about Sharapova's banning. Beating her for the first time from their five meetings felt especially good after being so vocal. Bouchard added to her view by questioning Sharapova's return being called a "comeback" by some.
Bouchard said that players were privately encouraging her before the match. She said: "I was actually quite inspired before the match because I had a lot of players coming up to me privately wishing me good luck. Players I don't normally speak to, getting a lot of texts from people in the tennis world that were just rooting for me.
"I wanted to do it for myself, but also all these people. "It showed me that most people have my opinion, and they were just maybe scared to speak out, but privately I've gotten a lot of support, so I was inspired and motivated to play."
Interestingly in the two events she has played Sharapova has lost to two of the most publically opinionated players about her "sentence" – Kiki Mladenovic who beat her in Stuttgart and now Bouchard. For sure both players put even more stick into their games playing Sharapova.
"It definitely helps when you can back it up," Bouchard said. "Obviously, there was a lot going on besides tennis in this match (but) as soon as I stepped on the court, I really just wanted to make it about tennis. We both did that. We just battled our hearts out. Hopefully people enjoyed it, because that's the point of this. At the end of the day we're entertainment. I definitely enjoyed it."
I dare say she did … even more than normal. Now she has to back it up and avoid a letdown after such an intense, high profile match.