Ilie Nastase needs to take a back seat.
I'm just wondering if Ilie Nastase has any mirrors where he lives. He needs to make sure he gets one in an effort to take a long hard look at himself. Possibly the scary thing is he would likely admire himself a bit too much.
Nastase's nasty (also his nickname - no one in tennis had a more appropriate nickname) behaviour at the recent Fed Cup by BNP Paribas tie between Romania and Great Britain was well documented. His racist and denigrating comment's about Serena Williams' unborn baby and his demeaning comments to members of the British Fed Cup team saw him dismissed by security and subsequently suspended by the ITF.
With Wimbledon less than two months away, the All England Club has said they will impose their own bans on the Romanian who was a finalist in 1972 and 1976. There will be no invitation to the Royal Box.
Club chairman Philip Brook, during the announcement of prize money increases for this year's tournament along with continued development plans, etc, said: "He is not going to receive an invitation this year."
Nastase jumped on the comment and accused the All England Club of being "small-minded" and of treating Romanians like "morons". Romanians? Err, Nasty, re-read the comment, it is about you and you alone, no other Romanian. To the best of my knowledge such condemnation has not been directed at anyone else, including Romanians like Ion Tiriac, Andre Pavel, Virginia Ruzici to name but a few.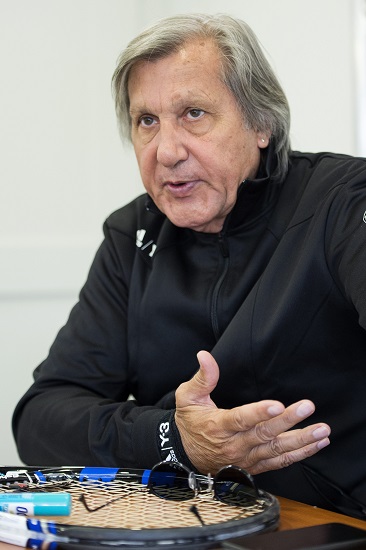 Speaking to Romanian website ProSport, Nastase accused Wimbledon's hierarchy of having short memories.
Back in 1973 the men players boycotted the Championships but Nastase defied that boycott and played. Nastase did not defy the boycott because he was so passionate about Wimbledon, it was alleged that he defied it because he saw it as a rare chance to win the title because all the big names were missing.
Nastase said: "Look at it however you want - revenge maybe? I don't care. In 1973 when everyone else refused to play at Wimbledon, I did - does that not count for something? Do they not think about that?
"But if they are going to be so small-minded about it, there's nothing I can do. What does Wimbledon have to do with what I said about Serena and at the match in Romania? If I did something stupid at Wimbledon then I'd understand if I were then suspended. But in this case, I don't get it.
"If they consider it normal to deny someone - a 71-year-old - the chance to watch tennis matches, then that's their problem. It must mean we Romanians are morons ... otherwise I don't understand it."
As I clearly remember, in 1973 Nastase did not even garner much attention, there was a new player on the scene that year which gave the tournament all the publicity it needed and more, that player was Bjorn Borg.
Allow us to get you a mirror Ilie!
For the record, the singles champions at Wimbledon this year will earn 2.2million pounds, up 10% from 2016.