Maria Sharapova and Eugenie Bouchard continue to show there is no love lost between them.
There was never going to be any doubt that Maria Sharapova would get a welcome back by her peers that would have made Antarctica look tropical.
However, a comment made by Eugenie Bouchard saying Sharapova should have been "banned for life" is totally ridiculous. If that were the case then other players who have served suspensions for taking a banned substance such as Viktor Troicki, Barbora Strycova or Marin Cilic, should have been tarred with the same brush.
Bouchard was silent on those occasions and Sharapova responded by saying she's "above all that".
It is no secret that there is no love lost between the Canadian and the Russian. Bouchard admired Sharapova when she was growing up but when she came onto the tour, out of juniors, Sharapova made no approach. Surely Bouchard could not have expected there to have been tea and girl talk at the spa.
Both women have been quoted as saying they "are not here to make friends".
There is actually a great degree of similarity between them and that is what it's all about. Both very attractive, both have lucrative contracts and both garner attention and both love that element of their lives.
Sharapova however has proven herself with five majors to her name. Bouchard has reached the final of one.
Bouchard is entitled to her opinion but the fact is that Sharapova has served her time and should be given a second chance whether one likes it or not. The bigger issue is that she should have to work her way back and not be given any sort of free ride, as was highlighted here on We Are Tennis.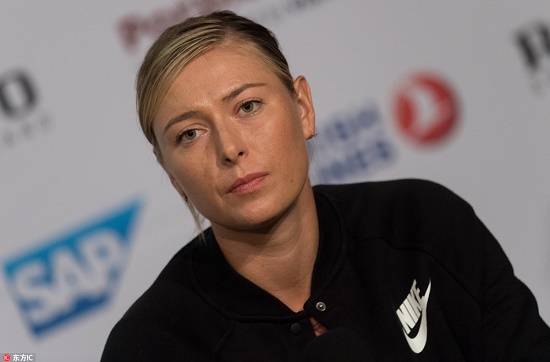 If Bouchard had made that point and insisted on it like many other players have voiced, then there would have been more attention paid to her views. The general view since she said that Sharapova should be banned for life and what she did was cheating, has essentially been passed off as bitchy comments between two women who dislike one another.
Sharapova, as word goes, does not have any friends among the players and she is not out to change that. But that's her decision so by other players like Kiki Mladenovic and Strycova emphasising that point is just fodder for the tabloid media as is the case with what Bouchard has said.
Big deal Sharapova does not have player friends; she sees what she does as work and like a 9 to 5 job, would want to get out of the place as soon as her commitments are done.
What will be interesting is the next time Bouchard has to play Sharapova.