Should the centre court at the Monte Carlo Country Club be renamed in Rafa Nadal's honour?
The celebrations have died down now following Rafa Nadal's historic win at the Monte-Carlo Rolex Masters so it is probably time to once again, as a I did a couple of years ago, say that the centre court at the Monte Carlo Country Club, which really is in France and not Monaco (but why ruin a story with the facts?) be named after Nadal.
Nadal loves the tournament, he has made that clear and no one has won it more than he has.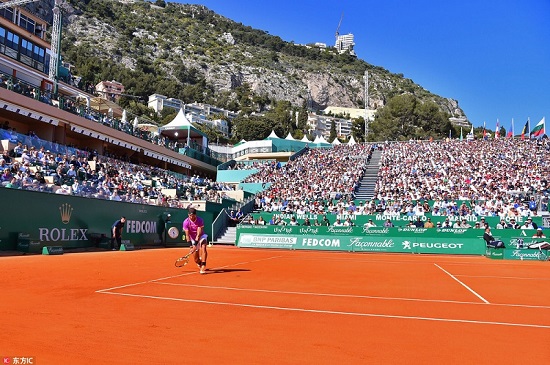 His 6-1, 6-3 victory in 76 minutes over Albert Ramos-Vinolas who double faulted on match point three, was the tenth time Nadal has won the Monte-Carlo Rolex Masters. That is staggering! No other player in the Open-era of tennis has won a title ten times.
He has been in the final eleven times from the 14 attempts he's had at the tournament and from the 67 matches he has played at the event, he has won 63 of them.
The tennis world first got a taste of what was to come with Nadal at Monte Carlo in 2003. It was his first big tournament. He lost in the third round to Guillermo Coria. He was not able to play in 2004 because of a stress fracture in his ankle joint but in 2005 came back and won the title beating Coria in the final.
The Monte-Carlo Rolex Masters to date is his most successful tournament although by the end of the main clay season he could be in double digits twice more with Barcelona and Roland Garros.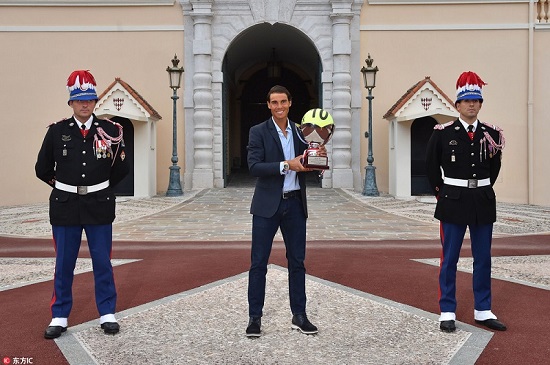 "It is really unbelievable, no? Win ten times in such an important event like Monte-Carlo is something difficult to describe the feeling," Nadal said. "Every year have been a different feeling. At the same time is always a unique moment every time I have this trophy with me.
"I feel lucky to keep playing tennis, being healthy all those years, to compete in one of the most beautiful events of the year, without a doubt. Very happy to win another one. For me is a very important day in my career.
"For me the first one here have been so special, no? Was the first Masters 1000, Masters Series at that time, in an event that for me was always so special. When I was a kid, I always wanted to play in Monte-Carlo. In Spain, Monte-Carlo is a very important event in tennis, one of the top 1000s of the year.
"Since the first time I came here in 2003, I had very positive feelings. Winning in 2005 against Coria in that final was unbelievable moment for me. There is some moments on the career of everyone that are important ones. Is obvious that first title on clay makes a big difference. After that, I was confident enough to keep going, winning in Barcelona, in Rome, then in Roland Garros."
When you put all that together, wouldn't it be fitting to name the centre court after him even though Barcelona jumped the gun a bit and named their facility Stade Rafael Nadal? He is the only active players to have a court named after him.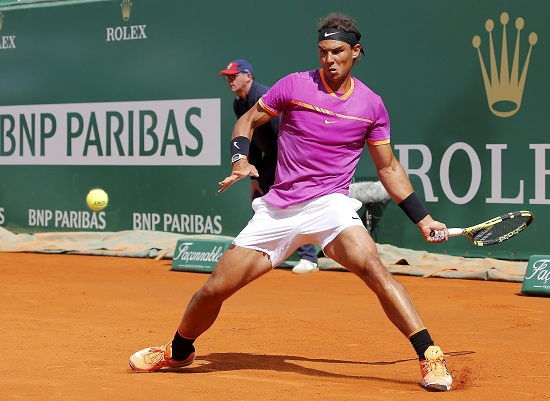 "They ask me about that couple of months ago and I was completely happy to hear this," he said. "Barcelona, the tournament is, for all the Spanish players, an amazing event. I think is one of the top events on tour because is a historic event with a lot of tradition. A lot of years of the tournament, a lot of great players have been playing there. And it's in a real tennis club. It's like here, is a real tennis club.
"When you are playing in a place that they are not only in stadiums for two weeks or for one week, is always little bit more special. The place breathes tennis, no? That tradition makes the event, I think, a little bit more important.
"To have the name, my name, in the centre court in Barcelona is something that is very beautiful. Just can say thanks very much to the club for this award."
If the Monte Carlo Country Club took the step and renamed their centre court with Nadal's name, they would likely be the first country to honour a non-national player in such a manner.