Roger Federer shows that age is just a number, he has won the Miami Open for the first time in eleven years for his third title of 2017.
Roger Federer has done it again. At the age of 35 years seven months there is no let up on how superbly he is playing all over again and he has become the oldest man to win the Miami Open. The six months he was away from the game last year appears to have just freshened him up and he is answering the call in stunning fashion.
He is also smart enough to know that he can't play the type of schedule he had ten years ago and the way he is spacing his schedule is helping to keep him on top of his game. As he amusingly used the analogy of clubbing.
"I think the body just needs a bit more recovery overall," Federer said. "I think coming out of a brutal match and then feeling fit like a fiddle in the morning, it's like when you go clubbing. Same thing. You know, you don't feel the same when you're older."
Federer in fact is playing as if he was still in his mid-20's. It is like a throwback to when he ruled the world and he highlighted that once more when he beat Rafa Nadal for the fourth straight time to win his third Miami Open a title that Nadal has now been denied five times. Federer took 94 minutes to win 6-3, 6-4, the final point being a forehand from Nadal that landed just over the baseline.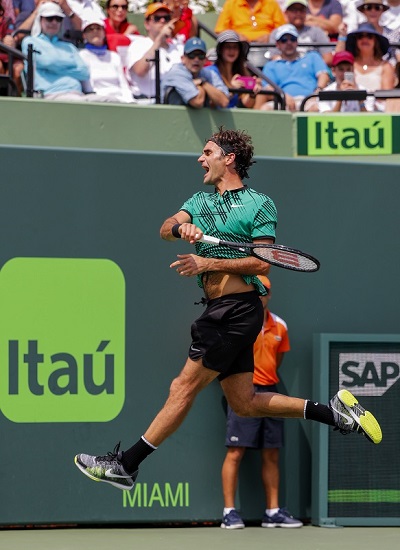 The Swiss has been truly extraordinary. Miami was his 91st career title. He has now won the three biggest titles of the season so far – the Australian Open, his 18th major beating Nadal in a breathtaking final, then the BNP Paribas Open at Indian Wells where he stopped Nadal in the 16's and accounted for Stan Wawrinka in the final, and now the Miami Open.
Federer plays the game in near casual but oh so fluid manner. Possibly no one since Rod Laver or Ken Rosewall has played tennis in that way. It is beautiful to watch, it's almost as if he is not putting any effort in.
He says the so-called "comeback" that he was on is now over. But for Federer now the paramount consideration is to be sensible about his schedule and not do too much. He will now take a break and get back to training.
"I would think so, the comeback is over but it's still a comeback year, but I did say that until here, now, Miami, it was going to be still learning," Federer said. "It's the beginning. Let's see how the knee is going to feel in Australia. How is the body going to be in the Middle East? How is the body going to be west coast, east coast?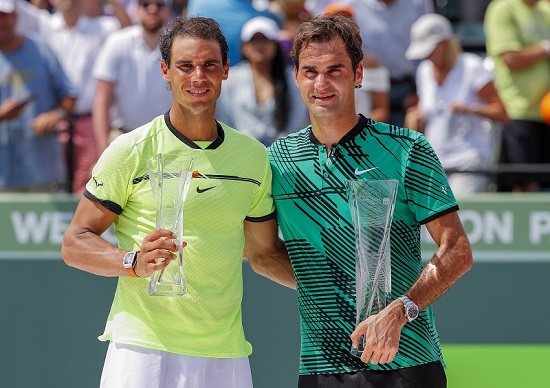 "There is a lot of traveling, and the knee can act funny when you travel and fly trans-Atlantic and all that stuff. It's not like I went home and all I did is take a warm shower. I had to do a lot of stretching, massage, and sleep well, all that stuff. I needed to be very professional to wake up every morning and be ready to compete.
"I'm happy that nothing major happened throughout this period. It's been a dream run on the court; off the court as well my body has reacted very well and I couldn't be happier, of course."
To help preserve himself he is missing the clay court season and will go into the gym and practice on hardcourt. He plans on playing on clay two weeks before Roland Garros but he has thrown out a few hints that he will miss the French Open. He has made it abundantly clear that the grass and in particular Wimbledon are his top priorities.
He indicated that the clay maybe have irritated his knee last year and he also said that he would not play for about ten weeks.
"I have to pick my moments where I can peak and stay healthy," Federer said. "So I feel very comfortable and confident that it's the right decision. I did reconsider with the team what the schedule really was.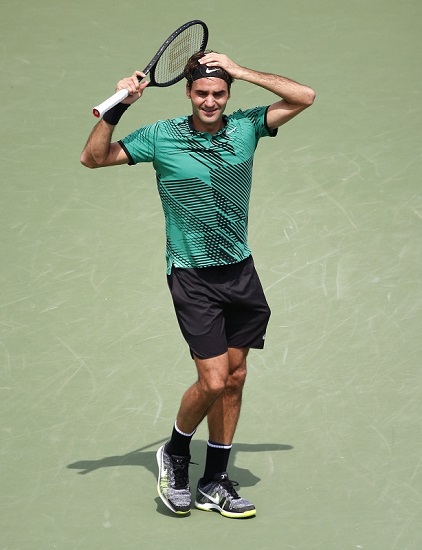 "At the end of the day, I need to look out for my health, that I'm happy in all parts of my life, personal, private, on-court life, professional life, and I can't keep this pace up on every single day. Just too much and I'll run out. The desire will run out.
"Wimbledon has to be the biggest goal, I mean now in the near future. The American hard courts I guess as well. The French Open I guess to some extent. It's just we'll see what happens, you know. No pressure there really because I won't have a preparation as such.
"But all of the grass really is important to me because I'll play Stuttgart and Halle there, too. Then of course I am looking very good for the World Tour Finals, for the year-end championships, where I've been very successful. I like the indoors as well. So for me basically the second half of the season is a big priority now. That's why I'll take a break as well."