Nick Kyrgios is often criticised just for the sake of it.
Nick Kyrgios walked into a media conference after beating Novak Djokovic, for the second time in three weeks, at the BNP Paribas Open in Indian Wells and saw me sitting to one side. He said: "I can't do anything, I just can't. Whatever I do people have a go at me." He had a questioning half-hearted smile on his face. A look that was disappointing to see because Nick Kyrgios had genuinely done nothing wrong.
After his first win (he had a bye in the first round) he did a superb post-match media conference. He explained that he was in a happy space and he was enjoying his tennis. He explained how happy he was to see his girlfriend Alja Tomljanovic back playing tennis on the tour and that allowed him to feel better about his own tennis. Kyrgios was relaxed and certainly in control.
He had also made it clear the best decision he had made this year was to play Davis Cup by BNP Paribas and to be around the guys in the team.
It had come after the Australian Open and things were sour and he reflected on the fact that while hardly any Australia player had done well at the Australian Open, it seemed like he was the one picked on by the Australian media at large.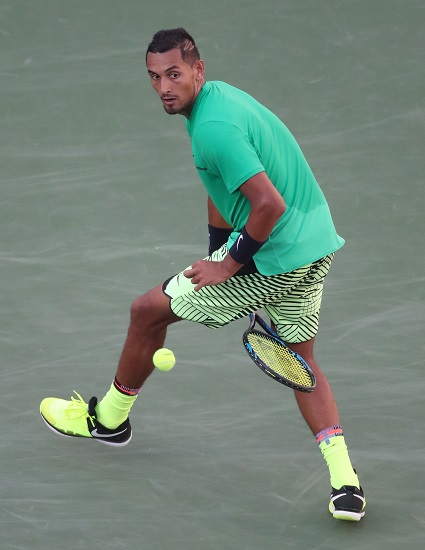 He is right. The critics were out with their knives. Sure he was in a good position against Andreas Seppi and probably should have won but a tennis match is not just one player on the court, there are two. Seppi is an experienced player - if anyone cares to remember he did beat a guy named Roger Federer at the Australian Open. However, in this instance to nearly all-an-sundry he was just some Italian player. Understandably Kyrgios was left disappointed.
"Towards the end of last year, I was just going to places and dreading going, like just really dreading going to tournaments," Kyrgios said. "Didn't want to practice, didn't want to really do anything. I had a physical trainer for a little bit, but it was tough, because my team was motivated but I wasn't motivated.
"So it's, like - I don't know. After Australia it was tough, as well. Obviously it felt like the whole of Australia was against me after I lost. Even though no other Australian did really well, but I copped it all, I felt.
"I was in a dark place, didn't want to play for a bit. I was going to take a break for who knows? I was talking to my team, like, I can't really play anymore."
In Indian Wells it was a different person on show; there was a freshness about him until someone tweeted that while it was great Kyrgios had all these nice things to say about his girlfriend etc, he apparently showed "no respect" to the media or anyone else in the room because he was checking his mobile phone.
The person who jumped to that pathetic conclusion on Twitter was not even in the room, not even remotely close to there, not even a media representative and had diddly squat of an idea what Kyrgios was doing. I was there. He was answering a question when his phone, which was sitting on the table in front of him, went off and all he did was put a finger on the off switch.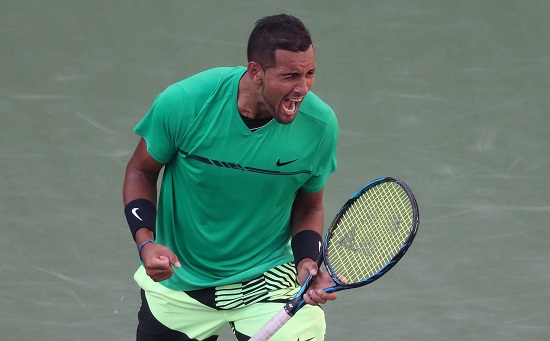 The point of all this is that Kyrgios can't sneeze and he will be criticised. It is pathetic. Late last year in Australia a news story on Channel 7, one of the commercial TV networks, said Kyrgios was dropped by an airline sponsor because of his behaviour. It was a load of rubbish. In fact Kyrgios was not interested in continuing the sponsorship and he withdrew … not the airline.
Things are frequently twisted with regards to the 21 year old.
At the BNP Paribas Open, Novak Djokovic and Ryan Harrison both had some tantrums during their matches. It happens; it's the pressure of the sport at this level and racquets were broken but how much was made of it? Barely anything, if at all. If it had been Nick Kyrgios he would been the devil reincarnated.
"They are going to say wretched things whether I do well or not," he said. "I'm the type of person that's going to have a fan base, and I'm the type of person that have people that don't really like me. I'm comfortable with that.
"I don't think I'm a bad guy at all. Honestly, like, I have had a couple mix-ups in the court, but that's in the heat of the battle, but that's when you're competing or you're angry.
"Off the court, I don't think I have done … I haven't done anything against the law. I haven't drink-drive, haven't shot someone, I haven't stolen. I'm not a bad person. In the scheme of things, you put it in perspective, I'm really not a bad person."
No one can argue against that!