Elena Vesnina won the biggest singles title of her career with the BNP Paribas Open.
It was twelve months ago at the BNP Paribas Open in Indian Wells that Elena Vesnina was trying to qualify for the main draw. The attempt did not last long. She lost in the first round of qualifying. It was sort of a wake-up call for the Russian. She knew she was better than that and the people around her, like her husband, her professional staff, her family told her she had the ability to do way better. She had the shots but something was just not clicking.
The sports psychologist degree in her began to kick in and the road back began. Like before the results on the doubles court were keeping her afloat but that was not enough and she wanted to prove things in singles. The wins were slowly garnering momentum and at Wimbledon in 2016 she reached the semis. The belief was back.
It was that emotion that helped guide her to the title at the BNP Paribas Open, defeating Svetlana Kuznetsova who was left empty for the third time at the Indian Wells Tennis Garden, 6-7, 7-5, 6-4 as Vesnina became the 20th different woman to win the title in the 29 years it has been staged. Kuznetsova, who like Vesnina is into her 30's had all the chances possible; she led 7-6, 4-1 and was even up 4-2 in the final set.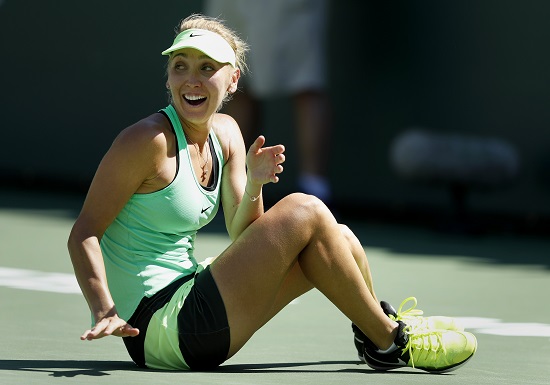 "I was kind of fighting to just stay longer on the court, just don't give it so easy," Vesnina said. "I was telling to myself, You're 4-1 down. Nothing to lose. Just fight for each game, you know, try to win every point, you know, try to deserve every point, because she will not give you anything.
"When I was down 4-2 in the third set, I know these kind of feelings when you're having so much chances and you're not using them, then your opponent will have one chance and she will use it. So I think that's the situation what happened with Svetlana and me today, because she was up the whole match. She was up a set 4-1, then 4-2 in the third. She had so many break points on my serve. She was 30-Love up couple of times on her serves.
"And I always keep coming back. I stick there, you know. I was just not giving anything, you know, that moment. I was just -- I didn't thought about, like, the end of the match. I was just thinking about how to kind of get back into the game. You know, I was just thinking about that.
"And when I broke her at 4-All and went to serve for the match, I had this in my mind. You know, I was, like, I'm not gonna give it. I went to serve, and I was, like, I never gonna lose this game.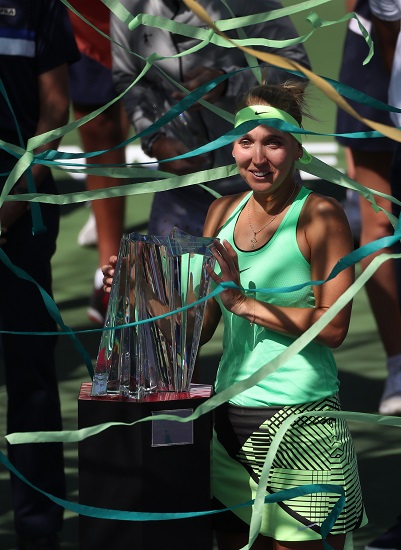 "I don't know how I have it in my mind, you know, serving for the championship point, championship game, you know, and don't be so nervous, you know. I was really -- that game, I was really calm. I was not thinking that if I'm going to lose this game it's going to be 5-All. I was not afraid to lose, you know, maybe for the whole match. I was just trying to play.
"And I think Svetlana, end of the match, she was afraid to lose the match, and this is the difference maybe."
Vesnina describes tennis as being "awesome" and what she has is "self belief" and what she has is a "vibe for all payers". So many would freak out at losing in the first round but Vesnina used that sports psychologist angle to be positive.
"You can regroup and get back," she said. "You know, you can just play the best sport you have, what you're doing for all your life. You know, you gave so much to tennis. I gave so much to tennis.
"I had, last year, kind of few tough momentum when I was playing, coming from qualifying, having a lot of matches and trying to kind of win these matches. I was not thinking about my ranking at that moment, I swear. I was just thinking about my game, you know.
"When I had couple of good wins against the good players, I was, like, Okay, this is it. I have it. So just remember this. Remember your shots. Remember your kind of feelings on the court when you were winning these matches. Try to keep it as long as I can.
"But it's difficult. We have a lot of tournaments, and I had a lot of matches. And even when I thought that, you know, I kind of lost this kind of feeling, then the Wimbledon came. I made that semifinal run, and it gave me a lot of confidence, because I was waiting for this kind of Grand Slam run, you know, long run for all my life. I was kind of going there. It was close but not close enough, you know. I couldn't do that.
"And now here I won the title, and this sounds like a miracle, you know, for everybody, for you guys, for me, for, I think, all the girls out there."