Serena Williams has won a seventh Australian Open and 23rd career major.
At Wimbledon last year when she won her 22nd career major, Serena Williams said winning a 23rd major hit her radar. She was tied with Stephanie Graf for the most from the Open-era but the all-time record held by Margaret Court was still sitting at 24. Williams has now broken the tie she had with Graf and while she says she is not think about 24, one gets the sense her mind is telling her to go past Court.
Serena won her seventh Australian Open when she beat older sister Venus 6-4, 6-4 in 82 minutes. Match point was won on an error which was the pattern that marred this final. Venus sent up a high but awkward, Serena was under it but did not have to do anything as the ball landed out. She slowly went down in a squatting position and eventually sat on the court with her arms raised accepting the applause.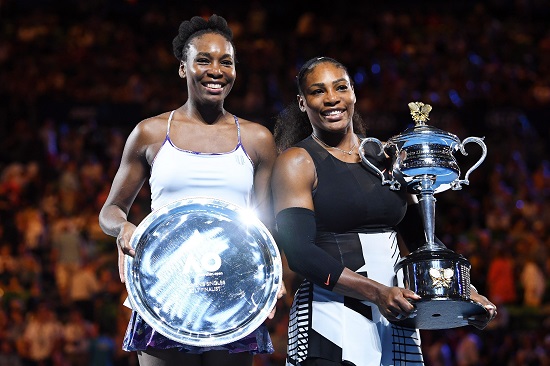 "It's such a great feeling to have 23," Serena said. "It really feels great. Yeah, I've been chasing it for a really long time. It feels like, really long time. When it got on my radar, I knew I had an opportunity to get there, and I'm here. I'm here. It's a great feeling. No better place to do it than Melbourne.
"My first Grand Slam started here, and getting to 23 here, but playing Venus, its stuff that legends are made of. I couldn't have written a better story. I just feel like it was the right moment. Everything kind of happened. It hasn't quite set in yet, but it's really good."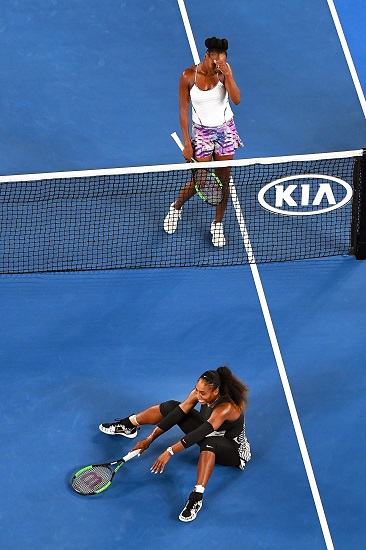 On top of winning, she also gets the world No.1 ranking back, something she lost to Angie Kerber last September. "That was a bonus. I didn't actually know. It feels good. I like being on top, so I really like that feeling," she said.
This final was not one to remember; it was riddled with errors and service breaks and the actually tennis was disappointing and I is not thing new when the sisters play one another because that sibling rivalry is not easy to cope with although Venus said the mistakes came because they were going for their shots. However, all that gets pushed to one side and the glory of winning is all that matters. A point not lost on Venus.
"Serena's been in a lot of finals, but I haven't been able to be there as much as she has," explained Venus. "To have this opportunity to play against each other again, and to be able to rise to that occasion, was quite momentous.
"(23) is a great number. I know she would like to have a little more. Who wouldn't? It was a great moment. I'm very happy that she's been able to get to number 23 because there's 22 ahead of that that she also earned, and she earned it.
"I mean, she's a champion. She's a champion on the court. She knows how to take it to that next level. Then off the court, obviously she's an amazing person, an awesome sister. I couldn't ask for much more."
The win extended Serena's record over her sister, its now17-11. This was her 29th final at the majors and she maintains her place at the oldest women to win a major while Venus is the oldest woman to reach the final of a major in the open-era. Their combined age of almost 72 made this the oldest final at the majors in the open-era.
"We are just so proud. We feel so fortunate to have this opportunity to be the ones that can do it, you know," Serena said. "Venus and I work so hard. Still to this day we work side-by-side each other at practice. We motivate each other. Like I said on the court, every time she won her match, I felt obligated to win, I've got to win, too. The motivation she gives me, it's really second to nothing. It's amazing."