Mirjana Lucic-Baroni's story is what Hollywood scripts are made from.
Any player who reaches the absolute pointy end of a major is excited and happy but very few show the emotion that was on display from Mirjana Lucic-Baroni on the Rod Laver Arena when she reached the semi-finals of the Australian Open. This was unbridled joy, excitement and tears that turned to sobbing.
For the first time in a staggering 18 years she reached the semis of a major. The road she had been on was full of rocks and stones and would have curtailed any dreams a lesser person may have had. However, gradually that dirt road started to smooth out and has turned into a highway.
When she upset the fifth seed Karolina Pliskova 6-4, 3-6, 6-4 her racquet dropped to the court. Her face was in her hands and she knelt on the court in a foetal position. It was then the sobbing began, on composing herself she crossed herself more than once and said a prayer. For this sport, which can be so unforgiving, to bear witness to such a glorious moment, gave tennis the heart many of us know exists, but is rarely seen.
"Those moments when you're on the court and you're winning, those couple minutes of pure ecstasy are amazing, and once you walk off the court, everything calms down a little bit," she said. "I'm still in the tournament, and I want to remain kind of calm and focused and give another really good performance in the semis."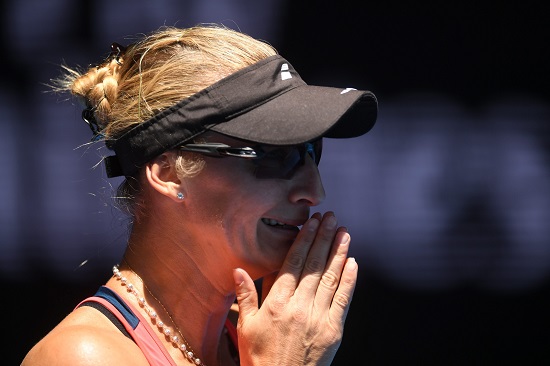 Lucic-Baroni came onto the scene in 1998 and a year later she was a Wimbledon finalist. Her potential was talked about constantly in those days. I first met her on the grass courts of White City Tennis Club in Sydney, it was the old home for the Sydney tournament and she was working with Clint Newcombe the son of tennis legend John Newcombe, and Mirjana I remember was a youngster who was excited to be living a dream.
It was not so long after that, that the dream was becoming a nightmare. Abusive father had her scared, money was not there for her to keep playing and for years she disappeared into oblivion.
She was a forgotten soul and people thought it was injuries and being burnt out. But there was a light in her life and Lucic-Baroni found her feet again; her heart was beating faster and she began to dream. In 2010 she married Daniel Baroni and he lifted her and her life is what she wants.
"Yeah, grace of God, yeah. Look, I've said before, always, I always knew I had a really good game, really big game, and there has never been a doubt about that. And you know, it's not easy doing it," Lucic-Baroni said. "There's so many great players. Even when you're playing great, it's not a guarantee that you're going to go far in the tournament.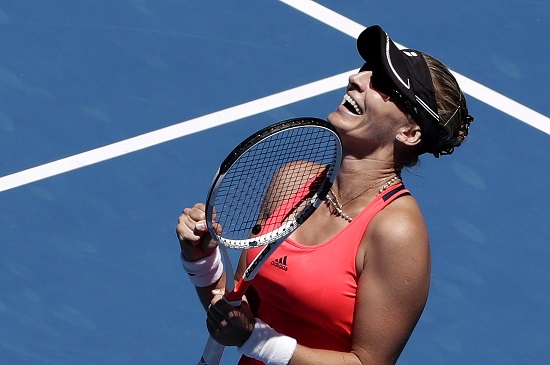 "There's a lot of other players playing well, and you may wake up that day maybe not hitting the ball as great and somebody else is. It's just really small margins. And I'm really happy and lucky and grateful that things have come together here really well for me."
She says this time it's "incredibly special" reaching the semis because it has been so long and tat struggle has been so big. She says nobody in this world thought she could ever be in this position again other than her closest family and those around her. Proving everyone wrong "is fun".
It's fun to enjoy this for myself and live these incredible moments; it's more special this time, for sure," she said. "It's just perseverance. It's just kind of almost being little, I don't know, what's the right word, ignoring everything and just pushing forward and kind of going through the wall. It's not going but you keep pushing and you keep pushing, and nothing is working, and you keep pushing. That belief that eventually it will change...
"I think that's what perseverance is, and I feel like that's what helped me get here."
She is showing that dreams really do come true.
NOTE: She plays Serena Williams in the semis. Both women first played the Australian Open in 1998 and both lost second round. The only occasions they played, twice, was in 1998 and Serena won both.