Coco Vandeweghe is making the breakthrough.
When she was much younger Coco Vandeweghe asked for and received an autograph from Venus Williams. The 25 year old American will now be playing her in the semi-finals of the Australian Open, the first time Vandeweghe has been in the final four of a major.
"She was already a great player when I asked for an autograph," Vandeweghe said. "It's a dream to play someone you grew up watching. To play an unbelievable player, future Hall of Famer, Venus, to be on the court with her, I've only experienced it one time before.
"But to do it at this stage of a Grand Slam is kind of crazy. I mean, I can't really put it into words. Not only when I was younger, it was unknown if I even wanted to play tennis, because I was playing basketball as well, but it was kind of, like, you see that, you see it happening, but you more see yourself there. You don't see who the opponent is on the other side when you get there.
"To definitely have two Americans against each other in the semi-final I think is pretty cool."
Vandeweghe has enjoyed a remarkable tournament having knocked off the defending champion and world No.1, Angie Kerber, who looked suspect throughout the tournament, in the fourth round. She then backed it up by disposing of Garbine Muguruza in convincing fashion, 6-4, 6-0.
And when she won the matches there was no animated demonstrations. In fact after the Kerber result, she stretched out her wide wingspan and sort of shrugged her shoulder as if saying "ehh you doubted me?" It was actually quite funny.
"It feels really good. It's amazing to be in a semi-final. But, you know, not satisfying. I want to keep going, keep playing. There's more things to do out on a tennis court that I'm hoping to achieve," she said.
"I thought it was pretty good. I thought I took care of the things that I could control, which is the most important thing: not letting outside factors affect anything that was happening.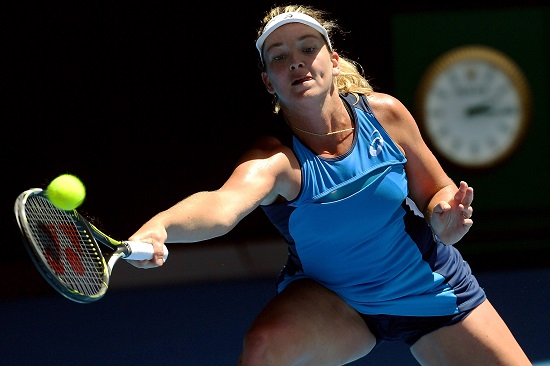 "She's going to play some good points. I'm going to play some bad points. Also vice versa, I'm going to play some good points and she's going to play some bad points.
"It's kind of weathering the storm a little bit, knowing what Craig (Kardon, her coach) and I talked about before the match, the game plan, is going to work, and believing in it, not wavering from it, which I'm very proud of myself for doing, especially early in the first set when I was kind of squandering quite a few breakpoints."
Kardon is a great guy and someone I have known a while through mutual friends. He is a laid back, calming influence because Vandeweghe could be demanding which is not meant in a negative way. Kardon is just the type of person to be a relaxing influence on her. His experience is not questionable having working with Navratilova, Pierce, Davenport.
He calmed her down before she walked on court for the Muguruza match and through all the noise n a stadium she hears his voice.
"It's just the calming voice of someone you trust, you know that trusts and believes in you, was enough for me to feel better about myself just in this one situation," Vandeweghe said.
Through her career she has heard many voices and that has stemmed from her childhood. She said she was not a player that stuck with one coach in particular.
"Growing up, my grandparents were big sounding boards for me," Vandeweghe said. "My mom was a divorced parent. To have two extra eyes that kind of raised my mom, that I could run to if my mom was upset with me, go eat Oreo cookies with my grandmother, it was great.
"I would equate a lot of the presence of just my overall demeanour. Unfortunately both of them are no longer with us today, so I don't have that anymore except when I sit quietly in a room, I feel the need to talk to them, I feel like I can.
"A lot of different coaches through my career, not only in tennis, but basketball coaches, soccer coaches. Coaches hold a very big role with young players. I think it's very important to have a good, responsible coach that can speak to many different players.
"As John Wooden said it, it's not how many ways you can say -- not one player can say one thing the best way, it's how many ways you can say one thing. If one coach was telling me to get under the ball and hit more spin, I was, I don't get it. Another coach says it a different way, that got it. Doesn't matter, same result.
"I think it's very important for young players to get a good coach, just a good coach in what they need. Maybe it's a leadership role, technical role, or a friend, something like that. I think it's very important."