Novak Djokovic arrived in Shanghai for the Shanghai Rolex Masters, his first event since the US Open and received a huge welcome.
When Novak Djokovic arrived at Shanghai's Pudong International Airport for the prestigious Shanghai Rolex Masters where he is the only three time winner and the defending champion, the reception he received outside the arrivals hall was near hysteria. Approximately 300 fans with banners, videos, posters, neon signs and more were there to greet him.
As part of the tournament management I was there to meet him with Tournament Director Michael Luevano and Djokovic was beaming with a sense of pride to see so many people there for him. "I don't think I get this anywhere else in the world," he said.
From the airport he went straight the tennis stadium despite having flown from Europe and hot the practice courts.
The multi-award winning event is his first tournament since losing the final of the US Open to Stan Wawrinka a month, almost to the day, ago. Two days later at Qi Zhong Stadium he was practicing with Stan the Man, and looking quite sharp and made it clear he was also feeling fully fit.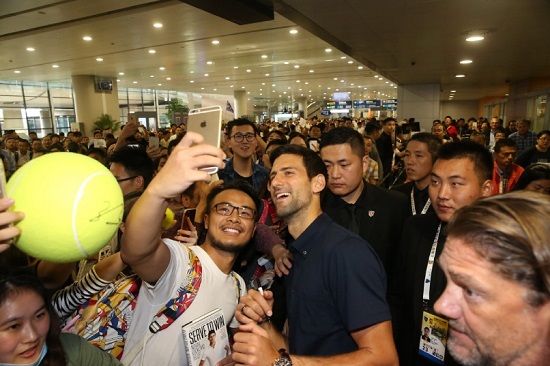 "There is certainly something different when you're playing against, practicing with a top player, because the quality of the training is obviously very high," Djokovic said. "That's why I like always to train with Stan especially because we have a very friendly relationship and we get to train quite often, you know, especially before big tournaments.
"I never had a problem to practice with anybody. I know that everybody's different. Sometimes it's not easy to practice against one of your biggest rivals, because there is always, I guess, the element in that practice which mentally, you don't want to seem like something is wrong with you. You always want to be at your best.
"But on the other hand, from the other perspective, it's actually good that you are trying extra and putting extra effort, because then, you know, you train better. You put more quality, more intensity in the training. That's what I got with Stan and he got with me, as well. So we are getting ready for the competition."
Recently the he commented that winning majors and being No.1 are not necessarily the absolute priorities for him anymore but that life in general is at the top of the list. There had been a view that maybe winning the French Open, which has been such a priority, had possibly robbed him of some motivation. He had after all become the first man since Rod Laver to hold all four majors at the one time.
"My approach is just different," he said. "My priorities are now, especially after the period after Roland Garros where I had a little bit of difficulties to enjoy, really. I had to -- maybe I was exhausted mentally and emotionally. I didn't know actually how I'm going to react after winning French Open because it was very emotional. I was obviously very content, but on the other hand I was also very exhausted and I needed some time to recover, to regroup.
"The last three months were up and down a little bit with oscillations, but generally I didn't find that kind of satisfaction on the court, which is the very reason and the source of my motivation to play the tennis.
"So if I don't have that kind of inner joy of playing. I know that every day obviously is different and it's not easy to always feel at your best and always enjoy 100%, but, in the last period it was just too many of those days where I felt like I'm spending too much energy and effort, mental effort, into my training and matches.
"So that's my priority now to get back into that inner joy and really feeling happy for being on the court and everything else comes second and behind that."
He says from this moment on, despite being world No.1 he sees himself as equal with everybody and making such views known has nothing at all to do with trying to take pressure off himself. He said he was "telling the truth" regarding that and it is genuinely a case of him just liking to play tennis.
"Look, I don't know what future brings. That's not in my hands, and the only way I can predict the future is to create the future," Djokovic said. "I try to create a future for myself being in the present moment. I don't try to think what has happened before or what's coming later on. I believe that in this very moment this kind of thinking and mindset is the best for me.
When I said I'm not interested only in winning and lifting trophies, that doesn't mean that I'm not interested in that at all. Of course when I get on the court I will do my best to win the match, as there is no change in that. But the shift of, I would say, the priority and the mindset towards tennis, career, towards my life, it's different. You know, it's different now.
"I can be very proud and I'm very grateful of the results that I had throughout my career. So, you know, again, this is the phase that I'm in at the moment and we will see what happens tomorrow."
It's a good position to be in.