Stan the Man, Stanimal or just plain Stan, whatever name, he is the new US Open champion.
Normally the human spirit breaks down emotionally after a mammoth event; after a sporting achievement that has taken every ounce of your being to succeed. Whatever you have put in, all the physical work all the adrenalin is used up so it is common for an athlete to break down. The strange thing with the US Open final the outpouring of emotion happened in reverse for Stan Wawrinka.
"Before the final, I was really nervous like never before," Wawrinka said. "I was shaking in the locker. When we start five minutes before the match talking, last few things with Magnus (Norman, his coach), I start to cry. I was completely shaking.
"But the only thing I was convinced with myself that my game was there. Physically I was there. My game was there. Put the fight on the court and you will have a chance to win. And that's what happen after few games when I start to believe in myself, start to be in the match. I was only focus on the match, not what can happen if I win the match. Is it the final of the U.S.? No, I'm just focused what I'm doing in the court."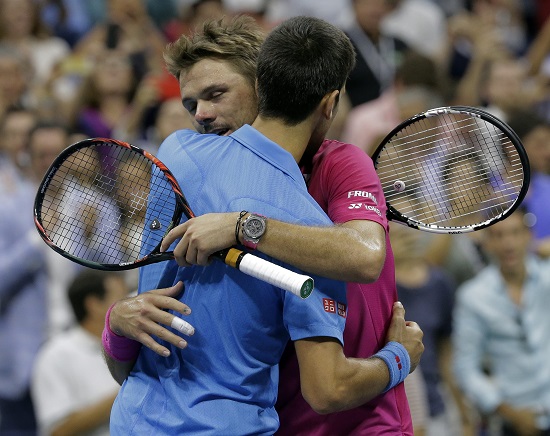 And that's what he did and after three hours 55 minutes by the score of 6-7, 6-4, 7-5, 6-3. 31 year old and some months, Stan Wawrinka had defeated Novak Djokovic to win his first US Open playing his first final there. His perfect record in the finals of majors remained intact – he had won the 2014 Australian Open and the 2015 French Open and both times also got past Djokovic.
"This is amazing, for sure, amazing two weeks," Wawrinka added. "I spend so much time on the court. I knew it will be a really tough battle again playing the No. 1 player, Novak Djokovic, who always push you to play your best tennis if you want to beat him.
"Was not only in the tennis side but physically and mentally was really tough, again. Honestly after the match I was completely empty. I put everything on the court. Not only today, but the past two weeks. I was trying to stay with him. I was trying to be tough with myself. Trying not to show anything. Not to show any pain. Not to show any cramp. Not to show anything. I was suffering on the court, but I'm happy and proud with what I have achieved today."
Opportunities went astray for Djokovic. The situation began to tighten up in the first set when he did not score a double break. Wawrinka was able to get back in and even though he lost the first set tiebreaker very easily, he was now in reach. By the end of the match Djokovic had converted just three of 17 breakpoints. You are not going to win a title of this magnitude with a stat like that.
"I just didn't capitalize at all on my opportunities. I had plenty of them, break points. It was a terrible conversion of the break points. Just terrible from my side," Djokovic said. "In the matches like this, if you don't use the opportunities, the other guy comes and takes it. And that's what he did. He was more courageous, because he stepped in and played aggressive where I was kind of more waiting for things to happen. And that's it.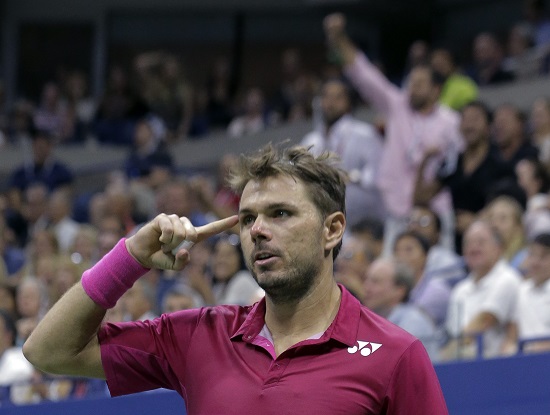 "Obviously Grand Slam finals are different than any other match. I have lost a few Grand Slam finals, some close matches. This has been one of the worst stat on the break point conversion for me, that's for sure."
The day before in winning the women's singles Angie Kerber said she had dreamed of winning majors. Wawrinka was quite the opposite.
"I never dreamed to win a Grand Slam until I won the Australian Open," Wawrinka said. "It was never a dream because for me it was way too far. And, again here, I arrive here without putting goal to win it. Arrive here, take match after match. Every time I step on the court I know I can beat my opponent. Even today. But when I start the tournament, I'm not seeing the draw and say, Okay, my goal is to win the tournament."
Wawrinka became the oldest man to win the Open since Ken Rosewall in 1970, he is the first 30-something to win the title since Pete Sampras in 2002 and he is the first man since Djokovic in 2011 to win the title after facing a match point, which Stan did against Britain's Dan Evans in the third round.
"For sure you get a little bit lucky when you save match point, but that's tennis," he said. "The more I win in a Grand Slam, the better I feel. I practiced. I was feeling the ball. I could close my eyes. I was feeling the best tennis I ever played. So I was sure that in the final I would be ready for that."