An amazing time on court at Olympic tennis.
More players have shed more tears than I can remember at any other tournament. The passion and emotion has been visible for all to see and every player that has walked onto a court for a match has worn their heart on their sleeve. The tennis event at the Rio Olympics has provided some magical tennis and a depth of feeling not seen normally on the week in, week out tour.
As we have seen so often in the past, and it has been the case all over again in Rio, the logistical issues to stage an Olympic Games are mammoth and the frustrations can eat into anyone's temperament but always in the end it is the sport that saves the day.
At the eighth Olympics since tennis returned as a full medal sport we were witness to stunning tennis in eight of the nine days (one day was a total washout) the sport was scheduled and it ended with historical moments, moments that will be treasured forever by the athletes concerned.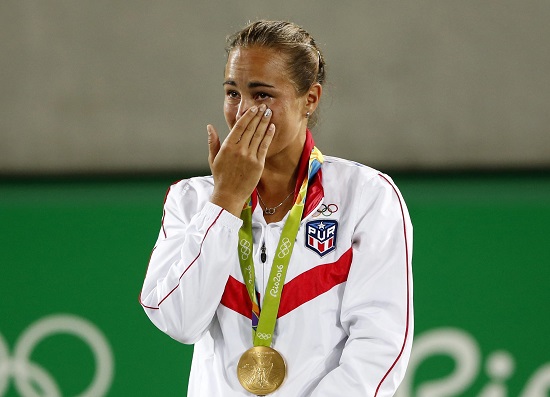 Yes we see players overjoyed with excitement and happiness when they have big wins or claim titles from the 250 and International levels and beyond but to compete at an Olympics or play for your nation and team mates can't be replicated. That's the difference and player after player expressed that feeling.
Monica Puig and Andy Murray created history with their stunning gold medal wins. Puig became the first woman from Puerto Rico to win a medal and that medal is also her island home's first gold medal. She could not stop crying and it was beautiful to see and while her tears flowed, Angie Kerber who won silver was equally emotional after the 6-4, 4-6, 6-1 result. She could have been the first German woman to win a singles gold medal since Steff Graf in 1988; Kerber was just eight months old when Graf won gold.
"I think I united a nation," Puig said.
"It's just amazing. I know my country really appreciates this, and I really wanted to give this victory to them. The way that I did it I wouldn't want it any other way. It's just a lot of relief, a lot of tension going away. Also I couldn't really believe what happened. It was such an amazing moment.
"The ball seemed to be going out kind of slow, so I wish it would have sped up a little bit. I'm just so excited. With every match that passed, I just continued to learn and continued to grow. I just achieved one of my biggest dreams."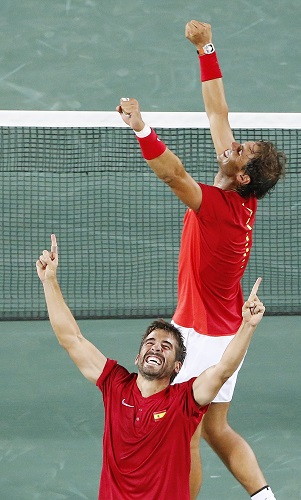 Murray became the first player to win back-to-back gold medals, an amazing achievement following his 7-5, 4-6, 6-2, 7-5 result over Juan Martin Del Potro. It was a glorious a match and a stunning atmosphere and this was an incredible finish to the event which for Murray had started with him being the British flag bearer.
"It means a lot," he said. "Obviously, getting to carry the flag at the opening ceremony was an amazing experience. I was very honored to get the opportunity to do that. I found that quite emotional, as well. The day after I found out, the day I did it as well, I had to sort of kind of regroup and get my mind on the matches.
"So to finish it with a match like that, as well, obviously I was very emotional at the end. It's been a buildup of emotions over the last 10 days or so. Just very happy that I got over the line tonight."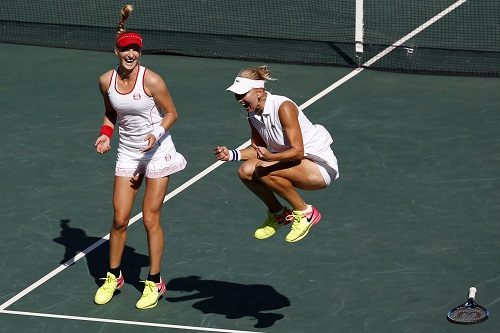 Mixed doubles was played for only the second time since tennis returned and Bethanie Mattek-Sands and Jack Sock became the first American team to win gold since 1924; they beat Venus Williams and last minute recruitment Rajeev Ram 6-7, 6-1, 10/7. Williams incidentally became only the second person to win five Olympic tennis medals and this was the first time she has lost an Olympic final.
"This is probably going to be on the top. This is my first Olympics, first time being selected. I don't think it's even comparable," Mattek-Sands said. "I'm super proud of myself for my Grand Slam titles, but I think the Olympics is just a different category altogether. It's a team event. We've kind of been saying this all week. You're really part of Team USA. I mean, tennis is an individual sport, but this kind of really brings everybody together."
Gold in the men's doubles went to Marc Lopez and Rafa Nadal who beat Horia Tecau and Florin Mergea 6-2, 3-6, 6-4.
"It was amazing experience, especially doing that with one of my best friends, with Marc, is something unforgettable for me, for both of us, I think,' Nadal said. "Win a gold medal after two months and a half with no practice, with no preparation at all, just working on the gym, is something that is a dream, no? The moment was unbelievable, and we had fun. We fight hard. The only thing that we can say is that we are very, very happy."
The women's doubles went to Ekaterina Makarova and Elena Vesina over Timea Bacsinszky and Martina Hingis 6-4, 6-4, The Russians said they wanted a medal more than anything and had dreamed of this for years. It means more to them than the majors they have claimed.
"We wanted the Olympic medal, especially gold medal, of course, since we were juniors," Makarova said. "It was our dream from the kids. We really wanted to have a medal of Olympics. It's much more for us than the Grand Slam. We were all the time talking about that, that Grand Slam is great tournaments, we're so happy that we won two Grand Slams, but the Olympic Games for us means much more, a lot. We are play for our country. We won the gold medal. It's amazing feeling. Our dream came through."
Without doubt one of the year's best times.