The Rio Olympics are almost upon us so in this two-part preview I look back on the Olympic Games I have been fortunate to attend.
There continues to be enough discussion about tennis being in the Olympic Games even though that chatter should be long gone. The fact that there still is comes from many who have either never attended the tennis event at the Olympics and are only looking at the subject from a distance or have not bothered to investigate the historical aspect of tennis at the Games of just feel it is a lot easier to be negative.
That sort of attitude can also tend to carry through to Davis Cup by BNP Paribas and could lead to a near radicalisation of that competition. Can things be adjusted? Absolutely. Should things be changed in such a way that it is akin to being photo-shopped out of its original appearance? Absolutely not.
What critics of tennis in the Olympic Games fail to investigate and realise is that tennis was one of the original sports at the first modern Games in Athens in 1896. It remained in the Games till 1924 Paris when the International Olympic Committee made certain demands on the International Tennis Federation and the ITF told the IOC to take a flying jump.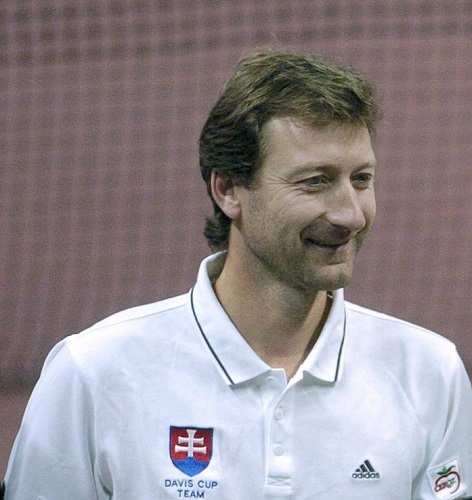 Tennis was an Exhibition Sport in Mexico City in 1968 but it was not really till the Los Angeles Games in 1984 that it made a concerted return as a Demonstration Sport once more. This was the real start of tennis's return and in 1988 in Seoul it was bestowed with full medal status.
It took a couple of Games to become established but tennis was back. In my view tennis is a sport that must be, should be and will remain in the Olympics and I believe, having been to six Olympic Games, those that believe otherwise maybe entitled to their views but those views misconceived. In this two part series I look back on the Olympic Games I was privileged to be at.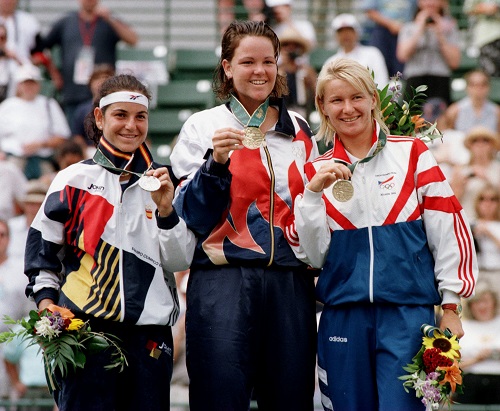 1988 was my first Olympic Games and it was one to remember. Steffi Graf achieved what no other player had done before or since, she won the "Golden Slam". In one heady year she claimed the Grand Slam and then added the Olympic gold medal to her incredible cache.
Sure there were players missing and up to now there is an element of regret from someone like Pat Cash, who had won Wimbledon, at not attending. The men's gold went to Miloslav Mecir, known as the "Big Cat" for his stealth like movement.
I remember those Games for a brief friendship that developed with Carol Thatcher, daughter of the late Margaret Thatcher, who was engaged to someone I knew and she would often ask me about players for her reporting duties. I also remember those Games so well for being in awe of it all. I was staying in a high rise apartment block that over looked the tennis facility that was across the road, and sitting on the courts talking casually and socially with players as if it were a Sunday afternoon picnic. How it has all changed.
I missed Barcelona in 1992 when Marc Rosset who is still sarcastically referred to as "Mr. Happy" won gold and Jennifer Capriati snatched gold from Graf. Boris Becker and Michael Stich had never been friends but when they won gold they were brother-in-arms.
Atlanta in 1996 was known as the "Coca Cola Olympics, it was where the drink company is headquartered and had poured a lot of money into the Games. It was a Games remembered for terrible organisation and for a bomb that went off in the city centre, in an area I was at just the day before with colleagues.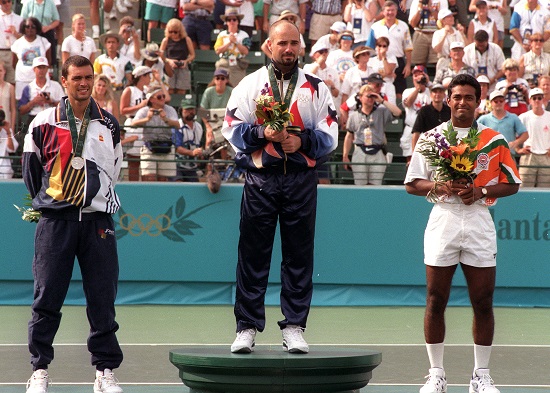 Tennis was at Stone Mountain which might as well have been on the Moon but none of that mattered as Andre Agassi and Lindsay Davenport won gold.
For both it remains one of the great highlights of their respective careers and the same goes for "The Woodies, Todd Woodbridge and Mark Woodforde who achieved all that was possible in tennis. I still to this day remember how their faces glowed when the medals were put around their necks. And for Leander Paes who won bronze in Atlanta, despite the great career he has had at the majors et al, that medal stands out just as the silver does for two=time major winner Sergi Bruguera.