British player Kyle Edmund makes important breakthrough.
Kyle Edmund had been part of British teams in the Davis Cup by BNP Paribas but it was really only in the 2015 final that he got an opportunity to shine. He certainly did for two sets when he led David Goffin but in the end it was experience, or rather a lack of, which possibly robbed Edmund the biggest moment in his professional life.
However the 21 year old, one of those young guns promoted among the ATP World Tour's "Next Gen" program, stepped right up to the plate in the quarterfinal round of the Davis Cup by BNP Paribas in Belgrade as Great Britain played Serbia.
A pretty tired Andy Murray asked for well-deserved time off from playing in the tie and no one could deny him. Still, in what was his off-week and down time, the new Wimbledon champion and world No.2 travelled to Belgrade and gave his support to the British team from the sidelines.
What a refreshing change Murray made to the deplorable comments made by golfer Rory McIlroy who at the same time made it clear he was not around to help grow the game of golf. His selfish attitude, which came in for legitimate criticism, showed a deplorable attitude. A professional tennis player has never come close to making such an egotistical remark.
So with selfless Murray cheering on Edmund, the very blonde player, born in South Africa, had the best weekend of his career as he claimed two vital points by winning his singles. The third point for the British victory over Serbia came with the doubles as Jamie Murray and Dom Inglot teamed up.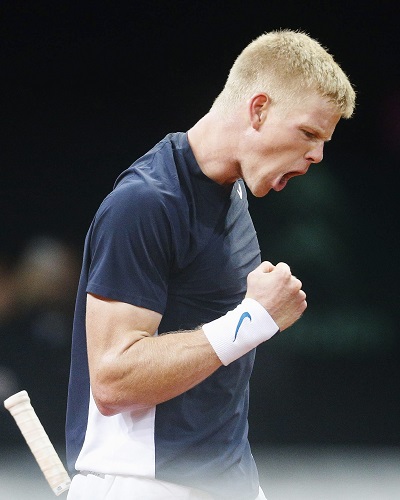 There had been suggestions that Edmund had been prone to not being able to close tight matches with that match from last year's final often cited. But it has to be remembered that Edmund has not played too many five set matches which are only highlighted at the majors and Davis Cup.
So with Andy Murray not on court, it was up to Edmund to take change and he handled things with such maturity. He did not drop a set in the matches he played in conditions that were so frustrating with the weather. He beat Janko Tipsarevic 6-3, 6-4, 6-0 and then in the rubber that sealed the tie that put Great Britain into the semis, Edmund defeated Dusan Lajovic 6-3, 6-4, 7-6.
There was just one hiccup. Up to the time he served for the match at 5-4 in the third set he had faced just one break point. He played some of the most stunning forehands that he shocked the Serbs. He dropped serve there and possibly before he might have fallen apart but knowing that he was playing for the nation and he was playing No.1 singles, Edmund's pride came to the fore and he closed the match.
It was a huge moment for him, no doubt a breakthrough.
"We've seen what he is capable of as he sits inside 70 in the world but he is going to shoot a lot higher than that; he is now a truer player," British captain Leon Smith said. "He has been getting stronger physically and to come out and win two best of three sets over three days, is testament to the hard work he and his team have been doing.
"These moments are big as you don't often play under such intensity, stress and noise and having to refocus, to play best of five which he is still pretty new at, it will give him a lot of confidence to believe in hat he is doing is the right thing. Tennis wise everyone can see what he has got, he's a great player and this will give him a lot more confidence."