Serena Williams has reached another milestone in her career as she won her seventh Wimbledon.
Serena Williams does not like to wait for anything but over the last year she has had to do just that despite the fact that she desperately wanted to tie Steffi Graf's tally of 22 majors. Her quest was disrupted in New York, in Melbourne and most recently in Paris. But as they say patience is a virtue and the patience paid off.
In an exceptionally high quality Wimbledon final Williams turned the tables on Angie Kerber who she lost to in the Australian Open final, and won her seventh crown at the All England Lawn Tennis Club. That No.7 had also given her No.22. This was her first major since last year's Wimbledon when she got to 21.
"It's obviously a great relief, but more than anything I think it was a really good and exciting win for me," she said after the 81 minute encounter that ended 7-5, 6-3.
The tennis played by both women was exceptional. The returns were devastating at times and Kerber worked so hard to stay with Williams who was applying the pressure from the start; Kerber had to save three break points in her first service game.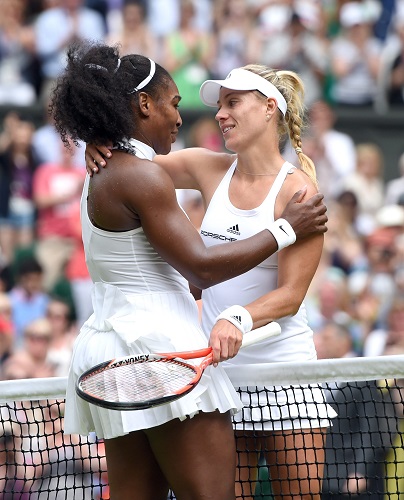 When Williams got the first set breaking serve in the twelfth game after the German could not handle a deep shot from Williams, the American shook herself and screamed so loudly at the net that the entire suburb of Wimbledon probably heard it. When she faced her only break point in the seventh game of the second set, she dismissed it with a blistering ace. And when Championship point happened her racquet slipped from his hand onto the court and she followed it down.
She said that moment was a combination of euphoria at winning the match and finally getting the monkey off her back in chasing No.22.
"Definitely so excited to win Wimbledon," Serena said. "You know, that's always a great feeling. But maybe even more so is the excitement of getting 22, you know, trying so hard to get there, finally being able to match history, which is pretty awesome."
It was very true what Kerber said about the match as disappointed as she was. There was no doubt she played outstandingly well and yet still struggled to regain what happened in Melbourne, albeit a different environment.
"I think I played what I could," Kerber said. "I can just say, I mean, Serena was serving unbelievable. At the end I was trying everything, but she deserved it. She really played an unbelievable match. I think we both play on a really high level. I try everything. Yeah, I mean, I think I was not the one who lose the match, I think she won the match. Yeah, just one can win, and today Serena deserved it."
Not that she needs to prove it at all but Serena only highlighted yet again what a phenomenal athlete she is. In his TV commentary John McEnroe referred to her performance as "super human".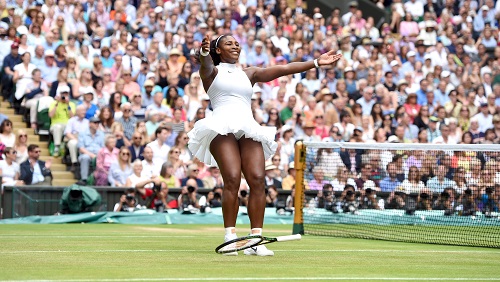 "I've been given such a great opportunity, I've been given so much talent, I've been put in a position where I can inspire females, ladies, and men as well," Williams said. "Anyone, any kid out there that wants to be something, has dreams. I've had great dreams. I didn't come from any money or anything, but I did have a dream and I did have hope. That's really all you need. We shouldn't put any female athlete in a box. Why do we have to be limited to just female athletes? We all work really hard. We just want to be known as just athletes."
With dreams come sacrifices and for her, like anyone who has reached pinnacles, there have been things put to one side and the hard work and practice has had to take priority. That's the road to success and she, this woman from humble beginning has proven that time and again, has done so with the biggest prize in tennis.
"Those sacrifices that you put in every single day eventually pay off," Serena said.
So now that she has equalled Graf's Open-era record of 22, the all-time record seems in arm's reach; Margaret Court sits on 24.
"Oh, God, no," she said laughing. One thing I learned about last year is to enjoy the moment. I'm definitely going to enjoy this. I've learned a lot about 22. I learned not to get involved in those debates and conversations. I just learned to just play tennis … that's what I do best."
That's not even open to debate and the wait is over.