Venus Williams has returned to some familiar territory.
This Wimbledon has had its fair share of feel good stories, heaven knows they have been needed with all the miserable weather that has been about. One of those stories was Marcus Willis and one individual wants to turn it into a movie. Hopefully not in the vein of that terrible film "Wimbledon".
But if there is a film to be made then the return of Venus Williams would have the script pretty much write itself. During her recent life she has been through much with regards to her health. The ailment she had was not getting diagnosed and that was becoming concerning. Energy was lacking in her physically, she felt fatigued and there were various other symptoms surfacing.
She couldn't play and things were an effort and there was a general concern about her wellbeing. Eventually the burden was lifted off her shoulders when the diagnosis revealed Sjogren's syndrome.
Venus had to get things under control and until she did tennis at the level she was used to, was out of the question. It took a while for it to control and she started playing again. It's an ailment that has to be managed. On the court the results were not there and the ranking slipped. Incredibly she appeared not to lose heart and wanted to keep pressing and trying.
In this case patience was certainly proving to be a virtue.
Late last year she won the second level year-end event the WTA stages and she returned to the top ten. But still the consistent results as there used to be were not there and there were still losses to players she should have lost to. She never gave up and that deep desire and determination has surfaced at Wimbledon once more.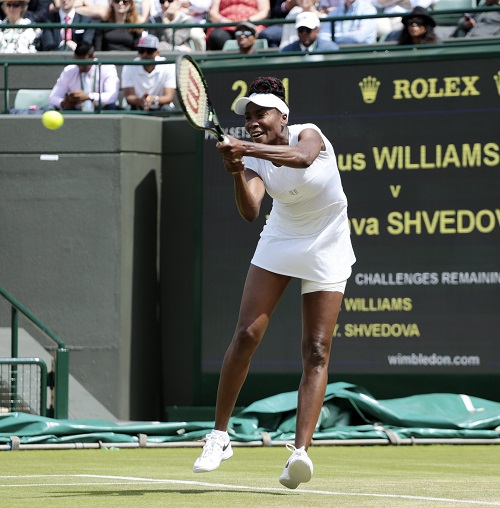 At the time of writing she had made the semi-finals. Her first time in the final four at the Club since 2009. Incredibly during the low times retiring was never contemplated; as she put it, "retiring is easy way out. I don't have time for easy". What kept the spark was the fact that she still believed in herself.
"I've been blessed, been really blessed, to have an opportunity to be here, have had an opportunity in the past to do this," Venus said. "I don't have any regrets about anything that's taken place in between. It's been a journey, but it's made me stronger.
"The good part is I always felt like I had the game. This is always a plus, when you know you have the game. So you just have to keep working until things fall into place. It's never a given. Everyone plays well."
She explained that not being in control of her own destiny during the period her health was suffering, was her biggest frustration. As Venus put it, an athlete is used to taking command and directing and being able to work for anything, so not being able to take up the challenges was tough to come to terms with.
"This has been my life. What can I say? I wouldn't wish it any other way," Venus said being philosophical. "It's been my life. It's been a beautiful life. It's been a great experience. It's been everything."
And, if it did come down to a film then Hollywood always wants a happy ending, it's part of that feel good feeling. The happily ever after scenario.
"Like that movie 'Wimbledon'. Real life is what Hollywood is based off of. So, hey, let's do it," she said laughing.