Not too many get the chance to receive coaching tips from Andy Murray but Romeo Beckham, son of you know who, got that opportunity.
From what we are led to believe the great David Beckham has lost his second son Romeo from football. Where for art thou looking now Romeo?
Well, his attention has gone to tennis and as David said of his boy, "he retired at the old age of 13 from football".
"He's happy hitting a ball around on the tennis court, he plays four or five times a week and he enjoys himself," Beckham said when he visited The Queen's Club on the eve of the tournament's start and met up with defending champion and world No.2 Andy Murray. "It's a great sport and a big privilege for him to be here, especially with Andy."
David has spoken to Andy in the morning so he knew he would be on-site but he and Romeo came down to the club to see if any practice was happening and it became a thrill for Romeo when Murray hit a few balls to him. Like Beckham senior is a role model for so many, Murray is a hero to Beckham junior.
"When you look at role models, you want them to be passionate about the sport, passionate about what they do, to play hard all the time, and Andy's one of those players," David said. "It's great for any young kid to have great role models in sport and Andy's definitely one of those for many kids around the world."
The Beckham father and son wandered around the Club and even ventured into the Media Interview Room where British player Kyle Edmund was in a press conference. It was like a comedy skit as Edmund did a double take … "Did that actually really happen?" he asked.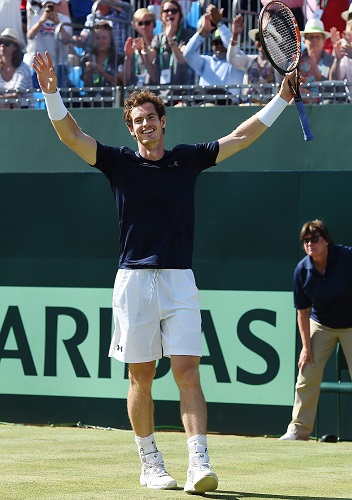 "I thought that was the only way through, I didn't realise there was a back way," an amused Beckham said. "I did apologise, I was trying to be as quiet as possible. But like I said, Romeo's a member here now. So we came down to see a few of the guys practising and obviously it's great for him."
Later the conversation naturally turned to Euro2016 and England's draw with Russia and Beckham told BBC that he watched it at home with the kids.
"I posted something saying that we played really well. I think the performance was great. Obviously the goal at the end was unfortunate and if we'd got another goal and been two up, then we'd have been raving today about the performance," he said. "But we should still be very positive about the performance. I think a lot of the lads did well and put in strong performances. They played with the passion that the fans want to see and played with energy, going out there and not caring so much about being on a big stage. That was good to see."
He sees the match against Wales as a win for England but not an easy one.
"I think Chris Coleman has done such a great job with the lads," Beckham explained. "They've got such a great, strong team spirit so it's going to be a challenging game and England vs Wales, they don't get more enjoyable than that. Gareth's had a great season, he scored a great goal yesterday but we'll see, it's going to be a great one to watch."