Ivan Lendl has agreed to rejoin forces with Andy Murray, effective immediately.
They started the trend four years ago – a "celebrity" coach with a top player and others followed and after two and a half years apart Ivan Lendl and Andy Murray ae getting back together. And for Murray it is probably the best thing since sliced bread. Murray, really, only has eyes for the tennis legend.
It was Lendl's decision to part company with Murray. He had had enough of the travelling (it was interfering with his golf, the hacker that he is) and he wanted some down time. He also had replacement surgery on both hips.
Murray was kind of shell-shocked with Ivan's decision to quit. The two got on incredibly well and, with Lendl, Murray won an Olympic gold medal and the US Open in 2012 and then the following year Murray ended a 77 year drought to become the first British man is all that time to win the Wimbledon crown.
In the interim Murray surprised the tennis world when he appointed Amelie Mauresmo who helped take him to two Australian Open finals in 2015 and 2016. They separated in May before the French Open.
Since then Murray has said he would like to restart with Lendl and Ivan never lost his interest in Murray and what he was doing.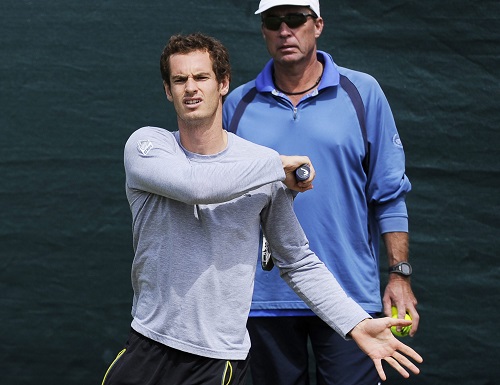 "I had two very successful years working with Ivan, he's single minded and knows what it takes to win the big events. I'm looking forward to Ivan joining the team again and helping me try and reach my goals," Murray said.
"Well hopefully it will be for a long time, from my side. He's coming over, he'll be here for the tournament and it's good for him to spend a bit of time with the rest of the team as well to see how things work out. But provided everything's good, it will hopefully go on for a long time.
"I think the most successful period of my career was while I was working with Ivan. I know what he can offer. The experiences he had I think psychologically he helped me in the major competitions and they're obviously the events I'm trying to win and am competing for. I hope he can bring that same experience and those same benefits that he did last time."
Lendl is one of the most decorated players of all time. Winner of eight majors at the Australian, French and US Opens and was a finalist 19 times including Wimbledon.
"I enjoyed working with Andy in the past," Lendl said who more recently has been working with the USTA Player Development program, which will continue even while working with Murray.
"Andy and I have always stayed in contact so it should be fun to be part of his team again."