Garbine Muguruza has become the first Spanish woman for 18 years to win the French Open.
"Honestly, I'm pretty shocked still," Garbine Muguruza said. "Pretty excited about what just happened. I think I've got to take my time and enjoy, because with tennis players it goes so fast. You have to right away think about another tournament. I want to enjoy."
It was one of the most glorious match points to be seen for a long time. Not till the very last split second did anyone know if the ball was in or out.
Garbine Muguruza and Serena Williams had been playing a thrilling final at Roland Garros. This was a women's match to sit back and savour. The way both women were hitting the ball was special and there was no time wasting between points. They got on and played and their focus was outstanding as the crowd firmed their allegiance with the 22 year old Venezuelan born Spaniard.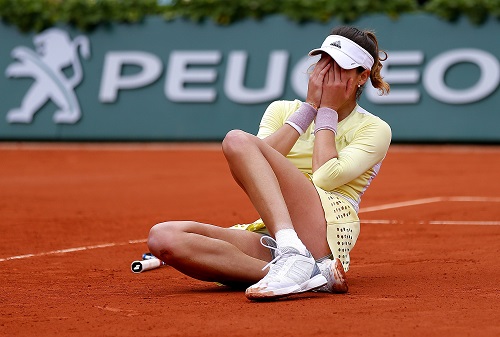 It was match point five and the first on Muguruza's serve. Williams faced four on her serve in the ninth game of the second set and managed to scramble around and save them to hold serve and swing the pressure to Muguruza.
With Muguruza was now controlling the serve she brought up that fifth match point. A tense rally ensued and Muguruza sent up a backhand topspin lob, it went over Serena and she chased it down.
Williams, like everyone else, didn't know if it would land in or out. It was "intense" and almost in slow motion as it seemed to float. Williams didn't really it play it in the air and let it bounce but when it did things were too awkward for her to make contact with the ball.
She looked at the mark.
Muguruza was gapping from the opposite end with a look of concern thinking she would have to play another point. She turned to her box right as Serena applauded on the strings of her racquet.
Garbine's team signalled to her the ball was in. As soon as that happened the emotions took over; her racquet dropped to the court and she followed. Jeu, set match Mademoiselle Muguruza 7-5, 6-4.
Tennis had a new champion and she had reversed the result from last year's Wimbledon final.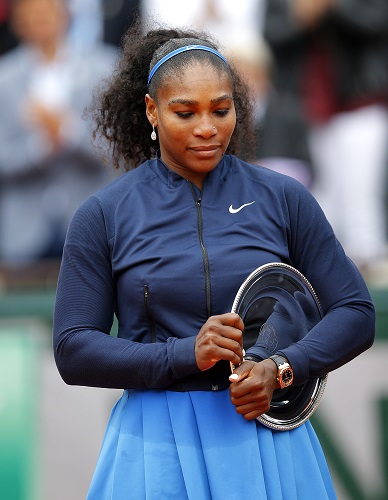 "It was really weird. Serena was in front of the ball so I didn't know if it was in or out," Muguruza said. "I looked at the chair umpire and chair umpire doesn't want to say anything. Line judge doesn't want to say anything.
"I was like, 'Did I win Roland Garros? What happened?' When he said, Game, set, and match, I was like, No way. I won. It was like amazing.
"It was very difficult to see you have four match points and doesn't go your way. But it's a final. There's no room for being disappointed or for excuses, Oh, I had four match points.
"I still had another chance serving, and even after. I just tried to be calm even though inside, I was like, Oh, there's no way. Then, yeah, I managed to be calm and just think about what I have to do every point, you know, and don't think about match point or championship point."
She had won her first career major and yet again Williams was stopped from realising her dream of equalling Steffi Graf's tally of 22 majors. Williams had made it 21 at Wimbledon but lost in the semis of the US Open and then in the final of the Australian Open last January.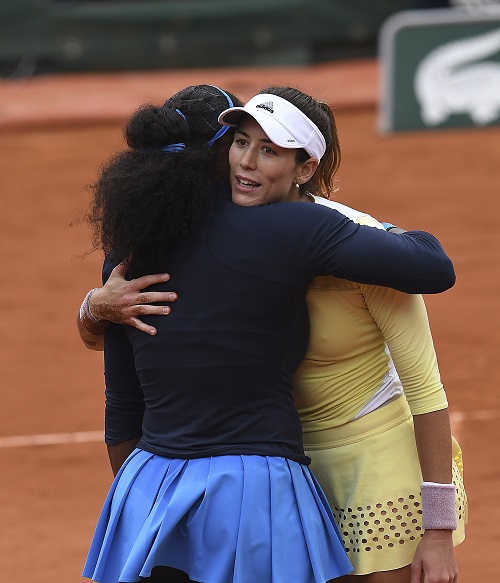 "I ran up against two players that -- you know, I think in Australia, Angie Kerber made 16 errors in three sets, you know, so what do you do in that situation? Today Garbiñe played unbelievable. The only thing I can do is just keep trying," Williams said.
Williams said she has not had the time, nor probably the desire yet, to think about what the difference was between them, but said it proves "you really have to play the big points well" and "she played the big points really well". She had been nursing an adductor strain but said she was not going to use such things as an excuse.
Muguruza is the second woman born in the 1990's to win one of the four majors, the other being Petra Kvitova at Wimbledon. She is the first Spanish woman to win the Roland Garros title since Arantxa Sanchez Vicario in 1998 - she was watching the final from the first row of the President's Box.
The final was Muguruza's first clay court final and she is only the sixth woman in the open-era to win their first major at Roland Garros, the last one was Li Na in 2011.
The victory takes her world ranking up to No.2.