Nick Kyrgios has withdrawn his name from the Australian team for the Olympics and the finger is pointed directly at the Australian Olympic Committee.
The announcement by Nick Kyrgios that he is withdrawing his name from the Australian Olympic Team is one of great disappointment. Disappointment that he has been forced into making such a decision, disappointment for him as he had earmarked Rio as one of his goals for 2016 and disappointment for Australian sport that the possibility of a medal being won has been extinguished.
The head of the Australian Olympic Committee (AOC) Kitty Chiller has, in the last month, been critical of Kyrgios's behaviour. It begs the question, what has he done wrong? There is no answer. She said she would be "appalled and embarrassed" if he travelled to Rio.
The Kyrgios decision comes a couple of weeks after the decision by Bernard Tomic to also not compete in Rio. His reasoning was publically different but in my view it goes beyond the fact that he is committed to regular tournaments.
With Kyrgios the finger is pointed directly at the AOC.
"(The) AOC's unfair and unjust treatment of me over the last four weeks, as well as the organization's crystal clear position on whether they want me to be a part of the Australian Olympic team, has solidified my final decision," Kyrgios said in a statement on his website.
"While I have received assurances from Tennis Australia that I will be nominated for the Olympic team, the AOC has chosen to publicly and privately disparage me. Not one member of the AOC has reached out to me, my family, my team, or representatives of Tennis Australia, asking for a meeting or the opportunity to discuss their concerns.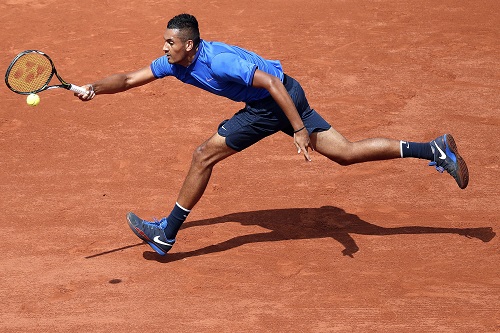 "The AOC's unwarranted attacks on me demonstrate the organization's inability to understand the circumstances surrounding highly competitive sports. I also don't want the AOC's treatment of me to become a distraction and negatively affect the Australian Olympic team."
It can only be imaginable what the reaction would be in the British media and with the British public if the British Olympic Committee (BOC) made such comments about Andy Murray because let's face it, its common knowledge and totally on view the rants Murray has during matches.
Not once has the AOC or any member of its hierarchy specifically pointed out which incidents they are talking about. They have made only general statements.
Negative comments from legendary swimmers like Dawn Fraser and Kieren Perkins have been critical. Fraser, who has suddenly become very establishment, is obviously forgetting her rebellious nature and what she did at the Olympics in Tokyo where she stole, yes stole, a flag. And Perkins should ask his fellow swimmer Ian Thorpe what the hell he was doing when he was supposedly mentoring the Australian swimming team in London in 2012 while they were playing up and taking drugs such as Stilnox.
Recently a pistol shooter for Australia, Michael Diamond was charged with driving while intoxicated and not storing a weapon properly while intoxicated. Those are police charges. Chiller's comments expressed disappointment but said it would be up to the specific federation to decide if Diamond goes to the Olympics. Yet with Kyrgios she said the AOC would consider his inclusion.
There is a double standard. Why don't they just admit it?
Sure Kyrgios could have stayed firm and forced them, the AOC to play their hand but he obviously did not want to be where he was not welcome and made to feel uncomfortable.
"I am a proud Australian and have always loved representing my country," Kyrgios added. "I am fortunate to be young enough to hopefully have a chance to wear the green and gold at the Olympics in the future. I hope that in four years I will find myself in the position to be a part of the Australian Olympic team."
Steve Healy, President of Tennis Australia said: "We understand Nick's decision and totally support him and his right to make it. But we are very disappointed that he has been put in this position.
"Nick is a passionate competitor and he's working hard to learn and mature in a highly pressurised environment where he is under constant public scrutiny. As we've said recently Nick's performances this year have improved. His growing maturity is reflected in his on court performance, with only world No.1 Novak Djokovic defeating more top ten players than Nick has this year.
"He has received support from a lot of other tennis players and athletes. But now Nick has made this difficult decision we should let him focus on his tennis without further distraction."
Kyrgios not going to Rio is a loss for Australia and that is disappointing. Now let's have a response from the AOC. The ball is in their court so to speak.