Serena Williams and Andy Murray claim the spoils in Rome.
Serena Williams had tried dog food accidently during the week and lived to tell the tale while on his birthday Andy Murray received more than many happy returns and created a bit of history. On a miserable day weather wise they became the new champions at the Internazionali BNL d'Italia.
Williams won her first tournament of the year from the four she played as she defeated surprise finalist Madison Keys 7-6, 6-3. It was the first time two American women had played the final at Foro Italico in more than four decades; the last occasion involved Billie Jean King and Julie Heldman.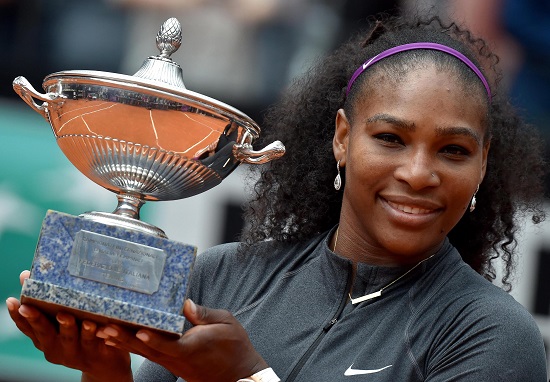 "It feels great," Williams said. "I mean, I have played, let's see, US Open, Australian, Miami, Indian Wells. So it's only four tournaments. So it's not like I was playing every week. So that's kind of how I look at it. But it feels great to win a title, especially on clay.
"I feel like it was important for me to just go out there like usual. It's a totally new match, it's a different week, you know, and hopefully just win one. If not, hope for next time, next week."
After a tight first set Williams began to take control and was comfortable counteracting the power that comes of Keys' racquet and winning in Rome makes her feel way better going into the French Open, where she is the defending champion and which is only a week away.
"I have tried to defend there once, twice, three times before," she said. "Didn't quite work so well. But this year is different. I'm going to definitely go in there and I feel more calm and I don't feel stress to, like, have to win. You know, I feel like I just am happy to be out here.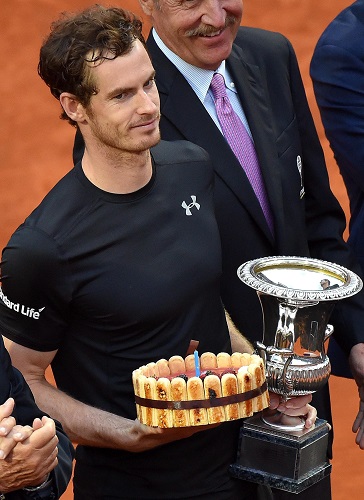 "My major memory (of winning last year) was probably that semifinal and the final, too, and the night before. Just that whole last three, four rounds was extremely difficult for me.
"Honestly, I don't even know the words for it. I mean, courage is beyond anything I could describe. So, yeah, it was just honestly probably just a miracle."
Murray meanwhile broke a nine month drought against Novak Djokovic and it was a rare win he was able to celebrate on his birthday which is his 29th. His win marks the first time in 85 years that a British player has won Rome. Murray swept to victory 6-3 6-3. The win turned the tables on Djokovic who beat Murray in the Madrid final the week before.
"Like obviously the history part is nice," Murray said, "but for me, you know, more important, looking at the players that have won here, you know, some of the best players of all time have won this event. There's very few years where there's been, like, a surprise winner, almost.
"It's mostly great players have won this event. So I'm very proud to have my name on the trophy. Today against Novak is nice. I know, you know, he didn't play his best today. But, you know, still some tough moments for me in the second set. I saved the break points well and held strong. And, yeah, overall it was a great week for me. I didn't lose a set.
"Winning a clay court Masters Series, last year I certainly didn't think I'd be doing that multiple times over and giving myself a lot of opportunities to do that. So it's been a good week."
Djokovic was not comfortable with his left ankle. Early in the semifinal match against Kei Nishikori, he used his racquet to shake the clay from the soles of his shoes, just like every player does, and like he has done a million times, but on this occasion he missed his shoe and instead his racquet hit him on the ankle. Djokovic was concerned after the semis match but played it down.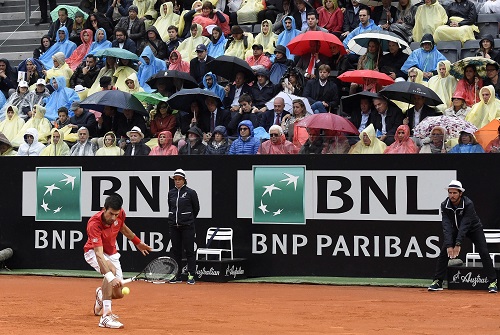 "I think you're training your mind to tell yourself things that are very positive, and so you're kind of deflecting and neglecting the tiredness and whatever wrong sensation you have in your body," Djokovic said.
"So I didn't really think about it, even though it's present. And it's obvious, I mean, I had a long couple of weeks, especially last couple of days. I knew it's going to be very hard for me, an uphill ride against Andy today, who was playing throughout the week on a very high level.
"And, you know, to compete with him in long exchanges and rallies that we do have in our encounters, they required a lot more energy and, you know, better performance from my side which didn't happen.
"Not taking anything away from Andy's win. On contrary, I think he deserved to win and deserved to win entire tournament, because he was the best player. He was the player that played in the best form throughout the entire tournament."
Murray meanwhile has shown he can play on all surfaces something that was questioned in the early part of his career and he quite likes it now so his feelings for Roland Garros are very positive.
"To be honest, I mean, now I've played well on all of the surfaces. I mean, the last couple of years, clay has probably been my most successful surface, which, you know, I never, again, never expected that to be the case, but not complaining about it," he said.
"And, yeah, going to Roland Garros, like I said, with a lot of confidence and, you know, really, really good preparation, you know, slightly different conditions there. You know, over best of five, as well, takes a little bit more physical and mental strength. But I feel like I'm on the right track. So hopefully I can have a good run there."