Novak Djokovic continues to dominate all around him on the tennis court.
It is pretty amazing to realise that it was a decade ago in Madrid that Novak Djokovic and Andy Murray squared off for the very first time. In 2006 the then 19 year olds who birthdays are separated by exactly a week had stars in their eyes on what they wanted to achieve. Ten years ago in Madrid they played on hardcourt and it was a three setter that Djokovic rallied back to win after losing the first set 1-6.
Novak and Andy went into the final of the Mutua Madrid Open, this time on red clay, as the two top ranked players in the world and Djokovic scored another win but once more a three setter 6-2, 3-6, 6-3 with the last game a nail-biting ten minutes.
"We both thrived to be at the top, and we've known each other since we were twelve," Djokovic said. "I think you can see already in those junior days that both of us have serious intentions to conquer the tennis world and try to make a serious mark with our name in the tennis world.
"I'm very pleased that I have developed a great rivalry with somebody that I've known since very long time and somebody that I have a very good and friendly relationship with on and off the court.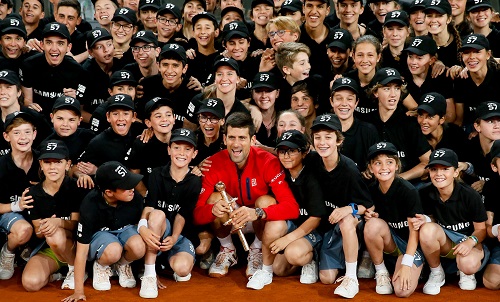 "I think there were couple situations where we showed respect to each other, which was truly something that is unusual, honestly, to see on the highest levels. I always like to look back at those moments and take that as a highlight rather than only results and rivalries and who wants to beat who more and stuff like this.
"I think it's nice to see actually in the midst of this important match and a fight that you're showing your human side and expressing your character values that unfortunately in this sports society where we live today are not seen often.
"I'm glad we have done that and send the right message to many young kids and tennis players."
The win is Djokovic's 29th, a new record, ATP Masters 1000 title and his 64th career title which ties him with legendary Bjorn Borg and Pete Sampras which certainly not lost on him. He explained while was growing up in war-torn Yugoslavia it was Sampras who was "ruling the tennis world" so to equal him is "an achievement I am very proud of".
Something like that can only add to motivation and it inspires him to keep on pressing ahead to achieve more and bigger goals. Incredibly of the last 35 sets he has played against top ten players, the Madrid final was only the second set he has lost in a stretch that is now at 15 straight victories. He has now won five of the last six and ten of the last 14 ATP Masters 1000's.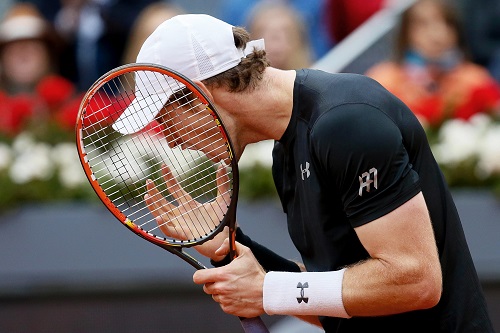 Djokovic's only real hiccup this year was Monte Carlo where he lost his first match to Jiri Vesely. His loss in Dubai could be excused because he did have an eye infection. The confidence generated from those sorts of stats piles is enormous for the world No.1 going into the French Open which starts at Roland Garros on 22nd May.
Even with regards to Monte Carlo, Djokovic brushes it off. It gave him a bit of extra time to recharge batteries and winning Madrid is a boost for Rome and Paris, the only major to elude him so far and where "I want to arrive in the best possible shape".
As for Murray, losing the title he won twelve months ago is disappointing and he will slip to No.3 in the rankings in a bit of an unusual twist. He and Roger Federer are on the same overall points but the rules say such a tie is broken by the most points a player has from the four majors, the ATP World Tour Finals and the mandatory ATP Masters 1000's, which excludes Monte Carlo. That calculation puts Federer ahead by 60 points.
He is not as concerned with that as performing on clay which he says has been very positive for him with the biggest issue maintaining intensity for the entire event.