Novak Djokovic won his 16th consecutive match and 30th of the last 31 at the Miami Open when he defeated Kei Nishikori in the final.
Novak Djokovic was serving for a 5-3 lead in the second set when a flock of birds, some thinking they were geese others believing they were pelicans, flew overhead. Fortunately nothing dropped on the centre court but certainly the players, court officials and a full stadium looked to the sky. Djokovic waved at them but quite possibly in his mind he was thinking the way things are right now he was flying higher than the birds.
The world No.1 took 86 minutes to wrap things up against Kei Nishikori who certainly was expecting more from himself. The Japanese player started fine by breaking serve in the first game but really that was the only time he was genuinely ahead in the match. The advantage did not last long as Djokovic went on to win 6-3, 6-3.
He won his sixth title from seven finals in Miami. His title count equalled the men's record held by Andre Agassi and not only tat Djokovic became the first man since Agassi in 2001, '02, '03 to win the title three consecutive years.
Nostalgia may have also come into the equation for Djokovic because it was in Miami that he won his first ATP Masters 1000, almost a decade ago.
"Every year that I come back to Miami I do go through those memories from back in 2007, was the first Masters I won and opened a lot of doors for me, gave me a lot of self-belief," Djokovic said. "I started to realize that I'm able to win, you know, the big trophies and to beat the best players in the world.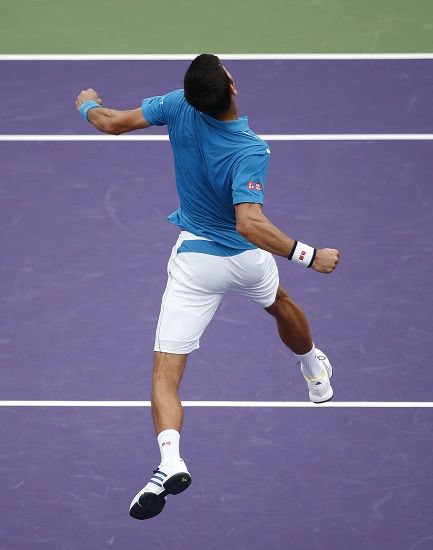 "So of course this is a particular place for me to come back to, now winning it six times. Obviously I don't take any win for granted and especially in the big ones. So it was best performance of the tournament. It came at the right time against a great quality player."
And with his win this year he takes over as the record leader for the most ATP Masters 1000's. He had shared the lead with Rafa Nadal on 27 but now Novak has 28.
"It doesn't have any particular meaning because it's Rafa," he said. "It's just … the fact that I managed to win the most Masters ever is a remarkable achievement I'm very proud of. I don't have any thought about that I surpassed Rafa and that makes me proud. It's not about that."
Nishikori felt his serving let him down and as a result he was not able to back things up, but then the pressure Djokovic pressure exerts on an opponent is like having one's head in a vice as the handle is being turned. He confuses whoever he is against and as Nishikori explained the defence from Djokovic is so superior.
"It was a really tough one; he has great defence, so it's tough to break his game," Nishikori said. "And, yeah, it was windy. So, also couldn't really go too aggressive because the ball was moving and it was tough to do that. He was very patient, and, yeah, he didn't miss. It's always, yeah, tough to play Novak.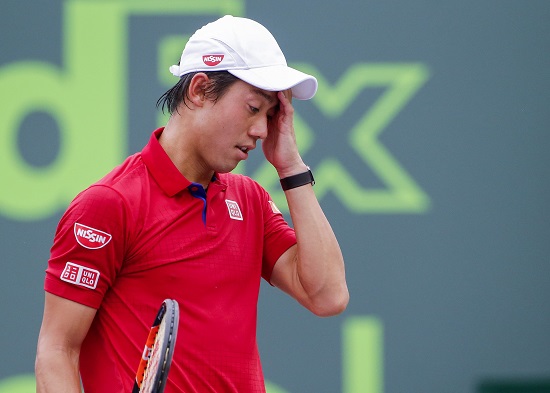 "Second set I tried to change a little bit, tried to be more aggressive, but actually that was like my fault. I was missing a lot with my forehand and too many unforced errors to beat him. So it was about him, but it also was about me too missing too much. It was windy, so couldn't play like I wanted to."
Djokovic has captured the so-called "Sunshine Double", the BNP Paribas Open in Indian Wells and Miami four times now, no other player has achieved that. This was his 63rd career title, his 15th title from 19 finals from the last 21 tournaments he has played. Not only that the winner's cheque of $1,028,300 has taken his career earnings to almost $98.2million and he will be the first player to hit the magical $100 million mark. The further significance of the prize-money tally is that he has now passed the on-court earnings leader Roger Federer for the first time.
"I'm very grateful and proud of all the achievements, and the fact that I put myself in a position to make records and to have my name in the history books is a great incentive before matches like this," Djokovic said. "But I didn't think about it too much. It didn't impose any pressure, or I didn't want to have it as a distraction; rather as a motivation. It's quite amazing. I'm very thrilled about it. Hopefully I can make many more records.
"The fact that you can have your name written in the history books of this sport that has given me and everybody so much is a privilege. So that serves as a great motivation before any big match, any big tournament. And now as I go along in my career and as I achieve so much success, especially last two years, I give myself more opportunities to actually make records.
"So of course it is in the back of my mind somewhere, but I don't have that as a main motivation. You know what I mean? Because then things can go a little bit out of control. Maybe can present some kind of distraction that I don't need."