Novak Djokovic and Kei Nishikori play the final of the Miami Open and as expected Djokovic is favourite ... again.
When Novak Djokovic won his semi-final against David Goffin to reach his seventh final at the Miami Open, he kissed his fingertips and then rubbed them on the court. He sensibly thought against putting his lips on the surface in the conditions they played in. Had he done that the world No.1 would have been nicknamed "Hot Lips" as his lips would have been burned.
"I love that court, because I have had so much beautiful memories in the past," he said. "I won this tournament many, many times. It's one of my favourite courts. I think sometimes we take it for granted. It's nice to give a little kiss to the court."
Winning it "many, many times" is a bit of an understatement. He has won it five times, he is on a hat-trick of titles with a win over his opponent Kei Nishikori making it three in a row. He is also on the verge of emulating Andre Agassi who holds the men's record of six titles. This is Novak's 19th final from his last 21 tournaments.
This will be the ninth meeting between Djokovic and Nishikori and Djokovic leads 6-2. They should have met in the semis of the Miami Open in 2014 but Nishikori gave Djokovic a walkover because of injury. Their most recent encounter was in the quarterfinals of the Australian Open in January and the last time Nishikori defeated Djokovic was in four sets in the semis of the 2014 US Open.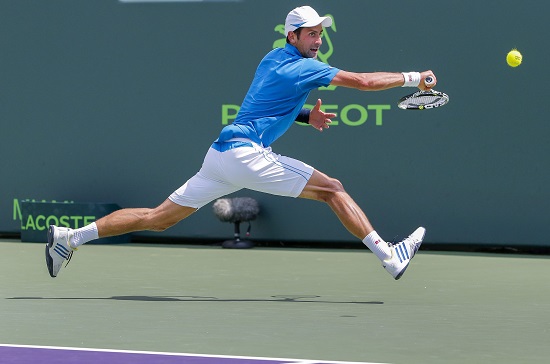 "He does look very composed on the court, so I don't think that he's going to feel any much different, because we have played against each other so many times that maybe the occasion of being in the final can influence, in a very small percentage his kind of mental approach and preparation for the match," said Djokovic.
"But, you know, he looks very mature on the court, very experienced, as well. He's somebody that has been around and played so many, you know, matches in the big stage. I don't see him being too overwhelmed or nervous about the occasion. I think even though he has played only one Masters final, he's played many other (finals), he's played Grand Slam finals, so he's been around for many years."
By playing in the heat of the day with his semi against Goffin, Djokovic expects that to be a slight advantage to him as the final is scheduled for a similar time. Nishikori played is semi-final against Nick Kyrgios under the lights at night.
"Obviously he's playing really good tennis from last week, Indian Wells, and also here. I know it's going to be tough," explained Nishikori. "But, you know, I (will) discuss with my team what I have to do against him and what I can do better. But, yeah, if I can maintain this tennis yesterday and today and also final, I think I have some chance to win the title.
"Yeah, I have a good confidence to play him. Obviously he's a little bit different level right now but if I can play another good tennis, aggressive and also patient, something like (against Kyrgios) I think I have some chance. Will have to play 100% or 120% to beat him, but try to enjoy first final here."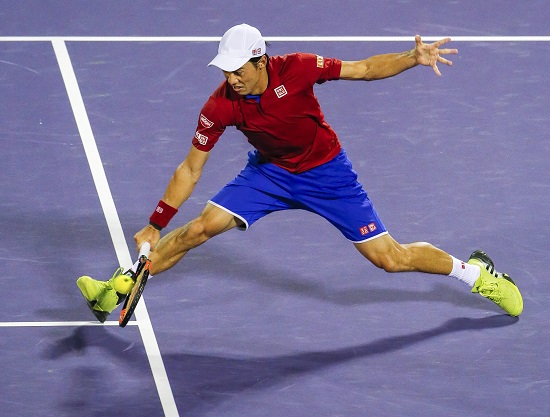 Everyone knows that Djokovic is ahead of everyone else. For example in Miami he has won 15 straight matches and 29 of 30 matches dating back to 2011. That loss was to Tommy Haas in the 2013 fourth round.
"I think the biggest thing is that he doesn't have much weakness. He's very patient. He doesn't give you any free points. So also have to focus almost every point if I want to beat him. So that's the toughest thing against him. And also he's been serving well, I think. So, yeah, I have to return well, serve well, and everything have to be there to beat him," said Nishikori.
If Djokovic wins the title and equals Agassi's record, let's see if he will allow his lips to actually touch the court with a kiss.