Novak Djokovic charged through to win a fifth BNP Paribas Open title defeating Milos Raonic.
Talk about a one-sided final. In the most convincing completed final of the year Novak Djokovic dropped just two games as he went on to win the BNP Paribas Open for the third straight year and for a record setting fifth time overall. It was a devastating performance and despite the fact that Milos Raonic was slightly injured, Djokovic took just 77 minutes to win 6-2, 6-0.
"To win this tournament five times is a fantastic achievement for my team and I," Djokovic said. "We don't take anything for granted, especially because this tournament has been, for many, many players, a favourite tournament. You know, all the top players each year competing and trying to win it. It's just behind Grand Slams in terms of organization, the quality of facilities, the conditions.
"Players are very welcomed. The spectators are sharing their passion and love for the sport with us, and in this kind of environment you are obviously inspired to play your best."
The world No.1 bolted out to a double break advantages and thwarted Raonic, who was playing just his third ATP Masters 1000 final, at every opportunity. The Canadian just could not penetrate the Serb's game. It was vintage Djokovic. No one in men's tennis has dominated the game since Roger Federer and even in his hay day Federer was often given a hard time by Rafa Nadal. But with Djokovic no one appears to be able to touch him at the moment.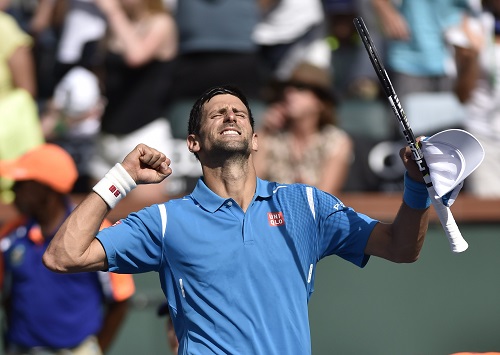 He said the type of tennis he played in the final was "in the zone".
"I'm just glad to be able to raise the level of my game as the tournament progresses, and that's something that I have been doing in the last two years particularly on the big events," he said.
"I have been managing to win most of the big matches against top 10 players. Obviously I have a certain routine and certain preparation for these big matches that works for me, again. Everybody is different. But I have been -- I will try to follow that kind of routine and get myself in that state of mind where I'm able to get the best out of myself when it's most needed."
Raonic was playing his first tournament since the Australian Open. He had been forced to sit things out because of a leg injury and coming into Indian Wells he felt all that was behind him. However early in the final he was starting to feel some discomfort and at the start of the second set he left the court for treatment.
On returning Djokovic, as one would expect, did not let up and again opened up a double break but that developed into a triple break as he closed out the match. Raonic said he was not blaming the loss on the injury, an injury he is not sure is the same that kept him off the tour for almost six weeks.
"I don't know if it happened again. It could be frustrating; could not be. Maybe it's just sort of a mental way of my body protecting," Raonic explained. "I have to do the right investigation. Just sort of see what it is and then I can judge it from there.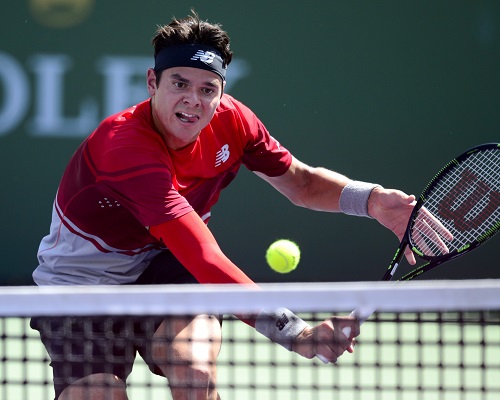 "I don't think it affected my effort. I thought he played much better than I did. I struggled again, just like last time, to start the match well, and then he's the best player in the world at this moment and a good step ahead of everybody. He took the most advantage of that."
The win gave Djokovic his third title of the year to go along with Doha where he beat Rafa Nadal and the Australian Open where he beat Andy Murray. The victory allowed him to equal Nadal's record of ATP Masters 1000 events at 27 and it is his 62nd career title.
"I took a little bit more time before I actually came to Indian Wells but once I was here I was starting to feel much better with my health and physically I was exhausted after the eye infection I had, and I ended out the tournament in the way I wanted," Djokovic said.