Victoria Azarenka won the BNP Paribas Open for the second time and the first since 2012, defeating Serena Williams in straight sets.
Victoria Azarenka became the first woman to beat Serena Williams in a final four times. Four other players have beaten the world No. 1 two or three times in a final but no one till now has achieved four. Azarenka scored only her fourth win from 21 matches against Williams and she did it by the score of 6-4, 6-4.
"Feels good just to be able to see the work that I have put in and it's paying off," Azarenka , who will celebrate with chocolate ice cream, said. "But not just, you know, this year. Just everything that I have been through in the last years, it makes it more special. I just want to keep going. I just want to keep going. I want to keep improving myself as a player. I was very, I would say, brave to go for things that I haven't maybe done as much before in the matches.
"I was more aggressive. I started to use my serve the way I wanted to use my serve. Sometimes it doesn't work necessarily, like couple of matches this week. But having that big goal in mind and going after it, that's something that makes the momentum shift on the big stages."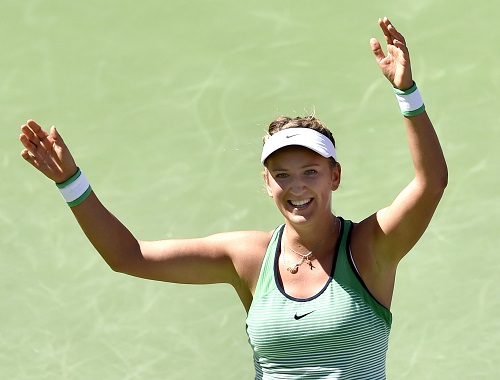 The most impressive aspect of Azarenka's game was her defence; time and again she was facing break points and apart from the eighth game of the second set she had saved them all. For a brief while it seemed that Azarenka was going to see her opportunity for the title evaporate. After winning the first set the Belarus player opened a 5-1 lead which she saw evaporating, but when she served for the title a second time and again faced break points, she stayed firm, managed to hold on and eventually clinch the title a second time.
"I was definitely a little nervous. I did not expect to be (in the final again), at all, like zero, and then when I walked out there I was like 'oh, man I'm really nervous'," Williams said.
"Yeah, and really excited. Those emotions I had a little bit last year I was having again. Definitely did not expect that. But with that being said, you can't be nervous the whole match.
"Vika is a really sweet girl. We really get along really, really, really well. It meant a lot to me. I got emotional when she was talking. You know, and the crowd, as well, was really, obviously the last time I was there was probably the worst moment of my whole career. Not probably. Sure.
"To be back out there, which I never thought I would be, you know, was really different and special. It was just -- I was overwhelmed with, I think, emotions and nerves. Obviously I think everything kind of played a part."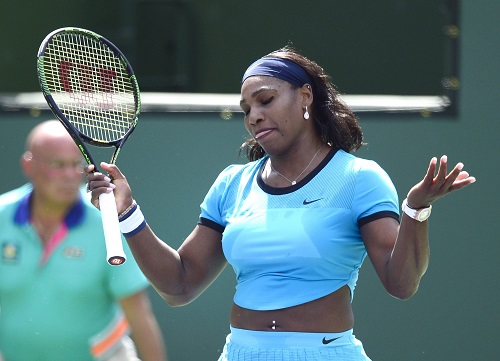 Both women delivered impressive speeches at the presentation ceremony. Williams returned last year after a 14 year gap following controversial issues in 2001, the year she won the title a second time.
The crowd was in support of Williams. She became emotional while speaking of her journey back to the Indian Wells Tennis Garden and the reception she has received, and that she has come full circle by reaching the final.
Azarenka congratulated her for the courage to return and to put behind her the unsavoury incidents from 15 years ago. She added that if she had been in the stands, she too would have been cheering for Serena.
"I'm very honoured to play against the best player in the world. I really mean that. She's absolutely transformed women's sport. She and Venus brought something unique and lifted it up," Azarenka said.
"The power, the intensity, you know, the records that I'm pretty sure she's gonna break at some point. But just to be able to watch that and get inspired, for me, that's more important. I mean, I'm happy that I won and I'm going to -- next time we play I'm going to try to win again, but just being able to play on big stages against the best player, that's something that I want to do every single week."
This is Azarenka's second title of the year, having won in Brisbane while Serena has played two events reached two finals and lost two matches. The victory returns Azarenka to the world's top ten for the first time since August, 2014; she will go to No.8. She said: "It's a good start. It's a good start."