Serena Williams and Victoria Azarenka will played the women's final of the BNP Paribas Open in Indian Wells and it will be their 21st meeting.
Serena Williams has played two events this year and is in her second final, the BNP Paribas Open, having previously lost the final of the Australian Open to Angie Kerber. She takes on her friend, although they have had their moments, and rival Victoria Azarenka who was the tournament winner in 2012.
The last time Williams reached the final in the Coachella Valley was 15 years ago, that was also the last time she won the event before controversy made her decide to bypass the tournament before her return in 2015. Last year she made the semis and pulled out.
"Definitely didn't think I would be in another final here ever," Williams said after beating Aga Radwanska 6-4, 7-6 in the semis. "Then last year just really, really bad luck. I felt devastated that I wasn't in the final or at least even being able to play."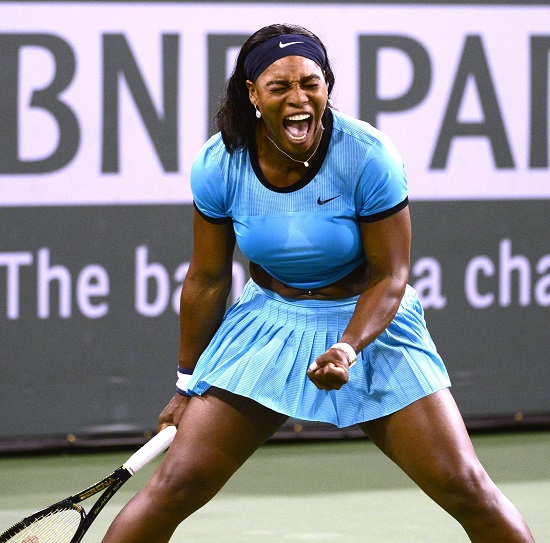 "After the last final I had here, I never pictured myself being back. So it's interesting feeling."
She explained she hopes playing the final will be very different to the last one when she was booed and jeered by the crowd. They had gone against her as she played Kim Clijsters because the feeling was the semi-final against her sister Venus was rigged by the family when Venus withdrew before that match. It was an ugly situation which is what resulted in the family staying away from Indian Wells all these years. Venus returned this year.
"My goal is just to be out there and I think it's kind of cool that I can really close the door by being in the final again. I think it is something that really kind of came full circle," she said.
Despite suggesting she has no fear going on court, there still appears to be some trepidation from Williams as to how the crowd in Indian Wells will react to her when she does go on court. She is hopeful they will be positive toward her when she plays Azarenka who reached the final after beating Karolina Pliskova 7-6, 1-6, 6-2. She says she would love to "walk out there with everyone clapping".
"I believe that I have always had a tremendous amount of fans that have always been die hard and I think other people are just really – when you see athletes great, or athletes that have been around for centuries, like me, you just kind of appreciate them and realise they might not be around for the next century or two. You have to like take it in," Williams explained.
Going into the match against Azarenka, Williams leads their series 17-3. The last meeting was a three setter won by Williams at Wimbledon last year. Serena has won the last five times of which the last three were three setters. Azarenka's most recent win was in Cincinnati in 2013.
"There's not going to be too many surprises but definitely you are going to have to step it up," Azarenka said. "It's going to be exciting for me who hasn't played in a while, since Wimbledon, I believe, and I feel I am in a different position right now. For me it's just exciting to play the best player in the world right now. This is what I worked really hard for and I'm looking very much forward to."
By reaching the final Williams has broken Martina Navratilova's record as the oldest women to be in the BNP Paribas Open final; she is 34 years and six months compared to Navratilova at 34 years five months.
"Breaking any record is exciting, especially someone like Marina's is very cool. I guess that's awesome to be the grandma in the tournament … I guess," she added.