What more can you say about John McEnroe? He is pure gold.
John McEnroe is an interviewer's dreams and an interviewer's nightmare.
The guy is a dream in that you probably only need one question and then you just sit back and he does all the work. He is phenomenal with all he says and he goes off on these direction changes which just extends what he is saying. You go along for the ride, a ride that is so highly entertaining.
On the flip side, Mac is a nightmare because there is so much good, fascinating stuff. He seems to be lying back on a psychiatrist's couch, but he is talking quickly and going off on these tangents that you just can't keep up. It is not possible to write so fast if you are not taking shorthand and you are bound to miss stuff.
During the BNP Paribas Open he was a guest in the tournament's radio booth and the words were flowing like river rapids with topics ranging from the state of tennis to American politics in this election year, through to the Maria Sharapova doping charges and more.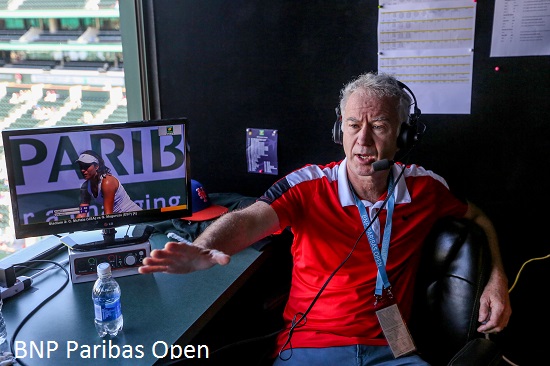 He explained that tennis has a lot of players like society's "middle class" and they need to be able to earn more and maybe that will help stamp out the potential for corruption, but then he was on the serve-volley soapbox and wanting to see more of that.
He is part of the Tennis Think Tank and says he comes up with ideas and says, with a smirky smile, that you find yourself amused with, that he is politely told "things are in place till 2020". "That's five years away," Mac says, trying hard not to crack up laughing. The response: "Yes!" The delivery is priceless.
He says he would change things in tennis like get rid of the warm-up. He says it firmly like he is at the head of a classroom. "I'd stop the warm-up, what do you think of that?" Sitting alongside him in a commentary role is former player Corina Morariu who says, quietly as a mouse, "I'd be in favour." The contrast is priceless.
John recalls his many social meetings with Donald Trump. He says "The Donald" is a great guy and he is very clever. "I'm sitting with Donald and he says (in his best Trump voice) John you are the best, you are the greatest commentator, you really are the best, come and let me show you the great property I've got."
Mac added: "He says he wants to tax China. I'd say a round trip airfare from New York to Palm Springs is the same now to 30 years ago but all these things made in China have got cheaper.
"People are going for something different; you have these political dynasties like the Bush family and the Clintons … God it would be amazing to have a woman President."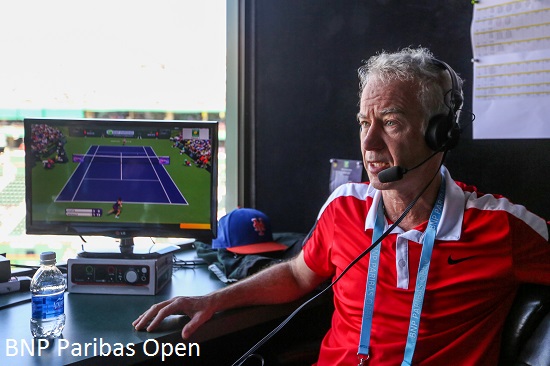 Suddenly he was addressing the Sharapova situation and says he doesn't have all the facts but "look she could be suspended for two years; maybe they should say we will cut the suspension if you stop grunting, God. Azarenka and Sharapova are great players but the grunting … GOD! I want ear plugs."
McEnroe can be seen sitting next to the owner of the BNP Paribas Open, Larry Ellison, enjoying the surrounds of the Indian Wells Tennis Garden. He said he was never keen to come here in his playing days, it was too, well, old. "I stayed away for 20 years but now it is nice to part of it all. Larry has done an amazing job. Where else would you find two Nobu restaurants in the same place, there are only 20 in the world." Then, with a wry smile, added: "My kids are 30, 29, 28, 24, 20, almost 17 … now you know why I come here."
Oops we have gone off in another direction. He didn't get a chance to talk about the We Are Tennis Fan Academy. Was that his idea??