There is a chance that Lleyton Hewitt will make a quick return from retirement to play Davis Cup by BNP Paribas this weekend.
It is barely two months since Lleyton Hewitt ended his playing career after losing to David Ferrer in the second round of the Australian Open but he has thrown up the option of a return to play. Even the great singer Dame Nellie Melba had a longer period in retirement.
Hewitt makes his debut as the Australian Davis Cup captain this weekend when Australia takes on the USA for the first time since 1999. In July of that year Hewitt made his Davis Cup playing debut and beat Todd Martin in four sets in the first rubber. That tie celebrated the centenary of the Davis Cup by BNP Paribas at the Longwood Cricket Club in Boston, the very first venue to host a Davis Cup tie and Australia defeated the USA.
Hewitt has opened up the option of returning to at least playing the doubles rubber after Nick Kyrgios was declared unfit to play. The 20 year old withdrew during the semis of Dubai recently with a back injury but at the same time he was also carrying a virus and was generally not well.
Kyrgios was put through a training session behind closed doors and the team medical staff said he was not strong enough physically to take to the court. His recovery after the session was not fast enough and as a result was ruled out.
The upshot was that Hewitt nominated himself to the playing team which included Sam Groth, Bernard Tomic and John Peers (specifically for doubles) who is making his Davis Cup debut … and deservedly so.
Groth and Tomic are playing singles with Groth and Peers for doubles but what is likely to happen is that Hewitt will step in and play doubles, especially if Groth has a rough time on the opening day with singles.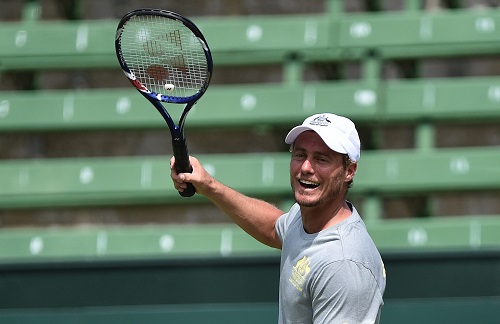 Who Hewitt replaces remains to be seen. He has played Davis Cup doubles with Groth while Groth ad Peers have teamed up just once, in Sydney this year where they made the quarters and Peers has not played doubles with Hewitt.
If Hewitt does play doubles he will become the first playing captain for Australia in living memory. In fact one has to go back to 1948 with Adrian Quist and 1949 with John Bromwich for the last time Australia had a playing captain.
This weekend at the Kooyong Tennis Club, which used to be the home of the Australian Open, it will be the 46th tie between the two nations and the USA leads the series 25-20.