For a bit of fun we thought we would look 20 years into the tennis future.
It has been a long time since the tennis tour was such a children's crèche. You rarely saw tennis players travelling with little children and certainly you see it more on the men's tour than the women's.
It is understandably difficult for a woman player to give up playing, start a family and then hit the road again. More recently players like Lindsay Davenport and Rossana de los Rios gave it a go and travelled with children and currently Australian Casey Dellacqua travels with her little boy, Blake.
In the men's game every player in the top four has children – Novak Djokovic, Andy Murray, Roger Federer and Stan Wawrinka, four of the top five have children, Rafa Nadal is the exception, and amongst the top 20, 25% have children; joining the group is Gilles Simon. And let's also not forget Lleyton Hewitt, he travelled with three kids until his recent retirement.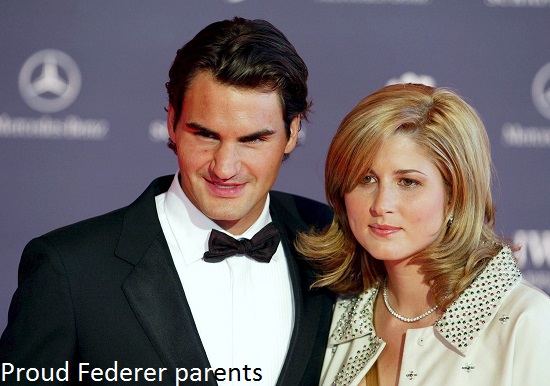 When you see so many kids on the tour you wonder if they would go on tour and take the lead of a parent (or parents) and play the circuit. Tennis did not see that with the kids of Andre Agassi and Steffi Graf or the children of Pete Sampras. Ivan Lendl's five daughters are involved in golf or equestrian pursuits. Yannick Noah's son is a pro basketballer and Petr Korda's daughter is on the golf tour.
Mark Woodforde's daughters are growing up as two regular young ladies; Todd Woodbridge's son Beau is a child actor and his daughter Zara swings golf clubs. The children of former players Ray Ruffels and Anna Maria Fernandez have both turned to golf with their 17 year old son Ryan one of the hottest young talents around.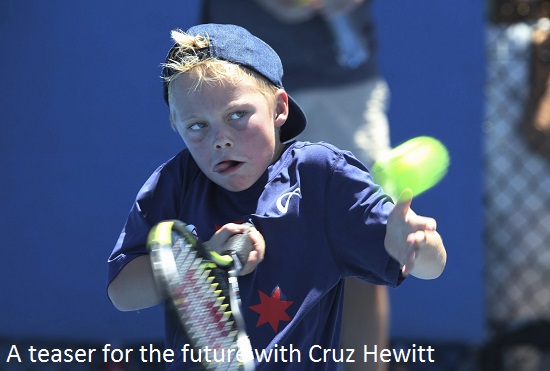 But for a bit of fun, let's just say we fast forward 20 years to 2036 and see how different tennis will be. Can you imagine that coloured clothing would be allowed at the All England Club? The Australian Open could be the first major to be played indoors thus showing greater distinction between the four majors. The French Open will stay on red clay but have night matches … sacre bleu! And the US Open would introduce sudden-death tiebreakers in all sets.
For the first time since 1898 there will be two brothers contesting the Wimbledon final as Leo and Lenny Federer take to the Centre Court. Leo accounted for Stefan Djokovic in one semi-final while Lenny had stopped Cruz Hewitt, who was the defending champion, in the other semi.
Sophia Murray became the first daughter of a men's champion to hold the Venus Rosewater trophy and had also teamed with good friend Ava Keothavong, daughter of British player Ann, to take Great Britain to the final of the Fed Cup by BNP Paribas. There they would meet powerhouse nation Switzerland with Myla and Charlene Federer and Alexia Wawrinka.
Just weeks before Wimbledon at Roland Garros Stefan Djokovic had faced Timothe Simon in the final and it had been a five set thriller that Djokovic junior won 10-8.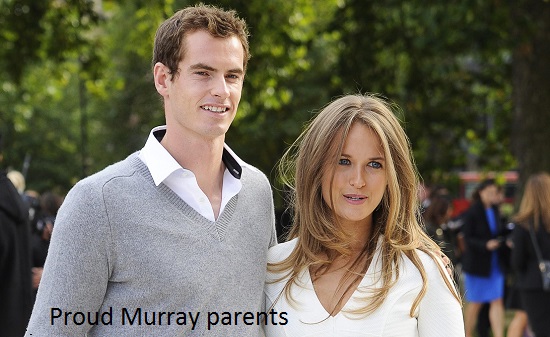 The Aussie drought at the Australian Open had ended years before. No longer was Mark Edmondson the last Australian man (1976) to win his home major; Nick Kyrgios, Bernie Tomic and Thanassi Kokkinakis had already opened the flood gates and in 2036 Cruz Hewitt stopped Lenny Federer from two sets to love down in the final.
The US Open was shaping up to be a cliff hanger while the Davis Cup by BNP Paribas had the potential to be dominated by Spain once again as names like Moya and Nadal filled that nation's team.
Ahhh … going back to the future.