For Novak Djokovic its is all about history as he wins a sixth Australian Open.
Novak Djokovic is chasing history now. It is all about the records and about being in range of Roger Federer who he has already passed in their head-to-head stakes. Winning a sixth Australian Open has allowed him to equal the record of Australian Championships that has been held by the great Roy Emerson since 1967. And while he was celebrating that feat, his tally of career majors has risen to eleven which places him equal fifth all time with the immortal Rod Laver and the legendary Bjorn Borg.
"Every Grand Slam title is very significant in its own way," Djokovic said. "Here, because of the fact that I managed to make history and equal Roy Emerson's six Australian Open titles. Very honoured to be mentioned alongside legends of our sport by Bjorn Borg, Rod Laver, win as many Grand Slams as they did.
"You know, I can't lie and say I didn't think about it. Of course it was in back of my mind. Coming into the court I knew that I have a chance to make the history. Of course it served as a great motivation, as a great imperative to play my best.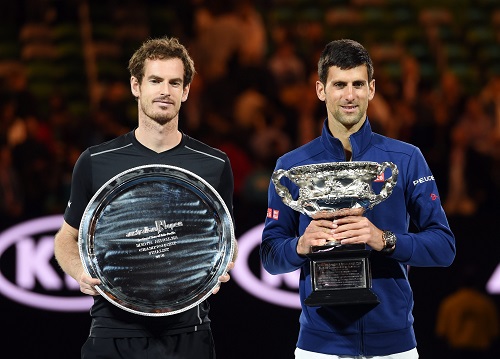 "I tried not to think about it too much, but it was there as an encouragement, as a positive feedback, and a goal. It's a great honour. I don't take anything for granted, even though I won last four out of five Grand Slams, played five finals out of five Grand Slams last that I played.
"It's phenomenal. I'm very proud of it, as is my team. We worked very hard to be in this position, and we should enjoy it. We should cherish every moment that we get to experience now because these are the tournaments that we all value, that we all want to play well on.
"No doubt that I'm playing the best tennis of my life in last 15 months. You know, everything is going well privately, as well. I became a father and husband, have a family, so I feel like I'm at the point in my life where everything is working in harmony. I'll try to keep it that way."
Djokovic started the final against Andy Murray the way he started against Roger Federer in the semis. The opposition barely got a look in. Murray couldn't keep pace but he was not prepared to let things slip and even though he earned just one game in the first set, Murray kept waiting for his chances and the next two sets were close.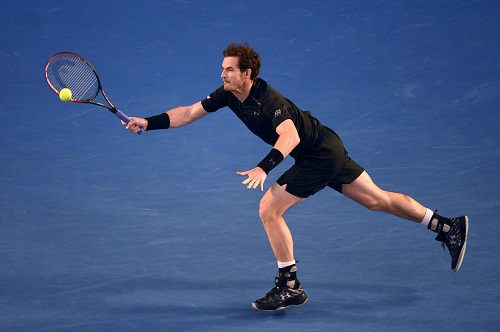 Still, the way Djokovic was continuing to play, Murray was having to play out of his skin to keep up. After two hours 53 minutes and on match point three Djokovic struck his seventh and probably best ace to in the title 6-1, 7-5, 7-6(3).
"I was very aggressive and just played the way I wanted to play against him, and executed the game plan perfectly for a set and a half," he said. "I made a break in the second. I felt he was pretty neutral from the back of the court and was allowing me to take a charge and control over the rallies. I had more time. Then he started serving better. He came back to the match and credit to him for fighting and showing why he's one of the best in the world.
"He definitely made me work. There were a lot of long rallies, long exchanges. We were both breathing heavily towards the end of the second and the third set. But that's what you expect.
"As I was saying, I knew coming into the match against Andy I'm going to have to be patient and construct the point. Obviously trying to be the one to take the first initiative and be more aggressive. It wasn't possible at all times because he would change up the tactics and he was playing better in the third, but just the big points I managed to find a way."
Murray has now lost to Djokovic in each of the four matches they have played at the Australian Open and this takes their head-to-head to 22-9 in Djokovic's favour. Novak became the tenth man in history to win six or more titles at a single major. He is the first man to hold three consecutive majors since he last achieved that in 2012. He joins his former coach Ivan Lendl as the only two men in the Open-era to lose five finals at any one major.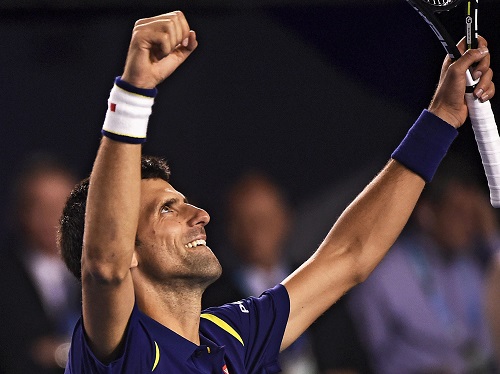 For Murray the disappointment was great; this was his fifth final and the fifth time he was left empty handed. He said he had started his last couple of matches slowly which is understandable in some respects. Issues off court has distracted him like his father-in-law Nigel Sears who also coaches Ana Ivanovic, collapsing and taken to hospital, and the fact that his wife Kim was in England waiting for the pending birth of their first child.
"I'm proud that I got into this position (but I'm) just quite looking forward to getting home now," Murray said. "It's been hard. Regardless of today's result, it's been hard. Had I lost in the third or fourth round it still would have been difficult with everything that's happened. (Kim's) been amazing. Handled everything unbelievably well. Yeah, I have to thank her for allowing me to play and sort of stay here with everything that was going on. It was tough."
Djokovic's attention will soon turn to Roland Garros the only major to elude him. Last year it was not kind to him when he lost in the final and it was the only one that stopped him winning the coveted calendar year Grand Slam. He is the only man with a chance to win the Grand Slam this year.