Novak Djokovic and Roger Federer will meet in the Australian Open semis and it will be their 45th meeting.
There have been matches at the Australian Open to warrant attention and some anticipation but this year's tournament has not had a single stand-up-and-cheer match. There has been no match to point to which was breath-taking and memorable. Maybe that will change when Novak Djokovic and Roger Federer clash in the semi-finals in what will be their 45th meeting. This was the pre-final match-up that was the most eagerly anticipated.
This is a rivalry that is headed only by the one between Djokovic and Rafa Nadal- they played for the 27th time in Doha at the start of the year and Djokovic took the lead in their series for the first time. He levelled their series last November at the ATP World Tour Finals but is now up 24-23.
Psychologically that was an important break for Djokovic because despite being world No.1 he was still in many circles considered the lesser one between himself and Nadal. The same can be said between Novak and Roger.
The head-to-head between Djokovic and Federer stands at 22-22. Their series was also squared at the ATP World Tour Finals last November, so getting ahead of Federer for the first time will be incredibly pleasurable for Djokovic.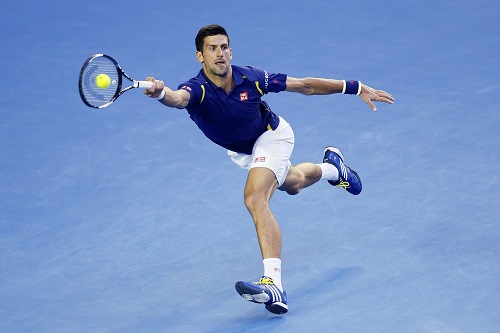 This is the most captivating rivalry in tennis right now. Last year they met eight times and Federer won three times but none were at the really big events. He lost in the finals of Wimbledon and the US Open as well as the final of the World Tour Finals.
Federer rightly believes that he can beat Djokovic every time but it at the big ones where he has to believe even more. The Swiss is always developing his game and mixing it up to stay at the top. It is almost like he is trying to reinvent himself not unlike Madonna in music. No doubt Roger has never been compared to Madonna before.
One of those changes is coming to the net more.
"I do feel really good at net since a few years now," Federer said. "It's where it all sort of started for me when I came on tour. I know how it works up there. I still think there's room of improvement. Every player manages to defend or pass it differently. The question is, Do you come in off a low ball because you're being dragged in, or are you coming in on your terms?
"In my opinion, Novak is one of the best returners in the game. Also good in defence because (he has) a very strong left arm on the double-hander, which allows him to flick it really easily, like Murray has as well. You would assume that these are not stats you can keep up. It's okay. As long as you're coming in on the right plays, it's okay to be beat. You just got to ask the question time and time again, in my opinion."
Even though he has not beaten Djokovic at the majors recently, the fact that he is putting himself in a position to play him allows Federer the chance. Without an opportunity you have no chance.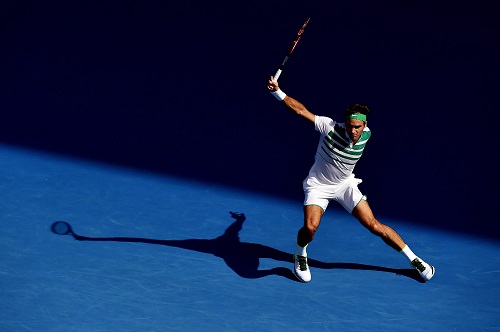 "It's obvious that he's a very complete player," Djokovic said. "He's trying lately to come to the net more, kind of shorten up the rallies. I mean, he definitely has the game for that. He's got a great variation from the backhand side with the slice, short slice. He's got great defence, amazing offense. He's very complete. He puts constant pressure on the opponent. You have to be aware at all times. You got to be tough. You got to be concentrated.
"You have to be on the top of your game because he hasn't really dropped the level at all I think in the last seven, eight years that I've been playing against him on the top level. He's been playing always consistently well.
"I think his backhand is better than it was maybe five, six years ago. So, you know, he's playing some terrific tennis, as I said, on the hard court. This is going to be a big challenge for both of us."
Djokovic admitted that he had lost count of the matches he had played Federer and was surprised in London to be reminded. He said Federer and Nadal are the ones who made him the player he is today. That is what rivalries are all about. It's quite different to the so-called rivalry between Serena Williams and Maria Sharapova which is overwhelming to Williams.
"Roger is playing really terrific tennis in last two years. We played two Grand Slam finals last year and I know very well how good he plays, especially in the later stages of a major event," Djokovic said. "He always makes you play your best. My best is what is going to be necessary to win against him. Hopefully I'll be able to deliver."