Could a new look Vika Azarenka gain a greater following?
Victoria Azarenka is a winner of majors and she has been ranked at the top of tennis but the American and Monaco based Belarusian can be polarising. There are those who think she is great while others have the opinion that she can be overbearing and even curt at times. There is the view when she has that standoffish attitude it could be almost a defence mechanism because she is not sure enough of herself.
However, Azarenka is nothing if not interesting and her post match media conference after beating Naomi Osaka by the demolition score of 6-1, 6-1 was superbly candid and provided a bit more of an insight to her.
It could be considered that she has been given a second opportunity with her tennis. She had been on top of the sport but then physical issues began to creep into her game and she was struggling with injuries to her legs, from knee to foot problems.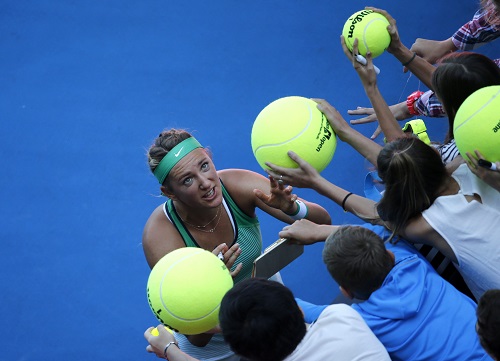 Her tournament scheduled was abridged in 2014-15, but she is back now and making the most of things having started the year by winning the Brisbane title.
She seems to not get as hot under the collar in matches saying that reacting to bad calls is her previous self. She says questionable matters on court do not bother her as much and as a result doesn't consider whether it "was the old me or not me". It comes down to focus and not dwelling on matters.
Azarenka dos not get involved in mind games eg: sports psychology, but instead uses communication with people, talking about things with the people around her. Isn't that a form of psychology? Probably, but it's just not on a formal basis. The experiences of others, watching documentaries, witnessing what others are going through has all helped to change her.
"Take that mindset and think what they have been through and try to see if that's something that I can relate to," she said. "And to really just accept what is coming, whatever kind of emotion, if it's good or bad and trying to work through that."
Belarus is not a wealthy country so Azarenka's development years made her work harder and have more drive to do well. She knew from an early age that tennis was her ticket out of there and she did all she could to carve herself a path.
"Pressure for me, I think, its part of where I came from; I always had pressure," Azarenka said. "I had one shot to get out of where I was, so that was way more pressure than the pressure I am having right now. I just embrace it. I think that motivates me."
She suggests some time ago she began to have a look at herself, maybe it was at the time of the 2014 US Open when she felt she "didn't feel good about myself". She was asked once by someone if she was depressed. She wasn't but as an elite athlete she didn't want weaknesses to show so there was a shield. Around that time she decided to adjust matters and it was not easy to do. It took her about a year.
"I had a lot of changes and emotions that I didn't know how to handle; I tried to put them in places but I wasn't able to control most of that," Azarenka explained. "It's been amazing. It changed my life. Really, it did. Starting to be happy and organised and disciplined off the court … it changed my life on the court, definitely."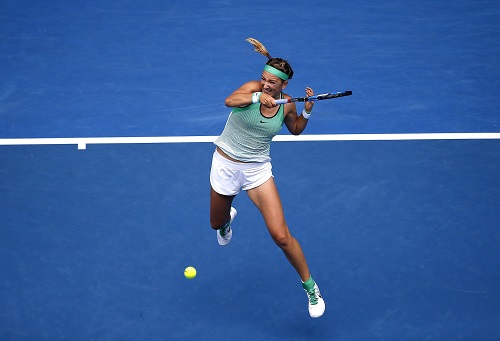 She went on to explain that pressure is also not winning tournaments because opportunities start to evaporate. You have to be among the best to get sponsored and growing up that is rough. Again, having things like that in the back of your mind is concerning and "it still affects" her.
Azarenka added: "I was travelling for nine weeks and in the juniors you play one or two matches a day. You can play a certain time (and) if you skip lunch, you don't get to eat. I had no money. I didn't get to eat. That was pressure to survive. That was survival.
"Pressure right now is go out there and face a big opponent? Okay. But when you're like hungry and you've got to play and you have absolutely nothing, that's big pressure."
Following on from that it was put to Azarenka if that can be seen as an advantage because it makes someone hungry, no pun intended, because it make them a more fierce competitor compared to someone coming for a more developed nation.
"I wouldn't call it an advantage, it's just what makes you tough. I wouldn't call it an advantage because it never feels like that," she said.