Naomi Osaka is a Japanese teenager who is playing the Australian Open
So often at one of the majors or big tournaments a lesser known name will crop up. It was suggested that I have a look at a player from Japan named Naomi Osaka. Born in the ancient Japanese capital that bears her last name, the beautiful city of Osaka, the teenager has a Haitian father and a Japanese mother but has lived in the USA since she was three.
Osaka plays with JPN after her name but while she understands Japanese she really doesn't speak much of it and instead speaks with an American accent that is punctuated with the word "like" more often than not. That's like amazing!
The 18 year old worked her way through the qualifying rounds and secured a place in the third round of the Australian Open and was given a pleasant surprise when she was told that her next opponent would be two-time winner of the title Victoria Azarenka.
"I'm kind of excited right ow," she said. "I never fee pressure from playing someone that's supposed to be like better than me, sort of. I'm just going to go in there happy and hopefully try to pull off an upset."
Like, that's a cool attitude.
When she plays she has been building up a following of Japanese fans who cheer and squeal when she wins points. While not as widespread as when Kei Nishikori plays, she is gradually getting the fans on her side and it seems to take her by surprise.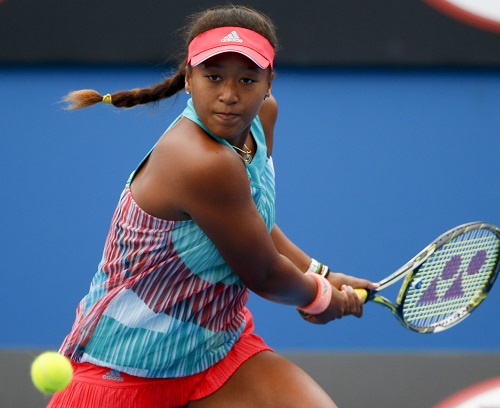 "Yeah, because before, when I like, I always, always think like they think I… what am I saying? Okay. I always think that they're surprised that I'm Japanese. So like the fact that there was the Japanese flags and stuff, it was like really touching," Osaka explained. "it's really cool."
Like so many Japanese players she comes across as being calm and collected during matches. Nishikori tends to show a bit of emotions with big points and matches but even he, the most visible of Japanese players, keep things low key. She has composure and that appears to impress people.
"Oh, I do that on the court, though. I'm just like a really… I don't want to say lazy, but if I don't have to show emotion, I'm just not gonna. I'm happy. Just genetically my face is like this. I'm sorry," she explained wryly smiling.
"In my brain I'm going, 'oh my God, why?' about 90% of the time. But, you know, I feel like I try to smile sometimes just so I don't throw my racquet. I'm not sure if I threw my racquet (in the last match). But, year, like I don't feel like I'm composed. I keep hearing people say that, but I'm like, whoa, okay."
Like ... let's see how she like develops with her game. For women's tennis and Asian tennis, even though she is not based in the Far East, she could, like, be one of the characters to emerge and that would be good to see unfold.
With her wry and slight self-deprecating humour that would be like pretty cool.