Lleyton Hewitt plays his 20th and final Australian Open and will retire after this event.
Are these the most appropriate lyrics for Lleyton Hewitt as he plays he final event? "And now, the end is near …And so I face the final curtain…My friend, I'll say it clear…I'll state my case, of which I'm certain…I've lived a life that's full…I traveled each and every highway…And more, much more than this, I did it my way
Regrets, I've had a few…But then again, too few to mention…I did what I had to do and saw it through without exemption…I planned each charted course, each careful step along the byway...And more, much more than this, I did it my way
Yes, there were times, I'm sure you knew…When I bit off more than I could chew…But through it all, when there was doubt…I ate it up and spit it out…I faced it all and I stood tall and did it my way."
The Australian's goodbye began with an exhibition in Hobart, Tasmania, the southernmost part of Australia and he has played events is almost every capital city and now the end is near. He will play fellow Aussie James Duckworth in the first round of the Australian Open and it is only the second time he has played a compatriot in the first round of the Australian Open. He says it is "awkward, but in another way it's fun" to play Duckworth who he has helped a bit in more recent times.
He says it feels strange at the moment knowing that the final curtain is about to come down on his illustrious career that saw him win Wimbledon and the US Open, win the year-end championship among his 30 titles, win the Davis Cup by BNP Paribas and hold the world No.1 ranking for 80 weeks.
"I'm trying to soak it up as much as possible. I guess it'd different in the fact that if you do go out then, yes, it is the end. But you got to try to block that out as much as possible. You could go through the same emotions again two days later, as well. That's going to be the tough part to deal with," Hewitt said.
The closest he came to winning an Australian Open was losing to Marat Safin in the 2005 final but says the semifinal he played that year beating Andy Roddick was probably his favourite moment at Melbourne Park. He had been through some gruelling matches to get there and the satisfaction of toppling Roddick was "pretty amazing".
But without doubt the most cherished rivalry of his career was with Roger Federer. He had the Swiss player's number in the beginning winning seven of their first nine matches. One of the most remarkable matches he played against Federer was in Davis Cup by BNP Paribas at Melbourne Park in 2003 when Federer led two sets to love and 53. Hewitt turned the match and won 6-1 in the fifth.
The head-to-head record ends with Federer leading 18-9 but at least Hewitt can say he won their first and their last match; the most recent one was the 2014 Brisbane final, 15 years after their first encounter.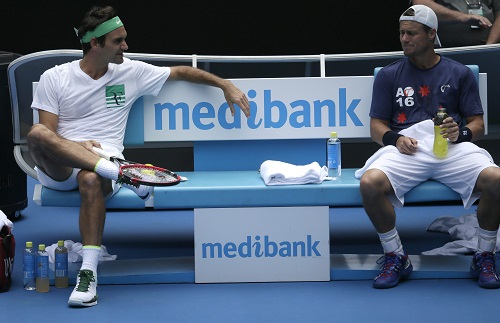 Federer has said that Hewitt's vocal aggression on the court intimidated him at the beginning but then he got used to it. They pushed each other's careers and the two became good friends.
"I think against Roger, purely because we grew up, the same age, grew up together," Hewitt said. "We had a connection with his (late) coach Peter Carter and my first coach. I'd say some of the epic matches in my career especially, more so than probably Roger's career, were against Roger."
He says the pretournament nerves are probably similar to other times but he has tried to enjoy the whole situation as much as possible.
A couple of days out from a Slam, you're always a bit on edge, a bit nervous," he said. "Doesn't matter how many times you've done it, it it's your first or possibly your last."
A standing ovation when it ends? C'mon! Of course there will be.