Novak Djokovic scored his first title of the year, in Doha, and destroyed Rafa Nadal in the process.
Tennis is on the eve of the first major of the season, the Australian Open, the first week of warm-up events has been played and without doubt the most significant result was the one in the Doha final between Novak Djokovic and Rafa Nadal. The result was a veritable thumping. Djokovic beat his rival 6-1, 6-2 in 73 minutes.
It was the most one-sided result Djokovic has had over Nadal and he has now won eleven consecutive sets against the Spaniard.
"The match is easy to analyse," Nadal said. "I played against a player who did everything perfect. I don't know anybody who played tennis like this ever. Since I know this sport I never saw somebody playing at this level.
"So I just congratulate him and that's it. I know I can do a few things better, but the real thing is, with these conditions playing during the night and with the feeling of the ball here, it's so difficult to have chances against him playing like this."
The telling point of Nadal's quote is that he never said that about the man he once referred to as the greatest ever, Roger Federer. In fact, of late, Nadal appears to have toned his comments about Federer being the GOAT (greatest of all time).
This was a match between two players who are among the three biggest names in men's tennis. Djokovic gave him no chance and he edged ahead in their head to head series 24-23. It is the most prolific rivalry in Open-era men's tennis and it marked the first time that Djokovic has moved ahead in the series. That in itself is a major milestone.
It is inevitable that when Djokovic meets Federer (their series is locked at 22-22) that the world No.1 will take the lead in that rivalry as well.
The question is, who is in a position to stop Djokovic? At the moment, barring any unforeseen circumstances or a player playing as if he is from Uranus, no one. Winning every match he plays is not going to happen; he is human after all. Or is he right now?
"It did feel as close to perfection as it can get," Djokovic admitted. "Obviously from the first to the last point I managed to impose my own tactical approach and strategy and what I have kind of prepared myself for, and the conditions were played to my favour.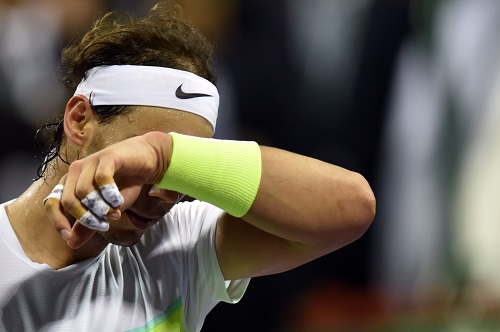 "I just came out on the court with the right intention, with the right intensity, and with a great deal of confidence, as well, that I carried from the last season playing against him in the last couple of matches as well winning in straight sets."
It doesn't seem that long ago when Djokovic was criticised frequently for appearing not to give his best during matches. He would retire in matches at the slightest niggle. He couldn't, or wouldn't, play through negative situations and even players would poke fun at him behind his back. A couple of American players were key in mocking him.
Djokovic came to the realisation that he was wasting his talent. Being three or four in the world is an amazing achievement but to be the best of the best is what anyone would want, or try, to aspire to. It is well documented that Novak changed his life with diets and training and the more he started to win the more the confidence grew. The rest we are seeing is history.
His life off-court is stable and that adds to his stability on the court. He believes now that every match he plays he will win and the aura he has is gaining him free points.
It would take a brave person to bet against him in a match. He has taken the sport up a notch and it is up to the others to find ways of catching him … and that is going to be fascinating to see unfold.
The Doha title was his 60th career title and made him only the tenth man to win 60 or more titles. He is now all but level-pegging with the world leader Federer in career on-court earnings which are in the vicinity of $US97million and his 52 week win-loss record is 85-5. Staggering. Nadal is being left in Djokovic's wake and it seems that Federer will be in that situation soon.