Great Britain are the Davis Cup champions for the first time since 1936.
The long drought has been broken and Great Britain are the champions of the Davis Cup by BNP Paribas.
It has taken 79 years but the trophy returned to the shores of one of the two original Davis Cup nations and the only one to have been involved in every edition of the event since its inception in 1900.
In 1936 Fred Perry and Bunny Austin led Britain to victory over Australia with Jack Crawford and Adrian Quist, and now Andy Murray, who has been consistently been breaking those British droughts, has led his nation to a 3-1 result over Belgium. It was the longest gap between victories in the event's history, breaking the previous record set by France in 1991 by 20 years exactly.
"It's obviously an amazing feeling. You know, I imagine it will take a few days before it really sinks in," Murray said. "I mean, probably haven't been as emotional as that after a match that I've won. I've been pretty upset having lost matches before. But I'd say that's probably the most emotional I've been after a win.
"It's incredible that we managed to win this competition. I didn't know that would ever be possible. It's great."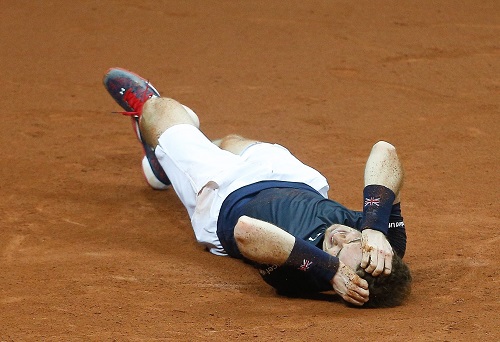 Murray defeated David Goffin 6-3, 7-5, 6-3 to give Britain the third point that was needed to secure the magnificent and coveted trophy. That result made Murray the first man since the inception of the World Group in 1981 to win eight out of eight live singles rubbers in a single year. Previously John McEnroe and Mats Wilander were the only ones to win eight singles rubbers in a year but those were a combination of live and dead rubbers.
Murray had defeated Ruben Bemelmans in the opening day's singles and then teamed with his brother Jamie to win the doubles rubber over Goffin and Steve Darcis. The fact that he had won all three of his matches made it the first time since Pete Sampras 20 years ago that someone has won three live rubbers in a final.
Additionally, Andy is the first man to win eleven live rubbers, sig les and doubles, in a single year since Ivan Ljubicic in 2005, and he and Jamie are only the third pair of brothers after fellow Brits Reginald and Laurie Doherty and Bob and Mike Bryan to win the Davis Cup by BNP Paribas.
Goffin had been giving it all he had in an atmosphere that was breath-taking and rapturous. There was colour, passion, noise and above all respect. Despite the fact that Murray was almost always in control the leading Belgian used the crowd to lift his spirits. T was a brave effort but as he served at 3-5 in the third set, to try and stay a contender, the nerves were wracking his body. He had saved one match point. It was match point two and it was a long rally.
Goffin had Murray on the run, moving him side to side. He went deep but Murray retrieved the ball. Goffin played the ball deep and Murray lunged at it and sent up a lob. Goffin was near the net. It was almost as if the ball was in slow motion as it ascended and curved in an arch above the Belgian's head, he watched it float above him, out of reach of his racquet to be able to do anything.
There was this horrid look of helplessness on Goffin's face as the ball began its descent and about less than half a metre inside the baseline it dropped and landed in.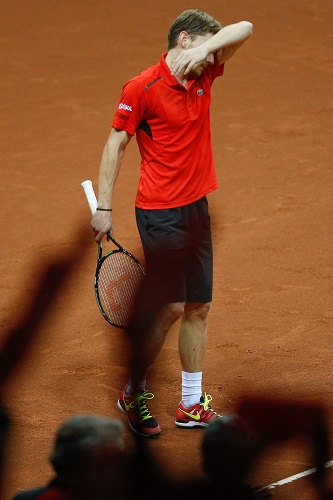 "I think it was a good match, but Andy was really solid today," Goffin said. "I give what I had to do, what I have. Yeah, today I gave everything. I think after a match like this, I have no regrets. I think after a match like this, and a tie, we can all be proud.
"Even if we lost the tie today, I think we played an unbelievable season in Davis Cup. I think Andy and the Great Britains deserves the trophy today."
The Belgian captain Johan van Herck added: "At the moment I have no regrets at all. I'm still behind all the choices I made. I'm behind the preparation we had. I think today we lost to a better team. That's it. If you see Andy today, I think as David said, there was for us nothing more to do. We gave it everything, but he was just a better player. He was great at the big points."
Murray's arms went up, more in hope but he also knew the match was over and he dropped to the clay court with his head in his hands. When he got himself up off the surface there were some tear stains on his face.
The relief enveloped him and two hours and 54 minutes of tension had evaporated. The Davis Cup by BNP Paribas, the trophy he had pretty much dedicated the year to winning with his team mates, was at last theirs.
Five years ago a weekend or a day such as this would have been a pipedream but the British captain Leon Smith must have believed there was hope.
"Obviously at that point there was a long way to go," said Smith. "We set about just getting a really good team of people around that really cared about everybody in the team and wanted what's best for them. Even lower divisions, might not have been the most glamorous of ties, but it was very important to start winning.
"You went match by match, tie by tie, and tried for the whole team to get better at what we do together. Momentum was built and it came to some important ties. I think like the Slovakia tie, the Russia tie, started to get a bit more belief about the players. Yeah, it continued from there.
Obviously when we started to move towards World Group territory, it's important to have the highest quality. Andy, when he comes into that, brings us that quality that suddenly became a reality."
This was a stunning victory. This is what the sport is about.