Andy Murray lost at the ATP World Tour Finals but his sole focus now is on the final of the Davis Cup by BNP Paribas.
Andy Murray finds himself in a situation not unlike the one Stan Wawrinka and Roger Federer were in twelve months ago – heading straight from the ATP World Tour Finals to the final of the year's very last event, the Davis Cup by BNP Paribas. They went going from indoor hardcourt to indoor clay like this year.
Furthermore, last year the Swiss were aiming to win their very first Davis Cup, which they did, and Murray with the British team are trying to win the world's biggest and most important annual team competition for the first time in 79 years.
Murray has bowed out of the ATP World Tour Finals, beaten at the hands of Wawrinka who expressed confidence that even though the two events are so close timing wise that Murray should not have an issue being ready for such an important national event.
While the loss prevented Murray from making the semis in London which also denied him from securing the year-end world No.2 ranking for the first time, it has however given him some extra time to get over London and prepare for the Davis Cup. However, it should be noted that all is not lost for the year-end No.2 ranking – if Federer loses in the semis or final in London, Murray will get year-end No.2 for the first time. He has one other opportunity and that is to win two live singles rubbers in Ghent.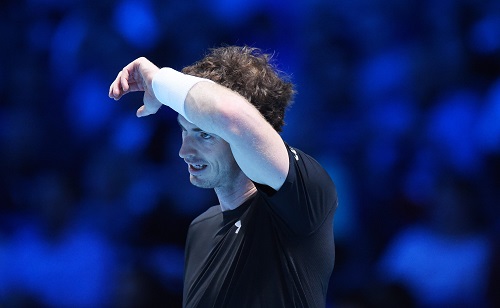 The day before Jamie Murray had said the team would be leaving for Ghent on Sunday but was not aware when Andy would depart as he hoped his brother would be contesting the final at the O2. With that not being the case now, Andy could very well be part of the full group going to Belgium at the same time.
Andy said his mind was not on the Davis Cup final while playing Wawrinka. It was not difficult to concentrate on what was happening there. He said if there was one positive for him looking ahead to Davis Cup was the fact that he has "come away from it injury free and now I have a couple more days to get ready for Belgium".
He added about the final: "It's a great opportunity for everyone and we look forward to it."
But if there is one thing that would be a concern for Murray it was the way he was striking the ball. He had said at the start of the week his timing was a bit off but that he expected it to pick up. In fact he admitted it had not and that it had actually got worse. It begged the question if that is a concern for him looking to the Davis Cup by BNP Paribas final.
"Timing's never normally something that is an issue for me," he said. "I normally stroke the ball fairly well; one of the stronger parts of my game. So that's something that I would imagine would come back pretty quickly.
"Right now I'm not so much concerned about next week. It's just disappointing that I lost the last two matches (in London)."
As indicated Wawrinka can relate to Murray's situation and he said it was not easy soon after losing in the London semis last year but when he arrived in Lille he knew it was important to be ready. The one difference between Wawrinka and Murray is that Wawrinka can adapt to cay a lot faster than Murray even though Murray was practicing on clay before London started.
"Clay is normally the easiest surface for me to change on," Wawrinka said. "He knows he needs sometimes more time to adapt on the clay. Let's see. Hopefully he can be ready for next week. I think he has enough time for sure."