Novak Djokovic and Andy Murray will square off in the final of the BNP Paribas Masters. It will be their seventh meeting this year and 30th overall.
Novak Djokovic has already emulated his coach Boris Becker by winning the BNP Paribas Masters in Paris three times (Djokovic, Becker and Marat Safin are the only three time winners) but the world No.1 is now aiming to be the first player at this event to win the title three straight years.
He has to face Andy Murray for the 30th time (20-9 in Djokovic's favour) in this the event's 30th year, and if Stan Wawrinka's comment of "Novak remains Novak" holds up then Murray is likely to be the bridesmaid again.
Djokovic beat Wawrinka 6-3, 3-6, 6-0 and reversed the result from the French Open earlier in the year when the Swiss stunned the pundits by winning the title over a near invincible Djokovic. Murray got to the Paris-Bercy final by moving past David Ferrer, the winner at this event three years ago, 6-4, 6-3.
Djokovic, who is the first man in the Open-era to reach 14 straight finals, will face Andy Murray for the 30th time (20-9 in Djokovic's favour) in this the event's 30th year, and if Stan Wawrinka's comment of "Novak remains Novak" holds up then Murray is likely to be the bridesmaid again.
"I don't know what he meant by that, but I get it as a compliment. It's great," Djokovic said. "I mean, it does flatter, for sure, when a player of his quality says something like that which I think he was referring to the stamina and, the fitness which is definitely one of the things that I was working on very hard all these years, try to get that persistence and endurance. Just being able to have this energy supply to be able to play for a long time.
"But also, you know, the fact that I have won so many matches allows me to also choose my schedule so I rarely basically never play three weeks in a row. I always try to play two weeks and then have a week off. Tournaments, always important to make a proper schedule and think in advance strategically where you have to peak."
For Murray reaching the BNP Paribas Masters final is his fourth ATP Masters 1000 final for 2015 which makes things a very good year for him and he still has the ATP World Tour Finals in London and the final of the Davis Cup by BNP Paribas in Ghent still to go. He has played at a "pretty high level" but also admits there were some matches he could have done better but overall there are no complaints.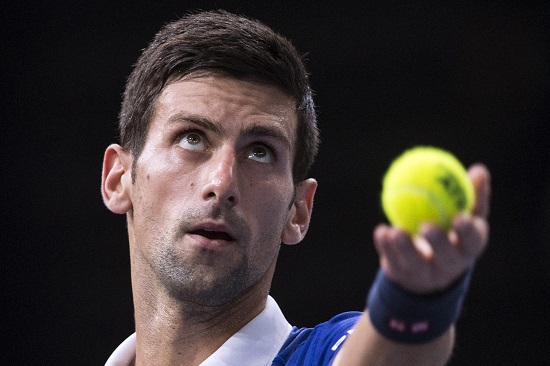 "This is a tournament I've struggled at in the past," he said having never reached the final before. "It's nice to come here, put a few good wins together, and I think a few very good performances, as well. There were periods of the match that were a little bit physical, but I did feel like I dictated a lot of the points and I finished a lot of points up at the net and was able to shorten enough points to not make it too tiring.
"So, you know, I feel pretty good. My legs feel fine. But, yeah, the accumulation of matches and, playing five days in a row can take a little bit out of you physically and mentally. So that's where I said I do need to be smart with the days I get off and the time off post the last Davis Cup tie. So that's why I need to make sure I took enough days getting ready for Shanghai and also here."
When it comes to a final you never know what is going to happen. It is not just another match, those have been played in an effort to get to the stage where the trophy and the big prize cheque is on the line.
"Of course both of us playing for a trophy. We want to win it, and we want to win against each other," Djokovic said. "It's always special kind of challenge because we have the rivalry that goes back for a long time. Played just recently at Shanghai Rolex Masters. Played one of my best matches against him. I'm hoping I can play as well as I did there. I'm sure that he's going to try to do something different.
"I have seen he is playing some terrific tennis this week. He's feeling good. It's going to be a close one. No question about it. It always is. It's always very physical, also very psychologically demanding. We push each other to the limit, and I don't expect anything less from that."
Murray says the same and looks forward to "an interesting match". Murray was asked if he could beat Djokovic that it would actually be a good thing for the game, because Novak has become so overwhelmingly dominant and matches he plays appear to have a predictable outcome because he's so far ahead of everyone else.
"When I go into a match like that, I'm not thinking about whether it's good for the game or not," Murray said. "I think what he's done this year has been exceptional, and I do think that when players have years like that, it does also draw a lot of attention to the sport, too, because of how consistent he is and how many matches he's won.
"So I don't think for the sport it's negative when someone has such an exceptional year. But obviously it's up to the guys that are around him to raise their level as well and try to beat him on a consistent basis and understand how best to do that. I feel like this year I have pushed him close and beaten him once."