Andy Murray scored a one-sided win over David Goffin at the BNP Paribas Masters in Paris, but is that a pointer to the final of the Davis Cup by BNP Paribas?
Was Andy Murray handing David Goffin an indicator of what is to come in the final of the Davis Cup by BNP Paribas when the two of them met at the BNP Paribas Masters in Paris?
While British and Belgian media along with many other tennis media with a definite curiosity and interest in the up-coming final in Ghent, Belgium, believe the first salvo had been fired, both players played down the result in Paris as Murray beat, rather destroyed, the No.1 Belgian 6-1, 6-0.
Granted the circumstances in Ghent will be very different to Paris. Even though French-speaking Goffin had plenty of support from the Parisienne crowd, but when it comes to the final of the Davis Cup by BNP Paribas it will be almost the entire stadium backing him on a surface that is a polar opposite to the Palais de Omnisports in Bercy … indoor clay.
"I think I just wasn't feeling good on the court today, and I think in few weeks it will be on another surface, and will be normally full of energy and of course Andy played unbelievable today, and I hope he won't play like this in Belgium, but it will be a completely different match," Goffin said.
Murray made the point that clay is his worst surface, maybe so but that did not stop him winning back-to-back clay events and reaching the semis of the French Open this year.
"I don't know what speed the court's going to be (in Ghent)," Murray said. "If it's quick, then I think that that will help my serve a lot. If it's slow, then I feel like I can track a lot of balls down on the clay which is positive. I can make it physical and tough that way.
"So I don't really know what they're going to do with the court there, but it was good for me to get the chance to play him before the Davis Cup and see his game and the speed of his shots and where he maybe makes some mistakes from and things that he likes to do. Obviously with the result, that's a positive. I mean, mentally for me it's a positive win."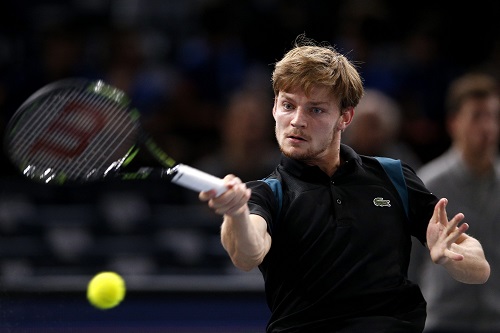 Goffin made it clear that he just had a bad feeling on the court this time and it was "match to forget". He says the clay will improve his chances against Murray and he now has a couple of weeks to hone his game on the surface while Murray has to finish Paris and then play the ATP World Tour Finals in London, also not on clay. However Murray will be practicing on clay as soon as he finishes in Paris.
"I think it will be a different match, of course," added Goffin. "The game is completely different on clay court. You can slide on the side. And I think in a few weeks it will be different rallies, more rallies on clay court, different game, because Andy was really aggressive with his return. I think it will be more easy for me to feel my game on clay against him."
To some degree Murray defended Goffin's poor showing by saying it is impossible to play your best tennis every week. Think back twelve months as an example when Roger Federer beat Murray 6-0, 6-1 at the ATP World Tour Finals.
"I think it's impossible to prepare for every single tournament exactly the same," Murray said. "You have to be smart with your schedule, give yourself breaks at certain times during the year and get the physical work and also the training on court like to work on your game. I mean, you need to give yourself time to do that, as well. It's not easy, because it is a long season with different surfaces and a lot of events that you have to play that are mandatory, as well. So it's not easy."
We will know 27-29 November if Murray's thrashing of Goffin was a hot indicator or if things will be different.