Lleyton Hewitt has been named as Australia's newest Davis Cup captain.
He was always a firebrand on the court and losing was never an option. Now Lleyton Hewitt will take that spirit into the Davis Cup by BNP Paribas in his new role as the captain for Australia. He is believed to be the 19th man to take on that position.
His shouts of "c'mon" and the exuberance with which he played his matches in the competition have always been well documented and are second to none. Love him or hate him, Hewitt has been the pinnacle of Australia's chase for the coveted and glorious trophy.
He has been described as "Australia's greatest Davis Cup player" and there never seemed a doubt that one day he would be named captain. That day is now here as Hewitt take the reins from Wally Masur who guided the Australian team to the semi-finals before Great Britain scored victory in Glasgow last September.
There is no doubt that Hewitt embodies all the spirit that Davis Cup is about and the overall view is that he will make an exceptional captain. So much of his early education as a player came from Davis Cup under the guidance of John Newcombe and Tony Roche.
Hewitt said: "I've been fortunate enough to work under some of the greatest Davis Cup captains in history. We have a rich tradition in Davis Cup, with so many great players. I want the young boys to understand that, and I'm proud to have been trusted to lead the next generation. For me, it's about instilling my experience and helping the younger players be their best."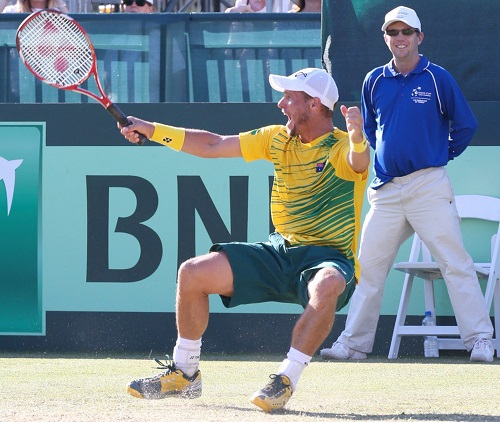 Hewitt made his playing debut in the Davis Cup by BNP Paribas in 1999 against the USA at the Longwood Cricket Club in Boston. It was the centenary year of the world's greatest annual team sport event. He defeated Todd Martin and Alex O'Brien to help guide Australia to a 4-1 victory.
Ironically, his first task as captain will also be against the USA as he leads a group of young players, Nick Kyrgios, Bernie Tomic and Thanasi Kokkinakis, in the first round next year in Australia.
Hewitt's record in Davis Cup stands above that of any other Australian player. In 41 ties spanning 17 years he has a 58-20 win-loss record, including a 42-14 record in singles. Hewitt has played more ties over the most years of any Australian and holds Aussie records for most total wins and most singles wins.
"He will do everything possible to bring the Davis Cup back to Australia," former captain, two-time major winner and world No.1, Pat Rafter said. "You could not get someone more committed to success in this competition."
Australia is second only to the USA for most titles in Davis Cup by BNP Paribas – Australia has won 28 to the USA's 32.