Novak Djokovic would love to be able to write tennis history.
At the time of writing Novak Djokovic was on a 17 match win streak and he had just captured his second tournament in as many weeks with the Shanghai Rolex Masters which was his ninth title of the year, his 25th ATP Masters 1000 and 57th career title.
Questions now being raised about Djokovic that were last heard uttered about Roger Federer when he was at the height of his career.
Djokovic is dominating the sport the way Federer did. Rafa Nadal had a period of brilliance but his incredible achievements were not as prolonged as that of Federer or the way it is turning out now with Djokovic.
"It's the best year of my life; no question about it," Djokovic said. "Everything is working great. I' very grateful for the opportunity to be able to play this well, to be successful.
"I don't want to be carried away by success obviously because I want to be playing on this level for many more years to come."
Even though Nadal is three majors away from tying Federer's record of 17 career majors and Djokovic is seven away, there is a growing belief that Djokovic is more likely to attain that level rather than Nadal. Even Federer has suggested that Novak should be able to make 17.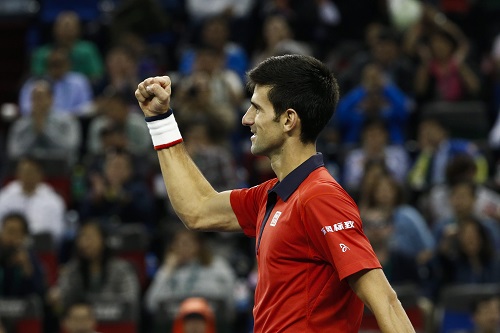 No doubt Nadal would love to equal such a milestone but to him it does not seem to be such a crucial thing. He said in Shanghai that it would not be the be all and end all. Djokovic made a similar remark but one gets a sense that he was playing things down and achieving such heights is actually very important to him.
Djokovic wants to be regarded as the GOAT; he would dearly love to be able to take the mantle off Federer but as fantastic as he is, he will never wrest such a position until he wins the French Open.
"Before each season starts Roland Garros is one of the biggest priorities (next year) is also an Olympic year, so that's a priority, and every Grand Slam I play," Djokovic added. "I'll keep trying and going on. Like I have said before, if I don't win it ever, it's not going to be the end of the world. I still have unbelievable career."
An "unbelievable career" is an understatement, in fact it has been phenomenal but you still just get the sense that it is not enough for Djokovic. He has struggled through his whole career to really and genuinely be accepted and loved in the same way that Federer and Nadal are. He is resigned to the fact that he was always be the bridesmaid in that scenario so the only way to get past that is to keep on winning and let the stats make things indisputable.
He had been, for want of a better term, ridiculed or one thing or another by players and media when he was breaking through, so now when he is at the top of the world, it comes across as "I'll show you" time.
"I'm not thinking about being unbeaten till the rest of the year, but yes, that's an option. It's a possibility (but) I'll still try to keep the kind of philosophy and approach where the next match matters," Djokovic said.
What's that line about figures don't lie?