Flavia Pennetta won the US Open over her close friend Roberta Vinci.
Flavia Pennetta was asked to imagine in a year's time when she looks back on this US Open, as she enjoys her retirement, what will be the thoughts that would come into her mind that would best capture this moment, these past two weeks and this one special day.
"I think today I have no problems but when you are starting out, when you are really young and you make a lot of decisions, hard decisions, you lose so many things when you are young. Winning today, my life s perfect. I cannot say something different. Perfect," she said as her face beamed.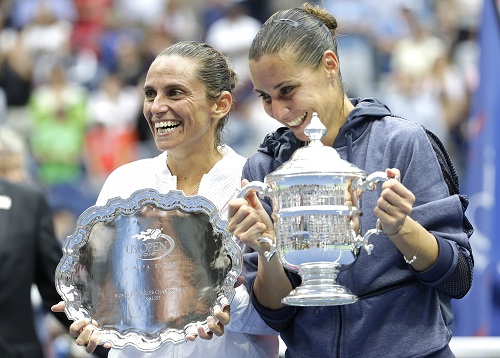 On court during her acceptance speech she made the announcement that this would be her last match at the Open, that at the end of the year she would retire.
The women's final of the US Open was historical. Sure it did not have the drama of Serena Williams winning the rare calendar year Grand Slam and if she had, join the most exclusive club in sport, a club that has just five members, but it was the first ever final at the majors to feature two Italians, Pennetta and Roberta Vinci, the one who spoilt the Williams dream.
The final was over in 93 minutes, 7-6(4), 6-3 as Pennetta became the oldest first time Grand Slam champion, out doing another Italian Francesca Schiavone from the 2010 French Open. This final between Pennetta and Vinci at a total of 66 years of age was the oldest women's final at the majors in the Open-era, out doing the previous record in 1977 at Wimbledon between Virginia Wade and Betty Stove.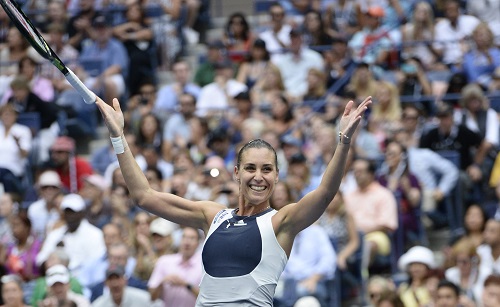 "Why I am retiring? Because sometimes it's getting hard for me to compete. This is the important point. When you are in the court, when you have to play 24 weeks in the year, you have to fight every week," Pennetta, who will move back into the top 10, said. "If you don't fight every week in the same way I did today, it's gonna be like bad. For me, I don't feel to have this power anymore sometimes.
"So this is the perfect moment, I think. Was a really hard decision to make, but I'm really happy that I did it. I'm really happy and proud of myself."
The match was definitely a celebration and if you kept watching Vinci you would never have thought she had lost a US Open final. For both women it was difficult to play as they are such long-time friends but the happiness of being in the situation would override everything.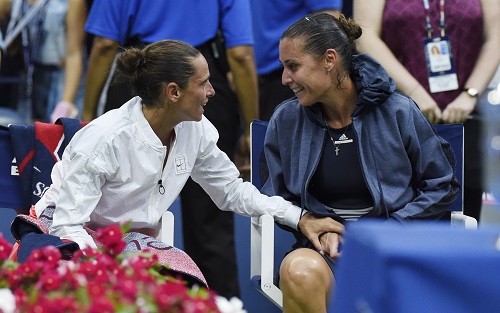 "I was tired, I was tired especially in the first set and I think she played better than me," Vinci said. "She was more solid than me and she play much better backhand, long line, and she served better than me today. She play better, yeah.
"(But) I think it's an incredible moment for al Italian people. When I come back home I can realise what we made, because for me it is not normal. I am in New York, I'm in the hotel, just have fun, but I would like to come back and try to understand what I did."
What happened on this weekend was a miracle as far as Vinci was concerned: "I beat Serena, miracle. Two Italians can reach the Grand Slam final, miracle. One Italian can win a Grand Slam, miracle."
Pennetta explained that irrespective of what may have happened in tis match her decision to retire was final. She said she did not play her best in the final but she did enough to win – she just played every point, point by point and kept fighting.
"I'm so happy," she said.
And one of the first people waiting to sweep her off her feet with tight embraces was her future husband, Fabio Fognini, who himself had an amazing tournament which included that upset of Rafa Nadal.