Italian Fabio Fognini played some fab tennis to put Rafa Nadal in a fog.
It is a shame that Fabio Fognini does not manage to play tennis the way he did against Rafa Nadal all the time. The flamboyant Italian, who reached the last 16 of the US Open for the first time, lived up to his abbreviated name … Fab!
His performance to come back from two sets to love down and win was electric. It was spellbinding to watch. It captivated other players. Ivan Ljubicic Tweeted: "This is sick tennis".
It was the third time in 2015 that Fognini had beaten Nadal. He became only the third player to beat Nadal three or more times in a season; the others are illustrious - Roger Federer and Novak Djokovic.
It marked the first time in 151 matches that Nadal had lost a match at any of the four majors after leading two sets to love and it marks the first time in a decade that he will finish the season without winning one of those four majors.
But this is not about Nadal, this is about the craziness that is Signor Fognini, the man who has more temperamental routines than Houdini had escapes. He is priceless to watch and at times he could pass as an over-acting B grade actor in a terrible Italian soap opera. That is probably the charm of Fognini, you can't help but laugh at his dramatics on the court.
His performance at Wimbledon a couple of years ago is one of the best pieces of unintentional comedy ever in tennis. The chair umpire for the particular match was Frenchman Pascal Maria and even he struggled beyond belief to remain serious.
Here is that moment:
But while Fabio can become immersed in a fog, unable to see his way clear because he is so wrapped up in the moment, his not-seen-enough brilliance equally puts an opponent in a fog as well.
Nadal should have won that match, no doubt, but when Fognini began to produce the type of tennis that got him through, you just had to sit back and cheer. The winners, the passing shots the crosscourt returns, were spellbinding.
Still, as it came down to the crunch, because of his past record, one questioned if he was going to be able to close it out, but he did in three hours 46 minutes 3-6, 4-6, 6-4, 6-3, 6-4. One wondered if he himself genuinely believed (he said he did) that he could do it even though he had beaten Nadal twice before this year – those matches were not at the majors. Especially as service breaks were exchanged game after game in the final set.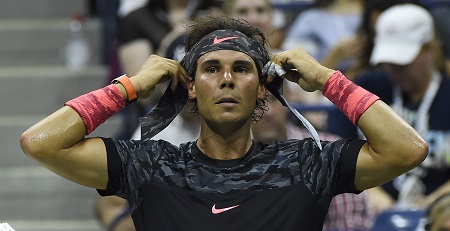 Fognini came out with the quote of the tournament: "Two sets to zero against Rafa, maybe you have to go to Lourdes. I went there tonight and everything was in a perfect way."
Nadal said he didn't lose the match but instead the 28 year old who was born in San Remo, won it.
"Not happy that he played better than me, but that's what happened," Nadal said. "He played better than me. I didn't play bad at all, but accept that he was better than me."
At two sets to love up you would not envisage Nadal bowing out to a player who is not one of the usual suspects, but he did. It wasn't that long ago such situations saw him shut the door, rather slam the door, on an opponent. His tennis year really has been in a fog.