Roger Federer continues to keep in touch and returns to No.2.
Roger Federer is definitely not going away and for tennis that is great. He has won his 87th career title and his seventh at the Western and Southern Open in Cincinnati, the final ATP Masters 1000 event of the North American summer circuit.
The win has allowed Federer to return to the world No.2 ranking, a positon he lost last week to Andy Murray. The timing is good for Federer because he will get the No.2 seeding for the US Open which starts in New York on 31st August.
Federer defeated Novak Djokovic 7-6(1), 6-3 and in doing so denied the world No.1 from winning the only ATP Masters 1000 to elude him, thus preventing him from becoming the first man to achieve what is being touted as a "Golden Masters" – winning all nine ATP Masters 1000's. No other player is in such a position.
The win allowed Federer, who did not lose serve in the tournament (49 service games), to edge ahead in their head-to-head series 21-20 but in 2015 it is Djokovic who leads 3-2. The last time they met was the Wimbledon final and on this occasion Djokovic was also stopped from scoring his fourth consecutive win over Federer for the first time. Their rivalry is the most prolific in men's tennis after Djokovic and Rafa Nadal who have met 44 times.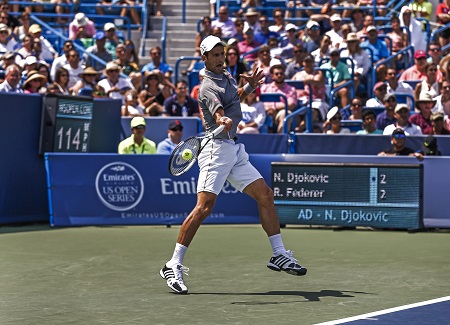 "It's great. Didn't expect it, to be quite honest, coming here," Federer said of his seventh title in Cincinnati. "I knew I had a chance, but still felt more guys were going to have a better shot than I had because they had played Montréal before. Usually that helps. I just realized over all the years that I've played it's just really difficult to win back to back Montréal and Cincinnati, or Toronto and Cincinnati for that matter.
"So I just chose to roll the dice a little bit and see how things were going to go. If they went great here then it was a great plan. If not, I was going to go back and practice and be really motivated for the US Open to start.
"Now I've got the confidence, I've got the matches, and I'm actually still feeling really fresh even after this week, because the matches have been rather short. And because I didn't play both tournaments, I can really pace myself next week and see how much practice I actually really need. It's more about getting used to the different surface speed, and then switching to different balls, which I think is usually going to always be the biggest change to us, the players."
For Djokovic it is the second ATP Masters 1000 in as many weeks that he has lost in the final; previously he was defeated by Andy Murray in the final in Montreal. It is also the second year in a row that he has lost the Cincy final, last year was also a loss to Federer.
"Well, it's sport, you can't win all the time (and) I won many matches this year," Djokovic said. "Of course it's disappointing at this stage to reflect on the match. Could have done some things better, but I lost to a better player, no question about it. I have to deal with it. US Open is behind a corner, and I have to already turn the next page. Hopefully I can do well there."
Djokovic said Federer was playing very aggressively and said the conditions suited him well but feels that when he gets to New York for the US Open the situation should be different for him.
"I think he's more aggressive here than in any other tournament because the surface and conditions allow him to play very fast," Djokovic said. "He generally copes well with the fast balls, fast game. He likes this rhythm. I don't too much. It was right tactics for him.
"I knew coming into the match he was going to be aggressive. No question about it. So I tried to handle. I've done well until the tiebreak first set; after that, he was just the better player. Made some double faults, dropped my service game. The way I played this week, it's great I managed to reach the finals."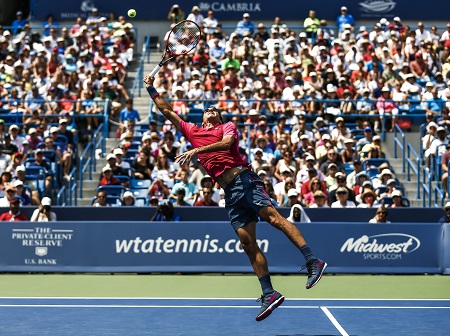 The win is Federer's 24th career ATP Masters 1000 which equals Djokovic and they are second only to Nadal on 27 and its Federer's fifth title of the year, second to Novak who is on six.
And for something a bit different, Federer celebrated courtside with his family and team, something he does not normally do.
"Well, I did it once in Madrid when I won because the player box was right on the side of the court. Same thing here. I just saw the girls and my wife and my coach and I just like, 'Well, it's a short stroll. Let's quickly go over there and high five and see everybody when it's still, how do you say, still hot, you know, when it's all happening.' That was the reasoning, because the player box was very convenient," Federer explained.
This the 46th title in the last 50 ATP Masters 1000's for a "Big 4" player – the exceptions are Robin Soderling at the BNP Paribas Masters Paris 2010, Stan Wawrinka Monte Carlo 2014, Jo-Wilfried Tsonga Toronto 2014 and David Ferrer at the 2014 BNP Paribas Masters Paris.